When it comes to healthy meals and trying to decided what to cook for breakfast, lunch or dinner it's easy to get stuck or overwhelmed. A meal that is nutritious and doesn't take a lifetime to make is a task in itself. That's what I love about the 28 Meal Plans, everything is quick, easy and tastes bloody delicious. So with that in mind, I've put together my 28ers favourite meals (as voted by them) for you to try. Tried and tested deliciousness served up for you!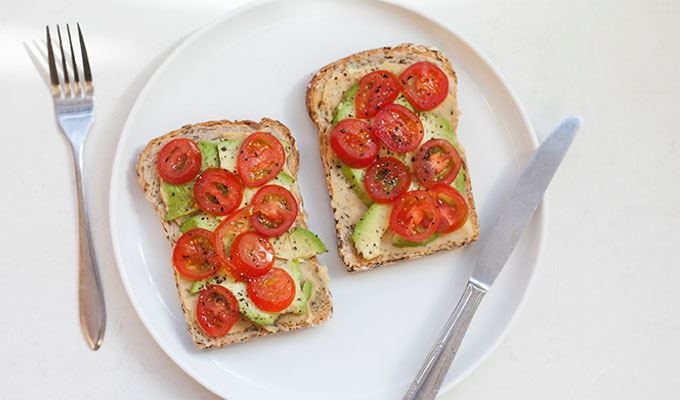 1. Toast Topper
Yep, you heard right toast! You don't have to give up carbs on 28, it's all about balance, it's no wonder this quick and delicious breakfast took the number one spot with my 28ers.
Ingredients
2 sourdough (or gluten free) bread
2 tablespoons hummus
1/3 avocado, sliced
6 cherry tomatoes, sliced
salt & pepper, to taste
Method
Toast the two slices of bread.
Spread hummus on top of each slice of toast.
Top with sliced avocado, cherry tomatoes and season well with salt and pepper.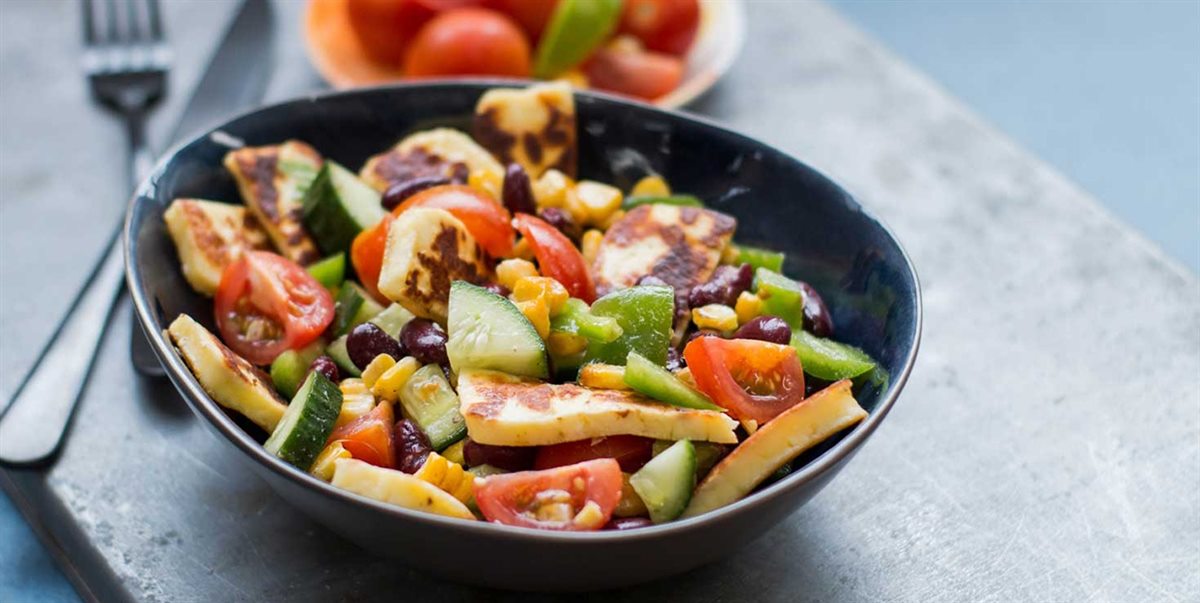 2. BBQ Corn & Haloumi Salad
It's a crowd pleaser for a reason! Packed full of flavour and nutrition, this will be a welcome addition to your lunchtimes
Ingredients
2 corn cob (sweet corn)
100 g haloumi, cut into 2cm thick slices
125 g kidney beans drained and rinsed
1/2 red onion, sliced
200 g cherry tomatoes, quartered
1/2 cucumber, diced
1/2 green capsicum, diced
1/2 avocado, diced
2 tablespoons fresh coriander, roughly chopped
1 lime, juiced
1 tablespoon extra-virgin olive oil
salt & pepper, to taste

METHOD
Heat a barbeque grill on medium heat and cook corn, turning regularly for 12 minutes or until softened and browned. Set aside to cool.
Add haloumi and grill for two minutes each side.
Using a sharp paring knife remove corn kernels from the cob and place in a large bowl.
Add kidney beans, onion, cherry tomatoes, cucumber, capsicum, avocado and coriander.
Season well and toss to combine.
Lay the haloumi slices on top of the salad.
Whisk together the juice of lime with the olive oil and stir through the salad to serve.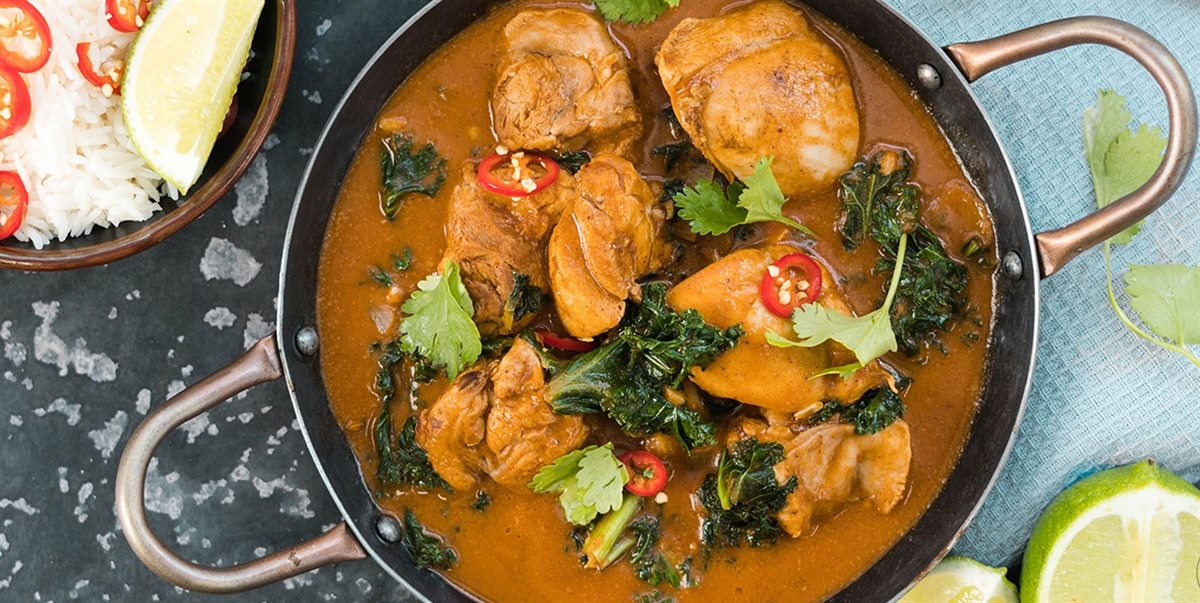 3. Woody's Butter Chicken
A healthy take on a long time favourite, proving that great tasting food can be good for you. Warm up with my famous butter chicken
Ingredients
250 g chicken thigh fillets cubed
70 g rice (basmati) dry1 tablespoon coconut oil
1/2 onion (red) diced1 clove garlic minced
1/2 chilli (small red) finely chopped
1 teaspoon ginger minced
1 teaspoon coriander (ground)
1 1/3 teaspoon cumin (ground)
1/2 teaspoon cinnamon (ground)2 cloves1 leaf bay leaves
150 g tomato passata or puree
210 ml coconut cream
1/2 tablespoon tomato paste
20 g kale finely chopped salt & pepper to taste
Ingredients for Serving
2 teaspoon coriander (fresh) roughly chopped, to serve
1/2 lemon quartered
Method
To cook rice: bring saucepan of water to boil and prepare according to packet instructions.
Meanwhile, heat oil in fry pan over moderate heat.
Add chopped onion, garlic, chilli and ginger. Stir until starting to soften.
Add spices, cloves and bay leaf to the frypan and stir for a minute.
Add chicken and stir until starting to brown.
Pour in tomato passata, coconut cream and add tomato paste. Stir and allow to simmer with lid on for 10 minutes.
After 10 minutes, remove lid from the chicken, add kale, stir and continue to simmer uncovered for a further 15 minutes.
Season chicken to taste at this point.
Once rice is done, drain and serve alongside the chicken.
Top with fresh coriander and drizzle with fresh lemon juice if desired.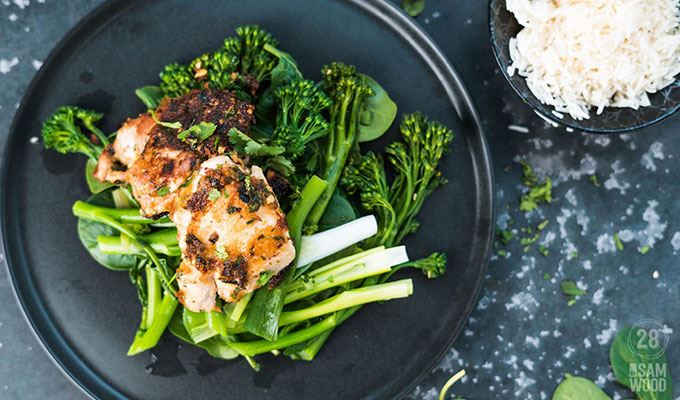 4. Sticky Chicken
It's one of our 28 originals, and it's one of the best! Sure I may be biased, but give my Sticky Chicken a try and taste it for yourself. You won't regret trying this one!
Serves 2
Ingredients
2 tablespoons sweet chilli sauce
2 tablespoons tamari (or soy sauce)
3 tablespoons almond (or peanut) butter
500 g chicken thigh fillets
1/2 cup coriander (fresh) roughly chopped
Ingredients for Salad
1 bunch broccolini (baby broccoli)
200 g rocket leaves
2 tablespoons pine nuts
1 tablespoon olive oil
Method
Preheat oven to 180degrees Celcius
Combine sweet chilli sauce, tamari, coriander and almond butter in a small bowl and mix with until well combined.
In a large bowl, mix chicken thighs with the sauce until each thigh is thoroughly coated.
If time permits, place the chicken in the fridge for two to three hours to marinate.
To cook the chicken, place thighs on a baking tray lined with baking paper.
Bake for 25-30 minutes, or until the chicken is cooked.
While the chicken is cooking, make the salad by boiling the broccolini in a saucepan of boiling water for three to five minutes, or until cooked to your liking.
Drain water and set broccolini aside to cool slightly.
Toss the broccolini, pine nuts and rocket in a small bowl with olive oil.
Serve cooked chicken alongside salad.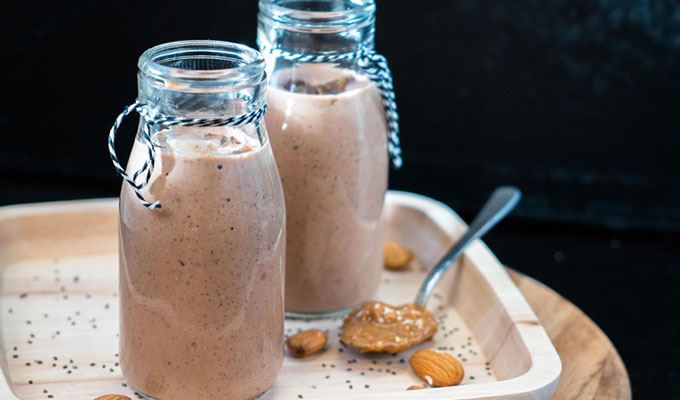 5. Crew Choc Smoothie
Peanut butter, banana, choc protein powder, sounding delicious so far? It is! The Crew Choc Smoothie is the perfect start to your day!
Ingredients
1/3 banana
2/3 cup almond milk (unsweetened)
2 tablespoon chocolate protein powder (optional)
1 tablespoon peanut butter (crunchy)
1 medjool dates, pitted
Method
Combine all ingredients into blender, blitz until smooth then serve.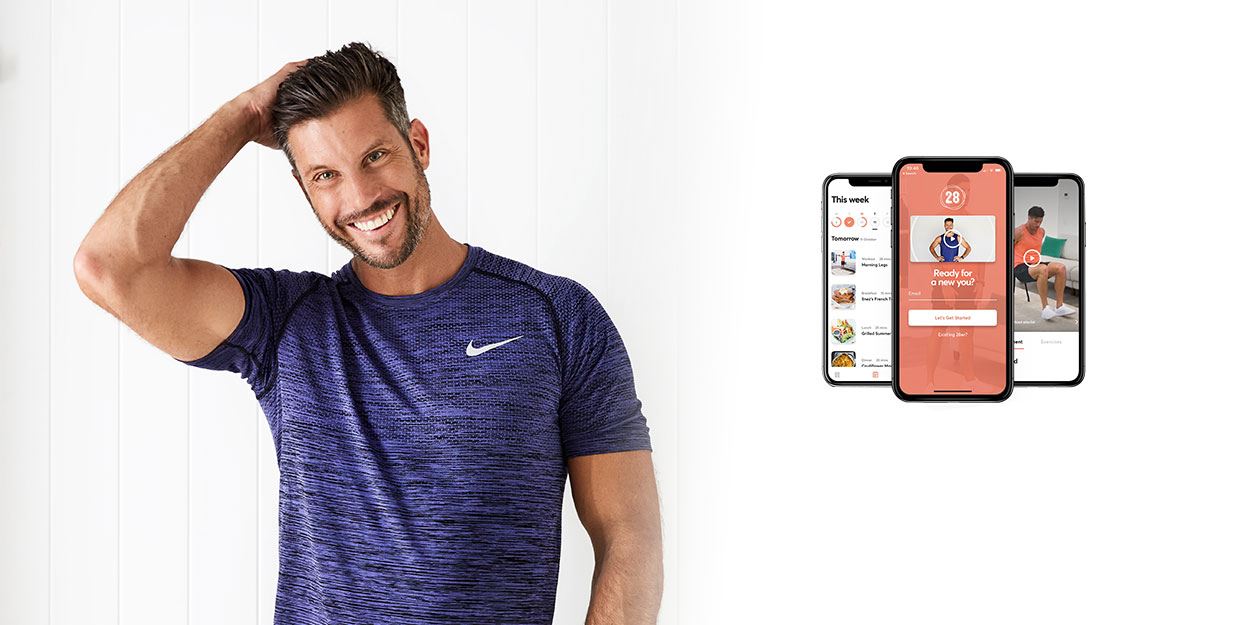 Let me be the personal trainer in your pocket!
G'day, Sam Wood here! Join me every day for a different 28 minute workout. My dynamic workouts are suitable for all fitness levels and designed to get results fast.
Join me in the kitchen with a delicious eating plan every week created by our 28 nutrition team with recipes and shopping list at the touch of a button. Did you know we're also the only online program with the I Quit Sugar Recommended Tick?
Let me show you how to get your mind right, with my mindfulness & motivation experts who will ensure that you de-stress, sleep better, focus and stay motivated. As a member of the 28 family you are never alone.
You will be supported every step of the way by me, my crew and thousands of 28ers just like you.
Click through to find out why 28 works and how it can work for you!