Program FAQs
Wondering if my home fitness & nutrition program is right for you?
At 28, we keep it simple. Move differently every day for 28 minutes, eat real food, take some time out when you need it and surround yourself with the support you need.
Below you will find the answers to some of our most frequently asked questions, but if you can't find the answer you're looking for here, my crew and I available 7 days a week. Click here to send us an email now.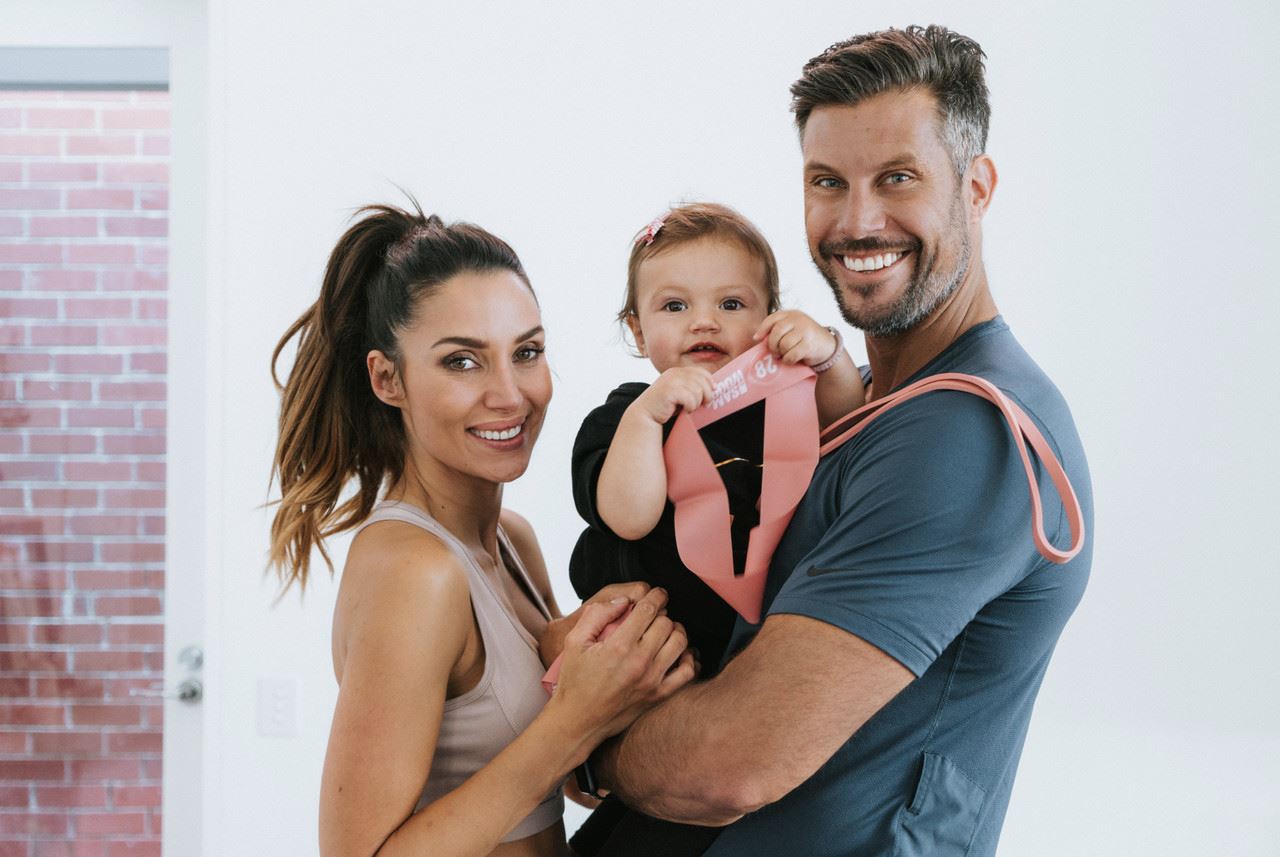 Join Australia's #1 home fitness & nutrition program.
It's the easiest way to stay fit and healthy at home – all you need is a phone and 28 minutes a day.
Popular questions about the 28 by Sam Wood Program

ABOUT AUSTRALIA'S #1 FITNESS & NUTRITION PROGRAM

LIVE, AUSTRALIAN SUPPORT

QUICK, EFFECTIVE WORKOUTS

TASTY, FLEXIBLE EATING PLANS

MORE QUESTIONS? THE ANSWER COULD BE HERE!
---

What is 28 By Sam Wood?
Who is the program for?
28 By Sam Wood is an online training and nutrition program designed for anybody, anywhere. 28 gives you an easy-to-follow structure to that can fit into even the busiest of lives. You don't need a gym, you don't need equipment… you just need a phone and 28 minutes a day.
The philosophy behind my program is: keep it simple. Move differently every day for 28 minutes, eat real food, take time out when you need it and surround yourself with the support you need.
Good nutrition & exercise shouldn't be stressful or complicated, and 28 shows you just how simple it is to make your health a priority.
How long has the 28 program been running?
28 By Sam Wood began in February 2016.
How many people has 28 By Sam Wood program helped?
Over 400,000 people have lost nearly 4 million kilos on the 28 By Sam Wood program.
Who is Sam Wood?
A father and husband, on a mission to help people move more, eat better and make a positive change. Sam Wood is the founder and trainer at Australia's number one online fitness and nutrition program, and owner of Australia's largest personal training studio, The Woodshed. Sam Wood has over 20 years of experience in the health and fitness industry and is recognized as one of Australia's leading experts and media commentators.
Can I get fast results on your program?
In order to achieve (and maintain) weight loss, muscle tone and physical fitness you need to include regular exercise and eat a quality diet into your daily life. Fast results are definitely possible on the 28 program, however, everyone is different, so results will vary from person to person. If you'd like to see what some of our amazing 28ers have achieved check out our program results page.
Please speak with a healthcare professional before starting ANY diet or fitness regime.
Is the 28 fitness & nutrition program sustainable for the long term?
The reason that 28 works is that we keep it real. Our program is not a quick fix with overly restrictive or complicated diet rules. I prefer a more sustainable approach which means smaller changes over time that will help teach you healthy habits for long term success. You shouldn't have to deprive yourself to get results. Once you learn these healthy habits that 28 teaches you, they will stick with you forever.
Is the whole 28 team based in Australia?
Yes, all my incredible team are based in Melbourne, Australia.
---
How much does it cost to join 28?
Monthly & quarterly membership options
For less than $2 a day, you get me as the personal trainer in your pocket. You'll receive daily support from me, my crew, and our team of nutrition and mindfulness experts, plus you'll gain access to an amazing community of 28ers in our private Facebook group.
At 28, you have the option to go month to month with your membership, or go quarterly. The monthly membership is a recurring $59.00 per month. The quarterly option is a recurring $147 per quarter (save $30 against the monthly option). When you go to our signup page, just select what length membership suits you best!
Am I locked into a contract?
Absolutely not! When you join, you'll be subscribing to a recurring $58.99 every month, so your membership will automatically renew every month. It's a bit like Netflix, only healthier! Remember, you can opt-out at any time – your 28 membership is totally in your control.
How do I cancel the program?
If you need to take a break, that's okay! We hope you return to 28 one day. To opt-out, just go to your 'Settings' page of the website and click 'Cancel' button next to your membership details. Please ensure this is done 24 hours before your next payment date to avoid being charged. Once you cancel, you will continue to have full access to the program until the end of your current billing cycle.
When you are ready to return to the program, simply login with your existing details and re-join our program.
Can I get a discount if I join with my husband or wife?
The beauty of 28 is that when one member of your household joins, everyone can get the benefits. With one login providing you with access to daily workouts, delicious meals the whole family will enjoy and so much more. Of course, if members of your family want to individually track their results, and customise their workouts, they will need a separate membership.
Can I cancel when I've reached my goal weight?
As there are no lock-in contracts at 28, you are welcome to cancel at any time. To cancel your recurring subscription, simply go to the settings page of the website and click the cancel button. Please ensure you cancel your membership at least 24 hours before your next payment date to avoid being charged.
When does my credit card get charged?
If you are on a 7 day free trial, your card will be charged after the completion of this trial. If you have signed up to a standard monthly or quarterly subscription, your card will be charged automatically when you sign up and payment will re-occur every month or 3-months depending on your plan type. You can cancel your subscription at any time.
Looking for a 28 program discount or coupon?
We rarely run promotional discounts or coupons, however, you can save $30 off the regular price if you choose our discounted 3-month subscription. 12 weeks is the perfect length of time to commit to creating healthy new sustainable changes to your lifestyle – and it's enough time to see amazing physical changes! My program has helped over 300,000 people live healthier lives, I'd love to help you too!
Get started with a 3-month plan and SAVE $30 off the regular price.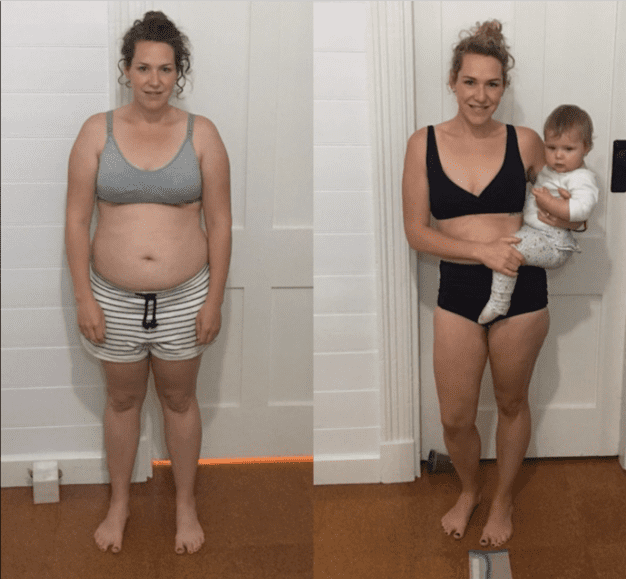 How do I join the 28 program?
Easy! You can sign up for my 'at-home' program here.
Is there a difference between using the 28 app or the website?
Yes. There are certain features such as Sam Cam where you receive messages from me daily that are only available on the 28 App, which is why I really encourage you to download it to your phone and give it a go!
How do I activate the 28 app on my phone?
You'll first need to sign up to our online program via the website, to create an account. Then, if you haven't already downloaded the 28 app to your phone, you can get the app from Google Play or the Apple App Store. When you first open the app, you'll be asked for the email and the password you chose during the signup process, pop it in and you're all set!
If you need help, or you are having any issue logging in via your app, please email the crew hello@28bysamwood.com – we are online 7 days a week.
---
Have you tried the 28 By Sam Wood App yet?
Step 1: Sign up HERE to join my online fitness program. It's only $59 a month (or $49pm on our 3-month subscription).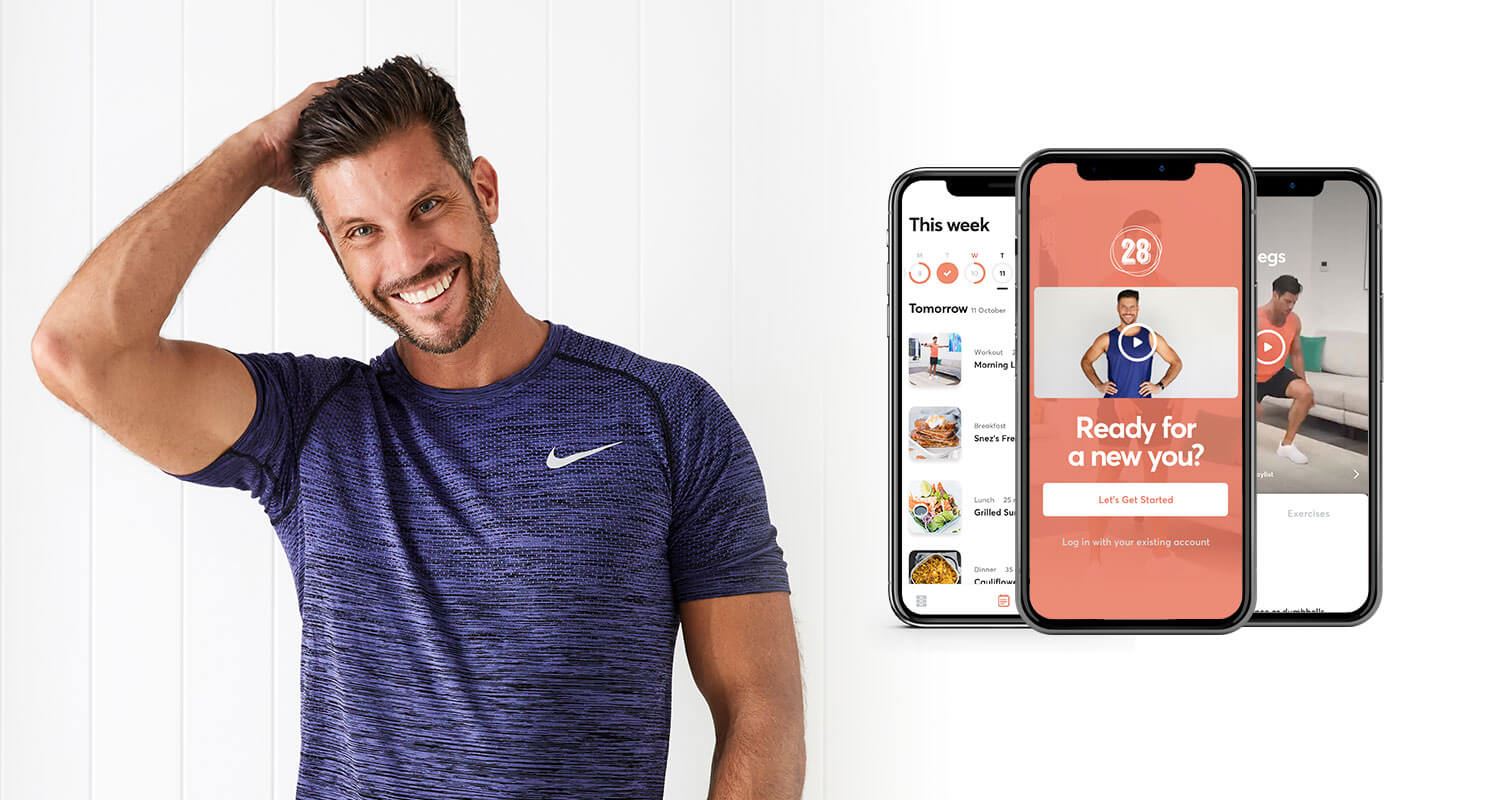 ---
What kind of help & support is available when I join?
You are never alone once: my crew and I are here for you every step of the way. The crew can be reached via email 24/7 at hello@28bysamwood.com there's also the Private Facebook Community where 1000s of 28ers just like you are there for you to lean on.
At 28 we are not a community, we are a family, and we are all here to help each other.
What are the first few things I should do when I join?
I want to make sure that you feel supported every step of the way. I encourage all my 28ers to join the 28 Private Facebook Community once they have signed up. Downloading the 28 App from Google Play or the Apple App Store means that you will receive daily messages of motivation and support from me via Sam Cam. My crew and I are also here for you whenever you need via email hello@28bysamwood.com
How do I join the private Facebook community?
To join the 28 Private Facebook Community, you will need to request access to the group. Once the request has been received by the crew they will approve your access. If you have nay problems at all accessing the group please email hello@28bysamwood.com
How often does Sam Wood come into our 28 community?
When I say I will be with you every step of the way, I mean it. I am posting in the community every day making sure that you get on track but more importantly stay on track.
What is 'Sam Cam' and how do I see it?
Sam Cam is my favourite feature available on the 28 By Sam Wood app. It's where I keep in contact with you daily with motivational and education messages. Live workouts with me are also accessible here.
Is there a video showing me how to use the app?
When you download the app and first log in, you will be taken through a guided app walkthrough. Or you can watch a quick summary of some of our app's features right here!
Don't forget my crew are always available to help if you get stuck. Send them an email hello@28bysamwood.com
How do I talk to the 28 team via 'live chat'?
When you access the 28 Homepage you will see on the lower right hand side of your screen a live chat icon. All you need to do is simply click on the "chat" button, introduce yourself and start chatting! If no-one is online at the time you wish to chat, an email will be sent to the crew and they will reply as soon as possible.
---
What are the 28 workouts like?
Do I need a gym membership?
No. That's the beauty of 28, it can be done anywhere, at any time. You can work out from the comfort of your own home, no gym membership required.
Do I need to buy workout equipment?
All you need to smash your 28 workouts are:
* a device (mobile phone, tablet, laptop or desktop computer) to stream your videos. If you're using the app you can download your workouts ahead of time too if you know you'll be in an area with poor reception.
* a stable internet connection.
If an exercise requires light resistance you can use items found around the home if you do not have dumbbells. Canned foods make excellent light resistance pieces.
Can I still do the workouts if I have a small living space?
28 was designed to be done anywhere, anytime. That means if you have a smaller living space you'll still be able to perform the exercises. A lot of my 28ers travel, and even in small hotel spaces they still get their workouts done.
How often should I exercise?
You should move every day, which means there will be variety in your training and also fluctuation in the intensity of your movement. It doesn't have to be a hard workout every day, but you should consistently be doing some form of movement 30 minutes daily and consistently eating well.
From Monday to Friday you'll be working out with me! You'll get a fresh new 28-minute workout video put together by your very own personal trainer (me!). Each workout consists of 4 X 7-minute sets of exercises that have been designed to elevate your heart rate and turn you into a fat-burning machine. On the weekends we mix it up a little with some active recovery – like Yoga, Pilates, and other gentle activities.
Is 28 minutes per workout enough to get results?
Exercise doesn't have to be long to get results, you need to learn how to push yourself beyond your comfort zone, you need to get comfortable with being uncomfortable. You'll work up a sweat with me, but the good news is that you'll learn to love it, and even in the first week when it feels the toughest, 28 minutes goes fast. 10's of 1000s of people just like you have achieved incredible results from the comfort of their own homes, in just 28 minutes!
How hard are the workouts?
I have designed a workout to suit every fitness level. From nervous newbies to fitness fanatics, 28 will work for you! With different levels including low impact, pregnancy and postnatal, my 28-minute will work your whole body, help you build lean muscle, tone up and shed stubborn fat.
What do the workouts look like?
Each workout consists of 4 X 7 minute sets of exercises that have been designed to elevate your heart rate and turn you into a fat burning machine. If you would like to see an example of the workouts click here:
Can I start off with easier exercises if I'm unfit?
28 has been designed to suit all fitness levels and abilities. Whether you're just getting started on your fitness journey, or you're ready for a challenge, there's a level that will work for you! Choose the level that best resembles you, but you can level up or down at any time, via the settings page in your membership area.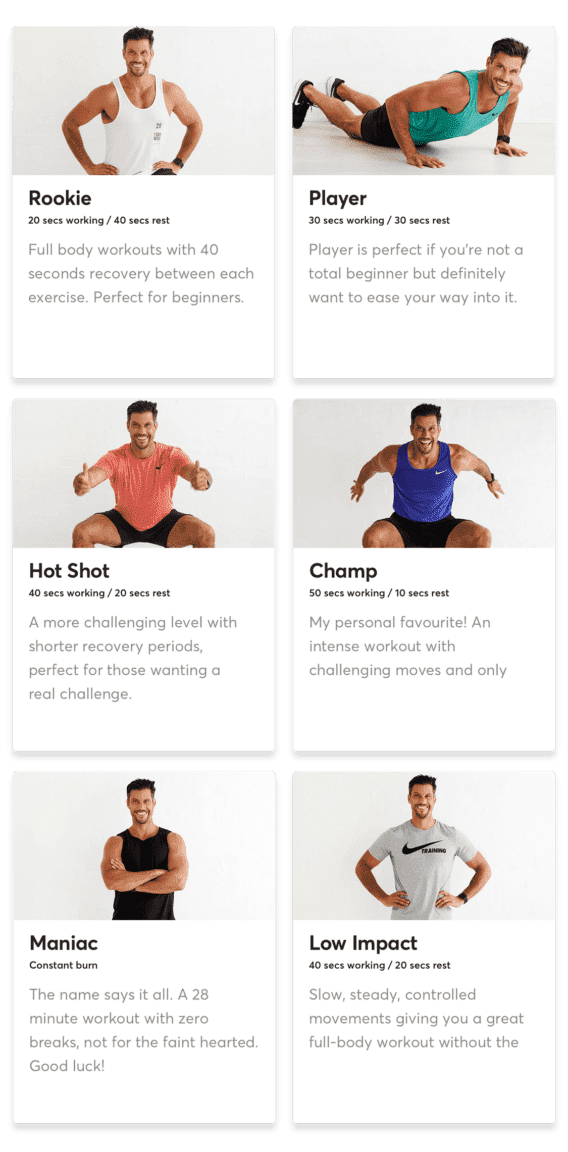 Join our 28 family
My program has helped over 400,000 people live healthier lives. I'd love to help you too!
What are the differences between the fitness levels on the 28 By Sam Wood program?
Rookie (20 secs working / 40 secs rest)
Full-body workouts with 40 seconds recovery between each exercise. Perfect for beginners.

Player (30 secs working / 30 secs rest)
Player is perfect if you're not a total beginner to exercising, but you still want to ease your way into it.

Hotshot (40 secs working / 20 secs rest)
A more challenging level with shorter recovery periods, perfect for those wanting a real challenge.

Champ (50 secs working / 10 secs rest)
My personal favourite. This is an intense workout with challenging moves and only suitable if you've already got a high level of fitness.

Maniac (Constant burn)
The name says it all. A 28-minute workout with zero breaks, not for the faint-hearted. Good luck!!

Low Impact (40secs working / 20secs rest)
Slow and steady with control and low and no-impact movements that still get you fit and feeling great!
Will I get bulky if I do all the workouts?
No. Your 28 workouts are designed to turn you into a lean fat burning machine. With a focus on getting your heart rate up and increasing your metabolic rate, you will not get bulky from doing the workouts.
Do you offer yoga or Pilates in the program?
As part of the training pillar of 28 you will also have access to Pilates and Yoga, designed specifically for 28ers to complement their regular training regime. On the weekends, I encourage you to engage in what I call Active Recovery, this can be something as simple as a 30-minute walk, or swim but if you can also try one of our guided Pilates or yoga workouts.
How can I involve my young kids in my home workouts?
Absolutely! There's nothing I love more than seeing the whole family join in with the 28 workouts. As you are following along at home, the kids can join in, and we also have special kid-friendly yoga workouts too.
---
What kind of diet does 28 recommend?
We believe that real food is the best food. Real food comes out of the ground, off a tree, or from an animal (of course, this depends on your personal preference). At 28, our food philosophy is JERF, Just Eat Real Food. This means our recipes are packed full of delicious whole foods and nutritious ingredients.
Our focus is on an abundance of vegetables with every meal (yes, even breakfast!), quality protein, good fats and whole-food carbohydrates. We don't believe in restrictive eating, so you will still find favourites like bread, pasta and pizzas in our meals (even healthy burgers). Balance is one of the most important nutritional principles – we believe food is there to nourish, share and enjoy.
Do you cater for all dietary requirements?
28 has the option to choose a vegetarian, pescatarian, general or gluten-free meal plan. We also have Meat-free Mondays (even for the carnivores). You can change between these dietary preferences at any time via the progress page of the website.
The recipes are easy to swap and change if you have specific dietary requirements (i.e vegan, dairy-free, etc)
How many calories per day will I eat?
For years we have been told that monitoring calorie input and output is the only way to get results when it comes to losing weight. This way of thinking mean that many of us were spending unnecessary hours at the gym, and/or eating a dangerously low amount of food. People started eating food with the least amount of calories (think lite or low fat foods) without any consideration for the quality of food that they are eating.
28 meals are based around an abundance of predominantly non-starchy vegetables complimented by quality protein and good fats so it would be very difficult for someone to overdo calories (plus we keep the meal plans in check to ensure this doesn't happen!).
Do I have to calorie count?
At 28, our goal is to provide nutritious and wholesome foods that give you the fuel needed to transform your body and turn it into a fat-burning machine. With more of a focus on the quality and not quantity, our meal plans will ensure that you no longer need that calorie calculator app or to log your meals.
Is the diet different for men and women?
The 28 Program provides eating options for both men and women, Although the menu is the same, you will notice that the quantities and portions are different between male and female to meet their needs. There may also be some additional ingredients to some meals for the male streams to ensure that they are getting the right macronutrient balance across their diet.
Can I still do the program if I don't need to lose weight?
Yes! We have a 'healthy weight maintenance' nutrition stream, designed just for you. Our head Nutritionist, Shahna Sarpi, has designed your eating plan to complement your health goals, to give you the energy you need to tone up and increase your strength. We have designed both our weight loss and healthy weight maintenance eating plans to ensure you have the right nutrition and total calories geared to your expected energy output: basically we help you put the right stuff in so you can get the best out.
---
What kind of food will I eat?
Can I see a typical meal plan on 28?
Check out this article here for a day on 28. Or contact the crew hello@28bysamwood.com for more details!
Are the recipes family-friendly?
They sure are! Since becoming a dad, I know more than ever the importance of quick, easy, fussy eater friendly dishes. Our 28 meals have families in mind. Our 28ers tell me that the meals are generally suitable for most family members – so all you need to do is adjust the recipe quantities to suit the size of your family. We also have a 'family favourites' section in your locker that's full of recipes that are perfect when cooking for the whole family.
Am I able to change the serving sizes of the meals?
Yes, and it's really easy to do! Our main recipes are able to change serving size from 1 – 8. You can choose to default your program to a certain quantity and also change serving size per recipe, making it easy to create your delicious dinners when unexpected guests drop in!
Can I swap meals if I don't like them?
We believe all of our meals are delicious, but we understand that sometimes you need to swap a meal. We have thousands of recipes to choose from. So, whether it's for convenience, time, taste, family fussiness or you just forgot to shop, our growing list of approved recipes means you can easily swap a meal without jeopardizing your program goals.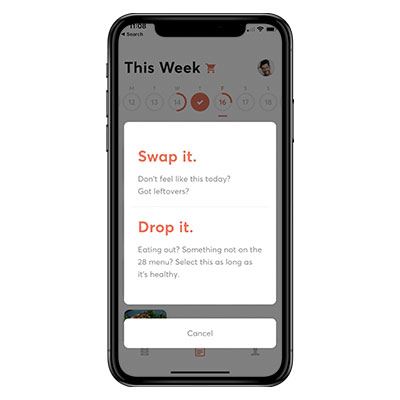 Do the 28 recipes need much prep time?
We understand that not everyone was born to be a master chef, so our recipes have been designed to be simple and take under 28 minutes to create. Why complicate things? Food should be simple, healthy and delicious and our recipes are just that. If you are looking for a challenge, or you want to impress at your next social event, we have a range of healthy recipes that require a little more prep time, but are definitely worth a try!
Am I still allowed to have coffee?
Aim to limit your intake to 2 cups daily, e.g. 1 latte with whole milk or 2 black cups. Reduce your sugar intake and please avoid artificial sweeteners as much as possible. If you're a heavy coffee, tea or cola drinker, aim to gradually reduce your intake. For example, cut your intake in half each week, to avoid caffeine-withdrawal related symptoms, such as headaches and fatigue.
Can I snack on the 28 program?
Depending on your program goal, you can consume 2-3 healthy and delicious snacks per day. Snacking is always optional and while some people thrive off having snacks between meals, others may not. Find what works for you and helps you achieve the best results.
Females:
For weight loss: a maximum 2 snacks per day
For healthy weight maintenance: up to 3 snacks per day
Males:
For weight loss: we recommend you avoid snacking, until you reach your desired weight.
For healthy weight maintenance: up to 2 snacks per day.
Am I allowed to drink alcohol?
When it comes to alcohol, I'm not going to tell you to give up drinking for 28 days, but I'd love for you to try and limit your alcoholic drinks to two standard drinks per week. Alcohol can weaken your resolve, and it also contains calories, so try to savour and enjoy those two drinks!
What if I have an event and can't follow today's meal plan?
Enjoy your night out! 28 is the program that is designed to fit in with your lifestyle; and going out for dinner or celebrating an event is a part of life. Just stay mindful about your portions and try make good choices (most of the time). A night off is not going to sabotage your good work, so don't feel guilty – enjoy your event!
If I'm too busy to cook, can I eat ready-meals instead?
Of course. Although it's always best to cook your own meals from fresh ingredients we know this isn't always possible, which is why I am really excited to announce our new meal delivery partner, Chef Good.
The Chef Good meals are nutritionally balanced and made up of whole foods, which aligns perfectly with our real food approach to nutrition. With a team of chefs cooking the meals and a qualified nutritionist creating the recipes, they are both tasty and nutritious. Using locally sourced ingredients also means that the meals are fresh and seasonal, which is important to us here at 28. We know the Chef Good meals can support your health goals and help you on your 28 journey, as their meals are aligned with our macronutrient breakdowns and calorie recommendations, making them the perfect meals to have on hand when you need something quick, easy, and healthy.
Will 28's eating plan work for me if…
… I'm vegetarian
Great news, we have a vegetarian meal plan for you. You can select the vegetarian option in the onboarding questionnaire after you've signed up to the program, or via the 'progress' page of your account.
… I'm vegan
While we don't have a vegan meal plan at this point in time, we have many vegan 28ers that are following the vegetarian meal plan and making some small adjustments when necessary.
Our guidelines for swapping diary out of a recipe include swapping milk for a plant milk alternative, substituting cheese for a good quality vegan cheese or some nutritional yeast flakes. Replacing eggs will depend on the type of meal, however in savoury dishes we recommend using another source of protein, such as beans or tofu/tempeh. If raw honey comes up in a recipe, it can be swapped for a pure maple syrup.
… I'm gluten-intolerant
Majority of the 28 recipes are gluten free or have a gluten free alternative available. We do also have a gluten free meal plan that we recommend you select to ensure that you're only getting gluten free recipes in your meal plan.
… I need to follow a FODMAP diet
Making the 28 meal plan suitable to a FODMAP diet will require making suitable adaptations to our recipes, but it's definitely possible and we have a number of members doing so with success. Here are some of our guidelines:
Substitute fructan rich foods like onions and garlic for finely chopped carrot or the spice asafoetida.
When it comes to fructose, stick to small amounts of the fruits you can tolerate, while avoiding apple, pear, mango and watermelon. While we're talking about fruits, also avoid apricots, nectarines, plums and prunes due to their polyol content.
To remove lactose, substitute dairy products for a plant-based milk or cheese alternative.
Replace gluten containing ingredients with a suitable gluten free substitute.
When it comes to swapping legumes, you can replace them for another protein source, such as meat, fish, eggs, nuts or seeds.
Substitute non FODMAP vegetables for veggies that you can tolerate.
… I follow a keto diet
As we don't promote diets at 28, we don't offer a ketogenic meal plan. If you are wanting to follow a ketogenic diet, certain adaptations can be made to our recipes to fit the strict guidelines and keep your body in a state of ketosis.
While following a ketogenic diet can be beneficial in certain conditions or in the short term, in most cases we do not encourage this as a sustainable, long-term approach to eating. This is because to stay in ketosis you can only consume very limited amounts of carbohydrates. It's important to remember that many vegetables are sources of carbohydrates and that veggies should be the focal point of a healthy diet. When limiting our carbohydrate intake, it also means that we are severely limiting our fibre sources, which is detrimental to the health of our gut – a vital aspect of our overall health and wellbeing.
… I follow a low-carb diet
Majority of the carbohydrates in the 28 meal plan come from wholefood sources, making them very different to the refined carbohydrates that can be detrimental to our weight loss journey. For this reason, many of the 28 meals are naturally lower in carbohydrates. For the meals that are higher in carbs, they can be made suitable to a low-carb diet with a few adaptations. To make these modifications, you can swap grains like rice or cous cous for cauliflower rice, wraps or tortillas for lettuce leaves, pasta for zucchini noodles and replacing bread with more of the other ingredients present in the meal. Please remember that carbs are not something to be feared and the right kinds are a necessary part of a balanced diet.
… I do intermittent fasting
The 28 meal plan is suitable while intermittent fasting and can be done by eating your 3 meals within the shortened eating window. This will ensure that you're meeting all of your energy and nutrition requirements, while still adhering to the guidelines of intermittent fasting.
… I have had weight loss surgery and can only eat smaller and/or lower sugar meals
Depending on the type of weight loss surgery and your current requirements, 28 may still be suitable for you with some minor alterations. If you need to eat smaller meals more regularly, you can break your 28 meals into smaller portions and eat them more frequently. If you're needing to incorporate more liquid foods, we have many great smoothie and soup recipes that are nutritionally balanced and can be swapped into your meal plan. For more information, please email the crew with some details about you and your requirements.
---
How much are the weekly groceries on the 28 program?
This will vary based on how many people you are shopping for. The average weekly cost for the full eating plan (21 delicious meals) is $170. Keeping in mind this is for one person and when cooking for a couple or a family it becomes much cheaper per person.
I have a tight budget, how do I keep my food bill down?
28 allows you to eat healthy delicious meals for the whole week without costing you a fortune. We have a budget option and the capability to swap or drop a recipe at any time,. To ensure it fits in with your lifestyle and budget.
How do I save money on groceries if I'm cooking for a big family?
We have a family favourites section and we also provide you with a guide as to which recipes are freezer friendly and perfect for leftovers or larger portions, Our nutrition team is made of chefs and nutritionists that not only want to deliver you delicious healthy meals, but understand the real challenges mums and families face and we are here to help.
---
How does the Woolworths shopping integration work?
If I automate my shopping, can I choose whether I want budget or organic options?
The 28 By Sam Wood Woolworths integration allows you to switch between budget friendly items and higher priced items (if you have certain brand preferences).
Can I add extra groceries/household items to my Woolworths order that aren't part of the 28 program?
Absolutely! The 28 By Sam Wood x Woolworths Integration is still your shopping! That means that you can add any items that you want and also remove any that you may already have at home.
Can I just order the basics online but do my own shopping for fresh fruit & vegetables?
The 28 By Sam Wood x Woolworths integration is here to make your life easier. If you only need to grab a few items via the online shopping portal, then that's totally fine! Remember 28 By Sam Wood is the program that fits into your lifestyle, not the other way around. This is just one of the many tools that we have to make your health journey as easy as possible.
How flexible are Woolworth delivery times?
Woolworths Online delivers groceries nationwide – to find out if we service your area simply enter your delivery address in the banner above. Click here to find out more.
What if I don't want to shop at Woolworths?
28 is the program that fits in with your lifestyle, not the other way around. If you prefer to keep shopping as you are, then you are more than welcome to do so.
---
Do you offer pre-made ready meals?
At 28, my team and I are constantly working hard to remove the barriers that you may have faced before in attempts to better your health. Life gets busy, I get it, and I understand that sometimes there simply isn't enough time to plan ahead. For this reason 28 has partnered with Chef Good to ensure that you're always prepared no matter how busy you get. Click here to see the menu from Chef Good.
---
Motivation & Mindfulness
How do I know if I'll be able to stay motivated and accountable?
So many of us have experienced that Sunday night burst of motivation. The moment where we decide to make the week ahead our best week yet… Until we wake up on Monday morning and decide to hit the snooze button, instead bouncing out of bed and into our workout.
Being highly motivated is a great way to feel, but it's not sustainable. You're not always going to be motivated and that's okay; motivation is an emotion and emotions naturally come and go.
So how do you create and maintain your new healthy habits? That's where I come in.
With my daily Sam Cam video, I check in with my 28ers daily, to help you stay on track. There's also a library of motivational articles to help you set goals and achieve them. We have recently introduced a series of Motivational Podcasts with our Motivation Expert Craig Harper to help keep you focused and supported. Last, but definitely not least, you'll have your 28 family to lean on. Never forget my crew and I are only an email away hello@28bysamwood.com (or you can find us in our private Facebook community) if you ever start to feel lost.
Ready to get started?
My program has helped over 400,000 people live healthier lives. I'd love to help you too!
It's less than $2 a day.
What is mindfulness?
Mindfulness is a mental state where one is focused on and aware of the present moment. It involves acknowledging, accepting and understanding one's emotions, thoughts and sensations and is a way of paying attention to your thoughts and feelings. Mindfulness is a therapeutic technique that allows you to respond to your emotions with a greater sense of clarity and wisdom, as opposed to acting out of habit.
How does mindfulness help me reach my health goals?
I always say, get your head in the right place and your body will follow. Mindfulness can help you reach your goals when we apply it to the way we think about our workouts and way that we eat. Research has shown that mindful eating can help people control binge or overeating. When you exercises with intent you are more focused on your movements and your workouts are more efficient.
What kind of mindfulness help does 28 offer me?
Our mindfulness experts will cover a range of discussion topics through both videos and written articles. Mindfulness practice helps 28ers to gain valuable skills, attitudes and knowledge that will help build mental health and wellbeing. On top of this I understand that you're not always going to be motivated so you have access to a library of meditations to help focus your mind and motivational podcasts.
---
Can I do the program if I'm pre or postnatal?
I'm breastfeeding, can I still do the program?
Absolutely! While you are breastfeeding, you are welcome to choose out of the following two options:
– The Post Natal Program: this utilises low impact workouts, that are modified to be suitable in this time as you build up your fitness and strength. This option of the program also has a meal plan that caters for breastfeeding and will support the increased demands of this time.
– The General Program: this option gives you more flexibility in choosing your workout level and is generally more suitable after a few months of having given birth. If you select this option, please choose the 'healthy weight maintenance' meal plan to cater for the increased demands of breastfeeding. Also make sure you're snacking when you're hungry.
Please ensure you have received medical clearance from your medical practitioner beginning any exercise as a new mum.
You can switch between these programs via the 'progress' page of your account at anytime.
I've just had a baby will I have to adjust the workouts?
Our Post Natal program is perfect for new mums. Once you've had your doctor's clearance to return to workout post birth, simply select the Post Natal option when signing up to the program. If you need any help or get stuck, the crew are here to help. Send them an email hello@28bysamwood.com
I've just found out I'm pregnant, is 28 still suitable?
Congratulations! Our Pregnancy Program is the best option for you. We have developed a tailored program, specifically for this special time. Our pregnancy program is suitable for all trimesters of your pregnancy and has some great educational resources to guide you along the way.
We have been working with our women's health & pregnancy physiotherapist Chloe Lorback to ensure that your workouts are safe and effective. On top of this, we've included some great pregnancy and postnatal yoga and Pilates videos that we know you'll love.
Our head nutritionist Shahna Sarpi has formulated a pregnancy-safe meal plan that will assist you in meeting the increased nutrient requirements over this time.
Our pregnancy program is perfect to support your body, mind and bub! Please make sure you consult your doctor or midwife before engaging in physical activity.
Can I do the program if I'm unfit or overweight?
28 has been designed to suit all fitness levels and abilities and our amazing 28ers come to us in all ages, shapes and sizes.
Whether you're just getting started on your fitness journey, or you're ready for a challenge, there's a workout level that will work for you! When you join us you'll be asked to choose the current fitness level that best resembles you, but remember, once you get fitter you can level up, or if you need to take it easier you can level down for a while, via the settings page of the website.
28 has five fitness levels and it also has a low impact option too. If you feel you're carrying a large amount of excess weight and you're worried about your joints, we would recommend beginning your 28 journey on our low impact program. But, as with all things fitness, if you have any concerns at all, it's always important to consult your GP before taking part in any exercise.
Can I do the program if…
… I'm older
Absolutely! 28 by Sam Wood is the program designed for everyone. We have many people in their 50s, 60s or 70s who are loving the 28 program and getting fit and staying healthy at home! Of course, if you are concerned about your age or fitness level, and how it might impact your ability to exercise, please consult your GP before starting your exercise plan. The 28 crew are also available to help assist you with any queries you may have hello@28bysamwood.com
… I'm a shift worker
While your job itself may be rewarding, there's no denying there are a few downsides to the long hours and irregular shifts. Shift work messes with the bodies circadian rhythm (AKA, the 24 hour cycle that regulates sleeping, waking up, digestion and other essential functions), meaning shift workers can struggle to get adequate shut eye and can experience issues with digestion. With hours that are all over the place, this type of work also means you're forced into irregular eating habits which can make it difficult when you're trying to stay healthy.One thing that helps people when they're getting into shape is establishing a good routine. So I can definitely empathise that if you are a shift worker this is going to be a challenge – but it's one that I know you can tackle! 28 allows you to workout anytime, anywhere, meaning it's a great way to get healthy in a way that works for you!
… I travel a lot
28 is the program you can do anywhere, at anytime, which means it's perfect if you're travelling!
… I have a back injury
If you are diabetic, have a medical condition, an injury or a physical disability, you should consult your doctor or other health care professional before starting this program. When you are ready, we will be here to help you with any alternatives that you may need so that we can smash some goals together.
… I have diabetes type 1
A healthy, balanced diet is beneficial for the management of type 1 diabetes and is what you'll get from the 28 meal plans. This can support you in keeping your blood sugar levels within their recommended range. One alteration you may consider making to help keep your blood sugar levels stable is having smaller meals, more frequently. It can be beneficial for you to work with a dietician, nutritionist or diabetes educator to work out the specifics of your diet based on your personalised requirements, however 28 provides a great framework for you to work with.
When it comes to the exercise component, staying physically active through regular exercise is important in the management of type 1 diabetes. The daily 28 workouts can be followed to achieve this result and the combination of nutritious food and daily movement will support your overall health and wellbeing.
Please ensure you are working alongside your healthcare practitioner and taking your insulin as directed.
… I have diabetes type 2
28 follows a real food diet, which automatically removes many of the refined, processed and sugary foods that are detrimental in type 2 diabetes. It's a great meal plan to help you manage this condition and we have had many diabetic members have great results by following the program.

To help keep your blood sugar levels balanced we do recommend that you snack between your meals. Whether it is a small handful of nuts or some veggie sticks with hummus, these are balanced snacks that will help to keep your blood sugar stable. High protein and high-fat snacks are great options to support your blood sugar levels and help keep you full and satisfied between meals.

Making sure that you're moving your body every day will also be of benefit to you. Following the daily workouts and keeping active alongside a healthy diet for the best results.
If you're after some additional guidance on optimising 28 to be type 2 diabetes-friendly, remember that the crew are always here to help and can offer some personalised advice.
… I have high blood pressure
You're in the right place. 28 is beneficial in the management of high blood pressure due to the healthy, balanced meals, regular workouts and stress management tools. Achieving and maintaining a healthy weight is important in the management of hypertension and 28 will support you in this process.
The real food approach to nutrition that 28 follows, provides your body with the foods it needs to help normalise your blood pressure, while decreasing your overall sodium intake through removing processed foods. Daily exercise supports your overall cardiovascular health and the 28 workouts will provide the guidance you need to stay physically active and increase your fitness. We'd also recommend incorporating the 28 meditations into your routine, these will support relaxation and decrease your stress levels. As stress is a huge contributing factor of high blood pressure, this will help you bring it down to within a normal range. This powerful combination will not only assist with your blood pressure, but it will also leave you feeling healthy, fit and strong.
---
Ready for a fitter, healthier you?
It's less than $2 a day.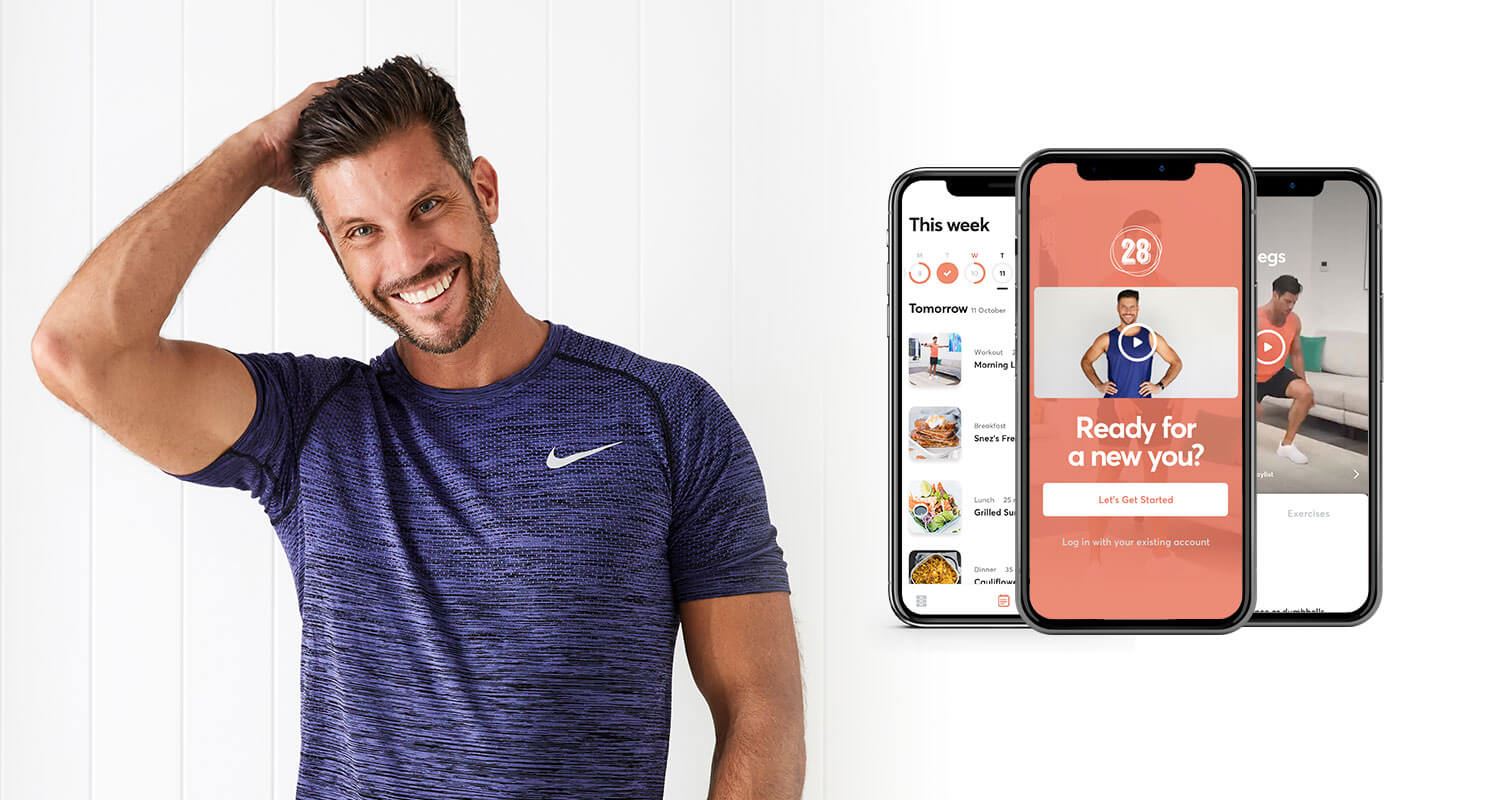 Got a question? Drop us a line and we'll get back to you ASAP
[simple_contact_form]