What is a hard seltzer?
Hard seltzer (also known as spiked seltzer) is simply alcoholic seltzer or seltzer with alcohol added to it, just like the name suggests. So, what is seltzer, and what type of alcohol does it contain? Seltzer is essentially just carbonated water. In the late 1700s, an Englishman discovered that fizzy water could be made by placing a bowl of water above a beer vat. The name comes from the German town that he was in at the time, known as Selters. It wasn't until 2013 that a brand called 'Spiked Seltzer' introduced the first hard seltzer, which later took the world by storm.
There are generally two ways hard seltzer is made. The first is that it is brewed by fermenting ingredients such as rice or cane sugar and making the most of the naturally occurring alcohol and fizziness. The second is that alcohol is added to seltzer to make it alcoholic. This ultimately comes down to the brand and which process they choose to utilise.
Is hard seltzer a beer?
No, hard seltzer is not a beer. However, like many alcohols, it is similar in the way that it is made through a natural fermentation process. In the case of hard seltzer, it is grains or cane sugar that are fermented to make the end product. Alternatively, some brands make hard seltzer by adding an alcohol such as vodka to seltzer (fizzy water).
Are seltzers healthier than beer?
Hard seltzers are being sold as a 'healthier' alcoholic beverage. Comparing hard seltzer to beer, it can be seen that it is lower in both calories and carbohydrates automatically making it a winner from that perspective. An added benefit of hard seltzer is that by being made up of such a large percentage of carbonated water means that it is keeping the drinker well hydrated. Like all alcohol, it should be consumed in moderation, but it is a healthier option for the times you do wish to enjoy a drink or two.
iv. hard seltzer, a list showing typical seltzer alcohol content vs beer vs other similar beverages.
Like beer, hard seltzer has an average alcohol content of 5%. The following list shows some examples of the alcohol percentage in similar ready-to-drink options: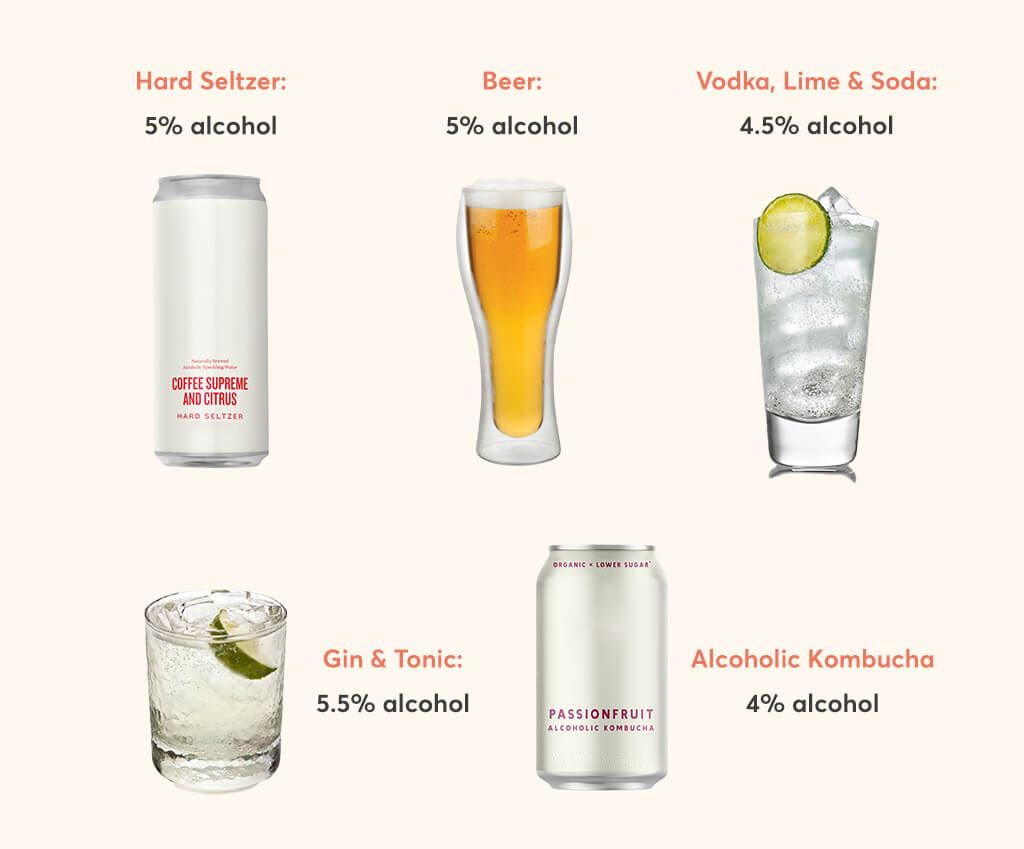 Hard seltzer calories.
While the calories of hard seltzers very from brand to brand, the average amount appears to 100 calories per serve.
What is the lowest calorie hard Seltzer available in Australia?
After the huge success of hard seltzer over in America, it caught on here in Australia, where we now have many different products available on the market. The lowest calorie hard seltzer available in Australia that we can find is by a brand called 'Basic Babe', which has a total of 55 calories per serve.
Can you make your own spiked seltzer at home?
Although homebrew is possible, it requires multiple days and various forms of yeast for the fermentation process to take place. Rather than fermenting your own alcohol, you can use the simple trick of combining seltzer (a.k.a. carbonated water) with your choice of alcohol – we generally use vodka.
How to make a low sugar, hard seltzer cocktail at home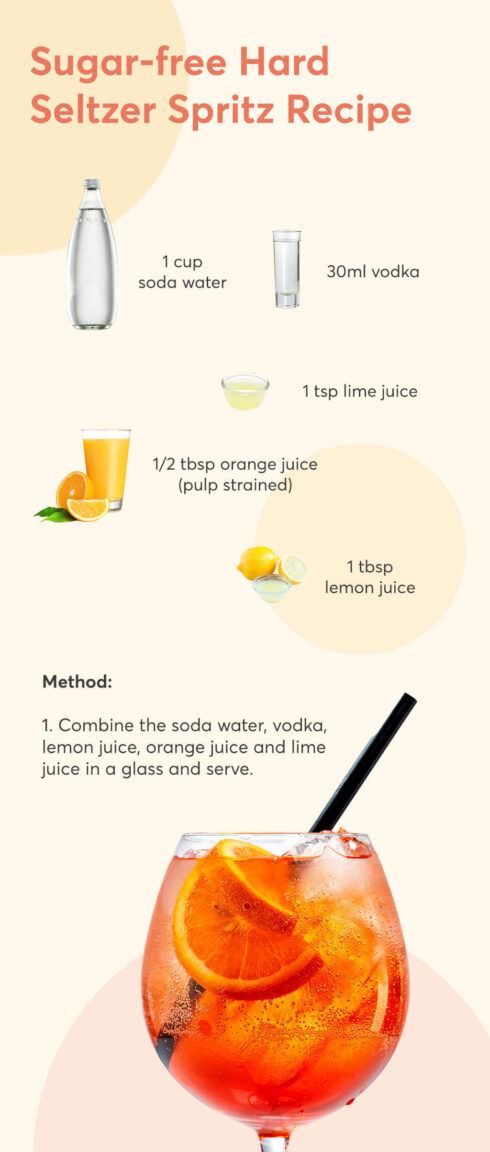 Our favourite healthy spiked seltzer recipes: