A lot of people can struggle deciding which meals are the healthiest options on a restaurant or cafe menu. The good news is that eating out or ordering from a local cafe or restaurant can be simple, stress-free and healthy, if you have some 'real food' know-how.
Research. On your next walk, investigate the cafes nearby and check out their menu. This way you'll know which cafe has the healthiest options whenever you want to eat out (or order in!)

Keep it simple. Every cafe or restaurant will have something like an omelette, salad, or stir fry. Most menus will also have a healthy choice that includes a simple protein with a salad or a simple protein with vegetables. If there's a creamy sauce, however, just ask the waiter if they could leave that off.

Do your best. See if you can find a meal that is as close to what you eat at home as possible. This means a dish with more vegetables and healthy carbs, a moderate amount of protein as well as some good fats. Don't stress if the meal isn't 100% healthy, do your best, but enjoy your night!

When invited out to eat, do your homework. A quick Google of the menu before you go will give you plenty of time to decide what you're comfortable eating, and there's time to phone a friend if you are unsure (or, if you're a 28er you can reach out to my friendly nutrition crew for advice!).

When in doubt, ask. Most waiters are extremely accommodating and they're happy to help. They're very used to people asking for a simple ingredient swap, or to have the dressing 'on the side'. If there is a deep-fried side dish you'd like to avoid, ask the restaurant for a healthier substitute, for example, ask to swap chips for a baked potato or extra greens.
If you are unsure, or you're having trouble choosing between dish A and dish B, choose the meal that has the most vegetables.
---
Here are some healthy restaurant meals you can order the next time you eat out!
BREAKFAST: Order one of these healthy cafe options
Omelette with side of avocado
Poached eggs on sourdough with a side of avocado and tomato
Eggs, bacon, tomato, spinach, mushrooms
Baked eggs with rye bread
Acai bowl (be mindful of too much fruit, especially dried fruit and other sweet toppings that can ramp up the sugar content)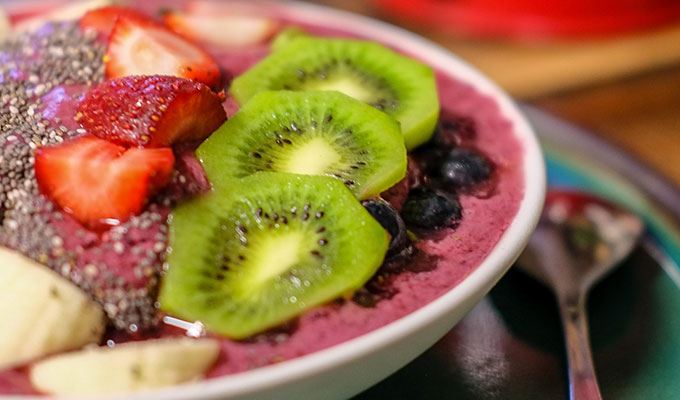 ---
LUNCH: Look for these healthy cafe dishes
Chicken and avocado salad
Roast vegetable and quinoa salad
Quiche or Frittata and salad
Sashimi
Yakitori (grilled chicken) and edamame beans
Wholegrain wrap with tuna/falafels, lettuce, tomato, carrot and cheese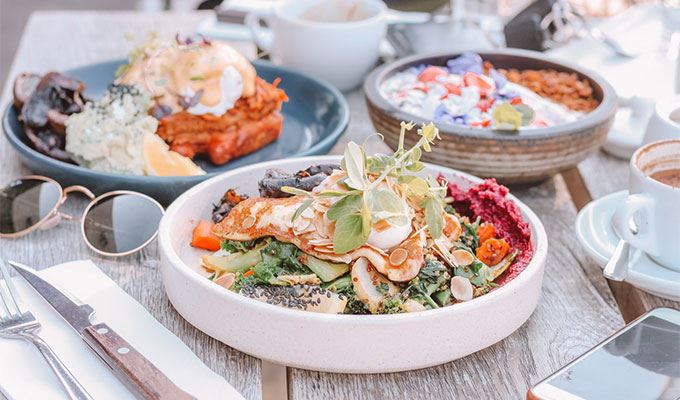 ---
DINNER: You can't go wrong with these healthy pub meals!
Baked or crispy skin salmon with baked potato and beans
Grilled or macadamia crusted barramundi
125/250g rump with vegetables or salad
125/250g scotch fillet vegetables or salad
Greek Salad