The change in seasons means a change in the way that we eat. Both the ingredients that we see in the supermarkets and the types of meals that we're cooking to suit this time of year.
With the weather cooling down, we transition from lots of salads and fresh produce to more cooked meals. While salads are still on the table, we may start to incorporate more roast veggies or wholegrains instead of the abundance of raw foods we lean towards in summer and the warmer months. Similarly, we'll begin to incorporate a mix of cooked and raw components into more of our meals. Another example of this would be enjoying an autumn frittata (or fritters) with a side salad. Some other great options at this time of year are stir fries, nourish bowls, stuffed potatoes and one-pan meals/tray bakes.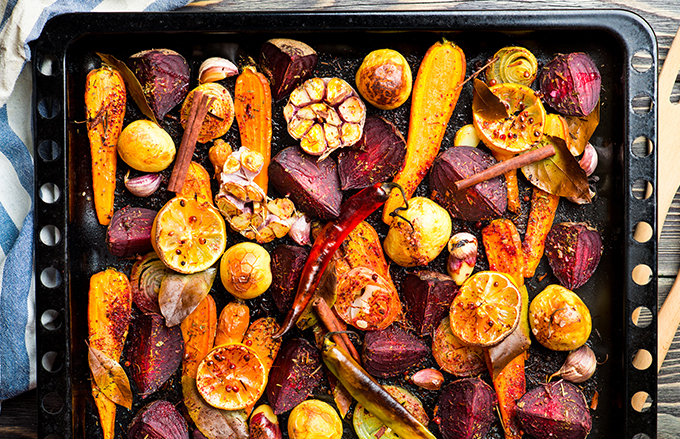 SEASONAL PRODUCE
With each season, the produce that becomes available to us changes. Different fruits, vegetables, herbs and spices need different conditions and weather to grow. There are many options that become ready to pick and eat in autumn, including:
Fruit: avocado, apple, blackberries, banana, cumquat, custard apple, feijoa, fig, grapefruit, grapes, guava, kiwi fruit, lemon, lime, mandarin, mango, mangosteen, nashi, orange, papaya, passionfruit, peach, pear, persimmon, plum, pomegranate, prickly pear, quince, rambutan, raspberries, rhubarb, strawberries, tamarillo
Vegetables: artichokes, Asian greens, avocado, beans, beetroot, broccoli, brussel sprouts, cabbage, capsicum, carrot, cauliflower, celery, choko, corn, cucumber, daikon, eggplant, fennel, leek, lettuce, mushrooms, okra, onion, parsnip, potato, pumpkin, shallot, silverbeet, spinach, spring onion, squash, swede, sweet potato, tomato, turnip, watercress, witlof, zucchini
Herbs and spices: basil, chervil, chilli, chives, coriander, dill, garlic, ginger, kaffir lime leaves, lemongrass, mint, oregano, parsley, sage, tarragon, thyme
Based on information sourced from www.sustainabletable.org.au
As we can see, there's a great variety of seasonal produce that we can get creative with over the autumn months. One important element of a healthy diet is ensuring we get plenty of different foods onto our plate. A great way to do that is try new things and mix and match the seasonal produce that we have on offer. This autumn we challenge you to try two or three fruit or veg that you wouldn't commonly use.