These delicious treats taste as good as they look and are sure to keep that 3.30itis at bay. Tried and tested by my 28ers, these are the top 5 snacks from my 28 Program.
Alex's Vegan Snickers Slice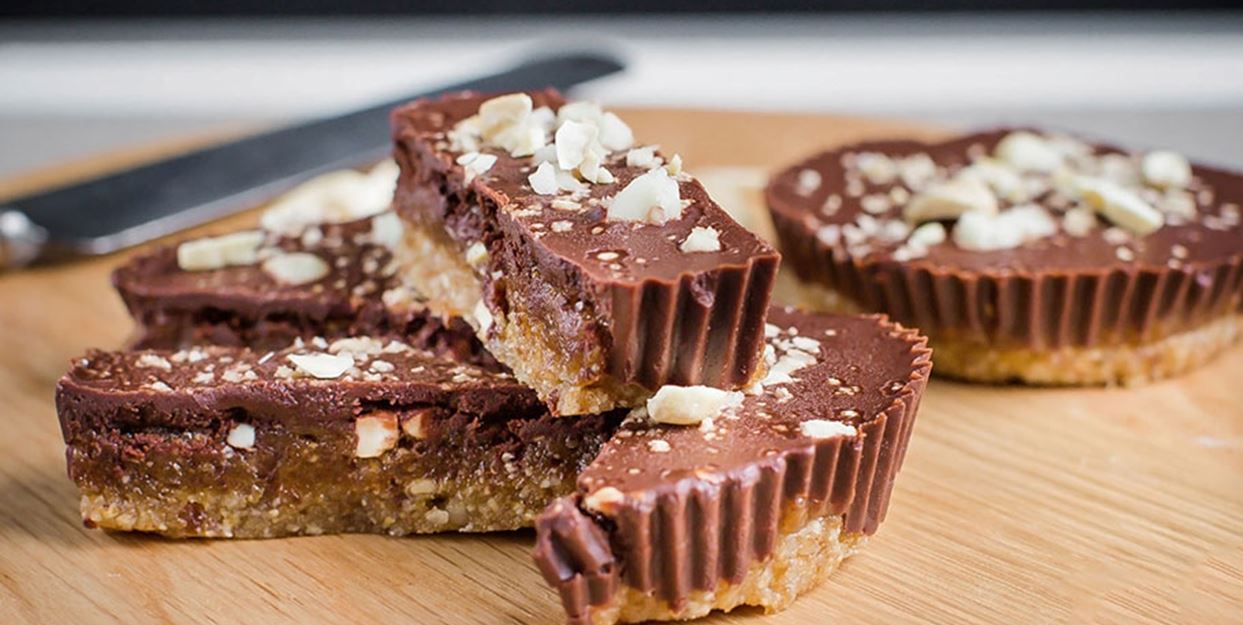 Needing something extra to get you through Monday? We've got you sorted with Alex's Vegan Snicker's Bites. My brother Alex is not a vegan but he loves to create clean versions of traditional treats, so now you can have your afternoon pick me up, without the side of guilt!
INGREDIENTS
12-15 large medjool dates
2/3 cup cashew nuts (natural)
1/3 cup macadamia nuts
1/3 cup almond (or peanut) butter
1/4 teaspoon salt 1/3 cup cacao powder
1/2 cup coconut oil
1/4 cup maple syrup
2 teaspoons vanilla extract
METHOD
To prepare the nougat layer, soak the macadamia nuts and cashew in warm water for 15 minutes.
Drain the soaking water and put the nuts and 5 or 6 of the dates in a food processor. Blend until the dates are completely broken down and incorporated into a fine consistency.
Lay out 12 serves and evenly cover each base with the nougat. Place in freezer while working on step two.
To make the caramel, combine the almond butter with the remaining dates and process until combined.
Add the vanilla, a dash of maple syrup and a pinch of salt and pulse until smooth. Roll into small serves and place evenly on top of the nougat.
Sprinkle some crushed macadamia and peanuts on top before adding the chocolate layer and press into the caramel.
Place back in freezer while making chocolate.
Put the coconut oil in the microwave for 30 seconds in a bowl.
Remove and mix through the cacao powder, remaining maple syrup and a teaspoon of vanilla extract.
Stir until combined then carefully pour the chocolate syrup evenly onto the pieces.
Sprinkle any remaining crushed nuts over the top for a garnish.
Place the serves in an airtight container in the freezer until ready to serve. Enjoy! Serves: 12
Gluten Free Anzac Cookies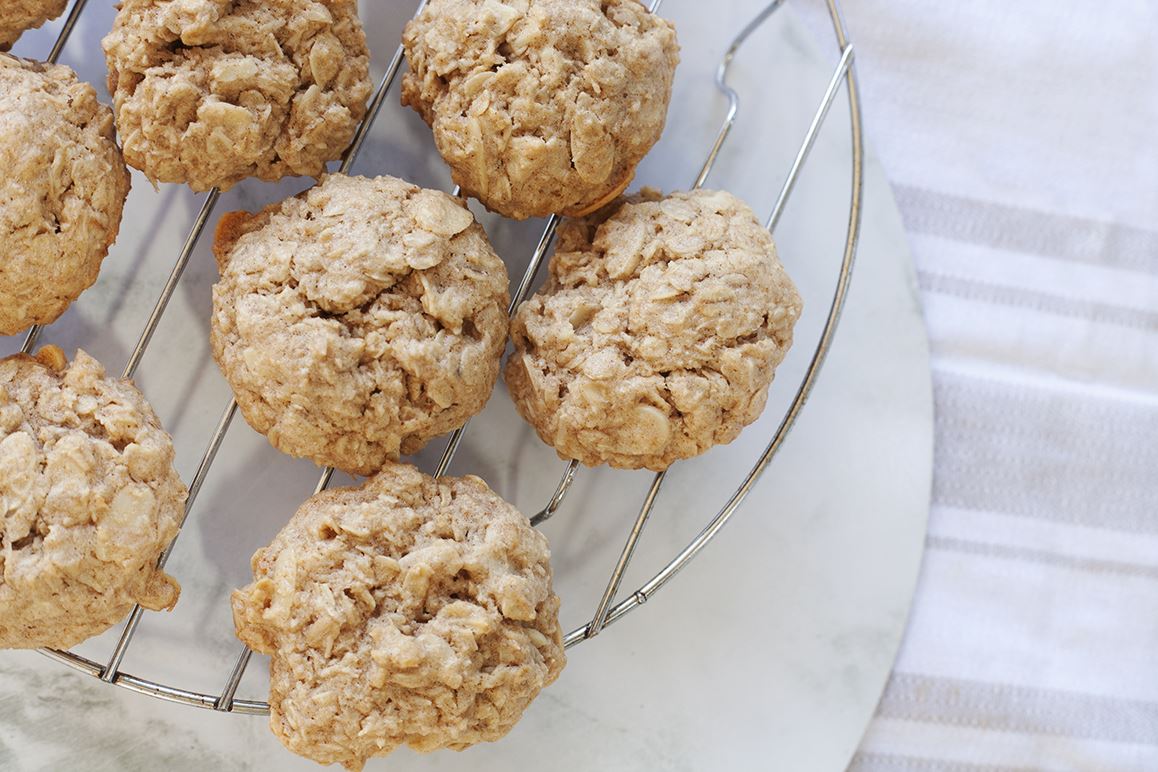 It doesn't have to be Anzac Day to enjoy these delicious cookies. They taste and smell as good as they look.
INGREDIENTS (MAKES 10-12 BISCUITS)
1 cup almond meal
1 cup desiccated coconut
1 cup of your favourite nuts (we used a mixture of almonds + macadamias), finely chopped
1 teaspoon sea salt
1 cup cold-pressed extra virgin coconut oil, melted
1 cup rice malt syrup
1 teaspoon gluten free bi-carb soda
1 tablespoons water
METHOD
Preheat oven to 150 degrees celsius and line a baking tray with baking paper.
Combine the almond meal, coconut and nuts in a large mixing bowl.
In a small bowl stir together bicarb soda and water and set aside.
In a small saucepan, add the oil and rice malt syrup and gently stir to melt. Remove from the heat and stir in the bi-carb and water mix. They will react together and foam.
Add the wet mixture to the dry ingredients and stir until well combined. Roll tablespoons of the mixture into balls and place onto the lined trays.
Gently press each ball to flatten slightly.
Bake for 8-10 minutes for softer biscuits and 10-12 minutes for a chewier result.
Peanut Butter Protein Bites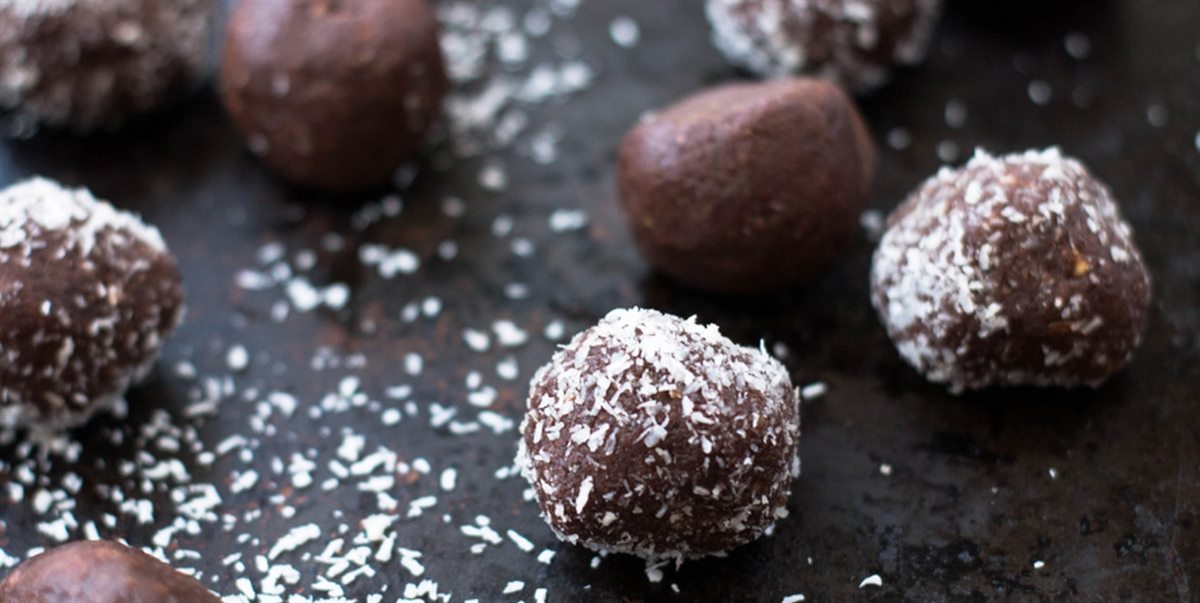 My Peanut Butter Protein balls are here to get you through that afternoon slump Ingredients
2 cups almond meal
1/2 cup peanut butter (crunchy)
1/4 cup cacao powder
1/4 cup protein powder (chocolate)
1/4 cup rice malt syrup
1/4 cup coconut oil melted
1 tablespoon cinnamon (ground)
1/4 teaspoon salt
1/4 cup desiccated coconut optional
Method
Add all ingredients (except desiccated coconut) to a large bowl and stir until well combined.
Use a teaspoon and form small balls rolling well until combined. To prevent sticking, add a touch of oil to your hands prior to doing so. Makes 18 bites.
Sprinkle with desiccated coconut if desired and chill in the fridge before serving. Leftovers will keep for 2 weeks in the fridge.
Simple Sausage Rolls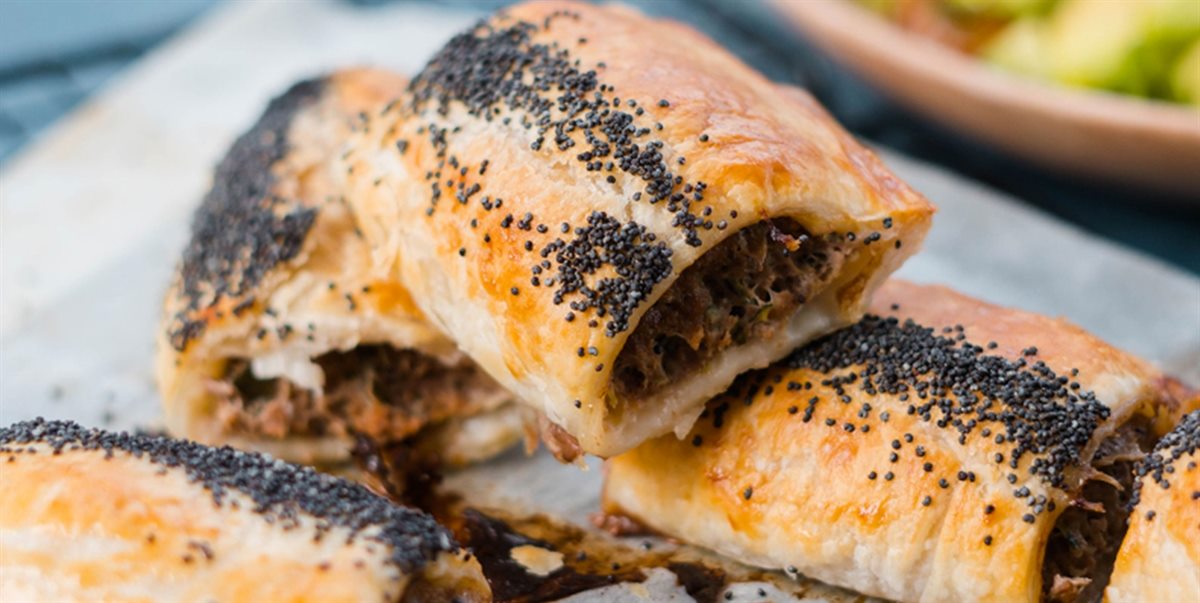 If you're looking for a healthy and tasty alternative to these all time favourites, look no further than my simple sausage rolls.
Ingredients
300g beef mince
1/4 cup basil leaves finely chopped
2 eggs
2 tablespoons Worcestershire sauce
1/4 cup wholemeal (or gluten free) breadcrumbs
1 tablespoon tomato paste
1/2 carrot finely grated
1/2 onion (brown) finely grated salt & pepper to taste
2 puff pastry ready rolled sheets, defrosted 1 tablespoon poppy seeds
Method
Preheat oven 200C.
In a medium bowl, mix together mince, basil, 1 egg, Worcestershire, breadcrumbs, tomato paste, carrot and onion. Season to taste. Refrigerate mixture.
Cut pastry sheets in half (about 10-12 cm wide).
Lightly beat the other egg.
Divide beef mince mixture into 4 even portions and form each quarter along one edge of the pastry.
Brush the open strip of pastry at opposite side of the mixture with egg and roll pastry over mixture into a long even log.
Brush the tops with egg and sprinkle with poppy seeds and cut into rolls Place roll seam side down on a lined oven try with baking paper.
Bake for 20 – 25 minutes until golden.
Better Than Ice Cream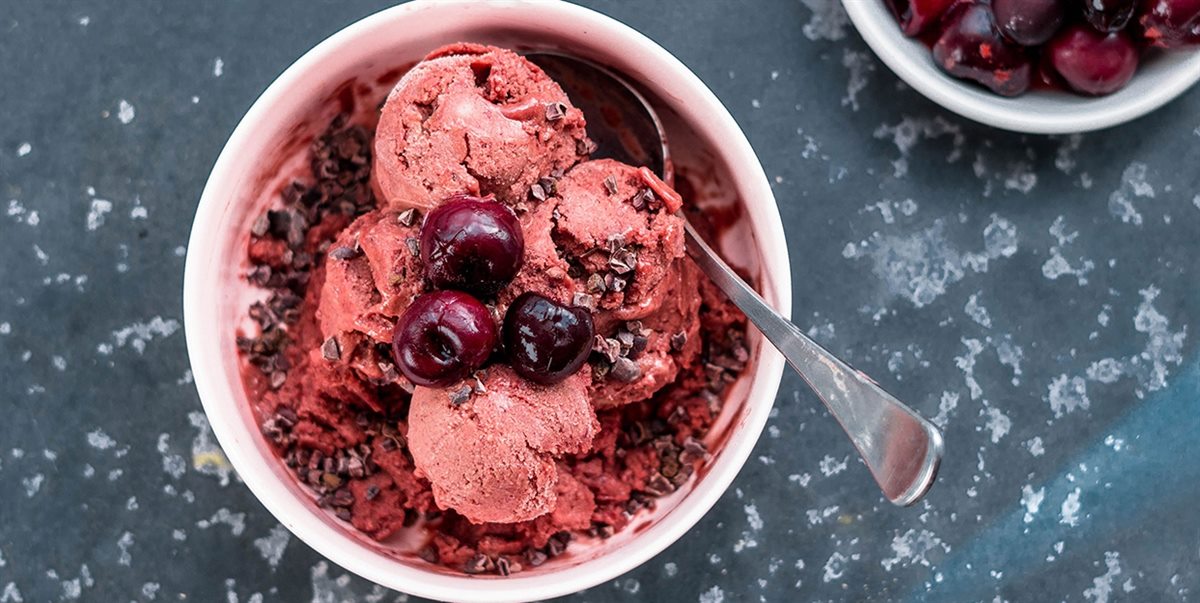 Don't reach for the store bought ice cream, instead try my Better Than Ice Cream recipe. It's perfect for when those cravings won't go away, and the best part, you don't need any fancy equipment to make!
Ingredients
2 bananas frozen and cut into chunks
1/2 cup coconut cream
2 tablespoons almonds
1 teaspoon cinnamon (ground)
1 tablespoon cacao powder
1 tablespoon rice malt syrup
1/4 cup water
Method
Place all ingredients into a high speed blender and blend on high for at least 30 seconds, until creamy.
Pour into a dish to serve. If you prefer a more solid ice cream, pour into a shallow dish and freeze for 1 hour.
Keep leftovers well-sealed in the freezer and use within a few days.
Not Quite Cherry Ripe Bites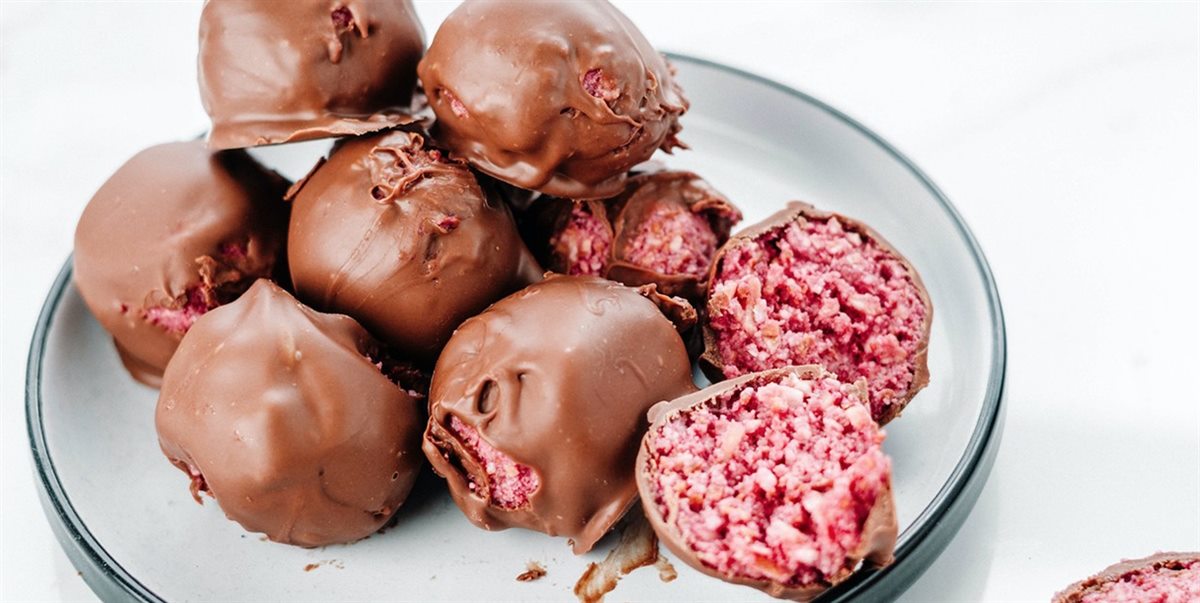 Love Cherry Ripes but hate the sugar associated with them? Well we have a solution! These are even tastier and sugar free!
Ingredients
Filling
1 1/4 cup unsweetened shredded coconut.
1 tablespoon rice malt syrup.
1 tablespoon coconut oil, melted.
1 1/2 tablespoon coconut milk.
1 teaspoon vanilla powder or extract, optional.
1/2 cup raspberries (fresh or frozen).
Chocolate Coating
1 cup store-bought (85% or 90% dark) chocolate
Directions
Line a baking tray with baking paper. Add all the filling ingredients to a food processor. Pulse until mixture comes together but still has texture. Roll tablespoons of the mixture into round balls, place on the baking tray and freeze for at least an hour.
Meanwhile, melt store-bought chocolate over a double boiler being careful not to seize the chocolate (or make the Basic Raw Chocolate*). Remove the coconut balls from the freezer and roll them in the melted chocolate so they are completely coated.
Place balls on a tray and sit in the fridge to set before serving.
Note These balls will require refrigeration. You can also store them in the freezer for 1-2 months
---
Let me be the personal trainer in your pocket!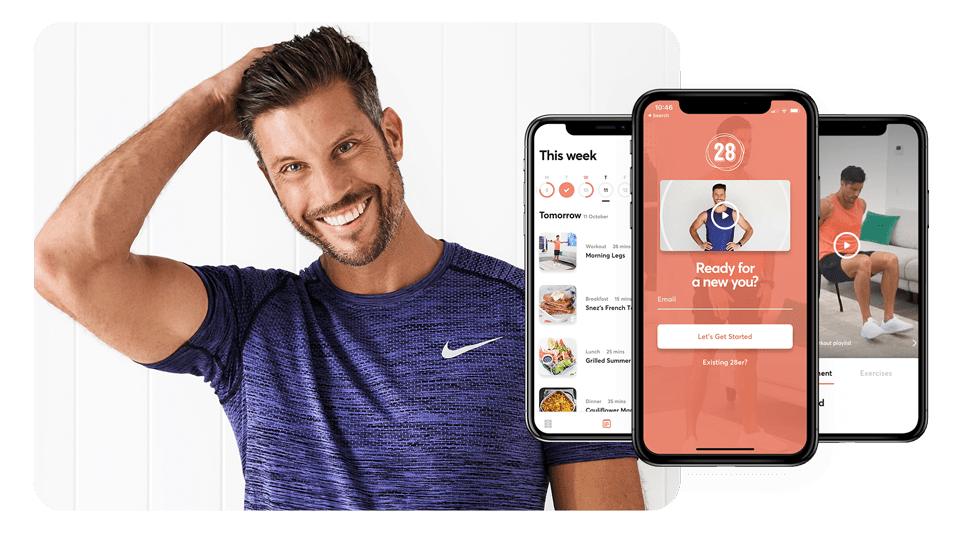 G'day, Sam Wood here!
Join me every day for a different 28 minute workout. My dynamic workouts are suitable for all fitness levels and designed to get results fast. Join me in the kitchen with a delicious eating plan every week created by our 28 nutrition team with recipes and shopping list at the touch of a button. Did you know we're also the only online program with the I Quit Sugar Recommended Tick? Click through to find out why 28 works and how it can work for you!