Kombucha is a popular fermented tea that is often made into a sparkling drink. With its current popularity, you've probably seen at your local health food store and major supermarkets. The traditional way to make kombucha involves a natural fermentation of sweet tea with a live culture. This live culture is known as a SCOBY, which stands for Symbiotic Culture of Bacteria and Yeast.
Despite a recent boom in popularity, Kombucha isn't new and it's certainly not a fad. It is actually believed to have originated approximately 2000 years ago in China. The traditional fermentation process leaves you with a drink that is jam packed with live cultures, tea polyphenols and organic acids, a huge win for your gut health. With the increased diversity of your gut flora, these probiotic bacteria can encourage a healthy gut microbiome which is great for digestion.
Benefits of Kombucha:
Live Cultures
When kombucha is brewed the old school way (kept raw), it contains healthy, living live cultures that are great for our gut health. Live cultures increase the diversity of our gut microbiome, having a positive impact on our digestion and overall gut health. Since our gut health impacts our overall health, this goes on to positively impact our general wellbeing.
Antioxidants
Kombucha contains antioxidants that fight free radicals, protecting your cells. Antioxidants help to decrease inflammation within our body and can even help protect our body's from certain diseases.
Healthy alternative to soft drink
Unlike your average bottle of soft drink, which can contain up to 16 teaspoons of sugar, a good quality Kombucha contains no added sugar. Instead of consuming a soft drink that's detrimental to your health, choosing a kombucha also means you get the added health benefits with the same fizzy satisfaction. Our go-to brand is Remedy because they brew their Kombucha in the traditional way, ensuring its jam packed with all the good stuff. With no added sugars and a range of delicious flavours, we can't go past them!
Try a Kombucha Mocktail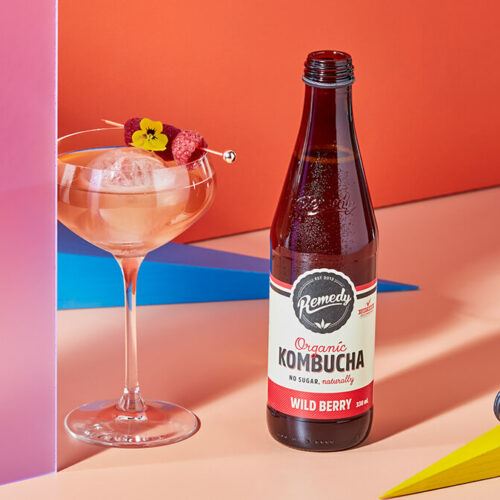 Pretty In Pink
Move over gin and tonic – this is our new favourite summer mocktail.
Ingredients
50

ml

Ceder's Wild Non-Alcoholic Spirit

or any non-alcoholic gin alternative

150

ml

Remedy Kombucha Wild Berry

1

large ice cube

1/4

lime

juiced
To Garnish
Fresh berries

Edible flowers
Instructions
Pour gin into a glass with ice.

Top with Remedy Kombucha Wild Berry and a squeeze of lime.

Garnish with fresh berries and edible flowers.