Have you had a chance to try one of Sarah's Strength workouts yet? She is a veteran in body conditioning, Sarah is a pro at teaching people how to lift weights safely and effectively – from home.
If you've never tried strength training before you might be curious as to how useful it can be within your fitness regime. Well, you've come to the right place – here are just a few fantastic ways in which strength training can contribute to your overall fitness and health journey.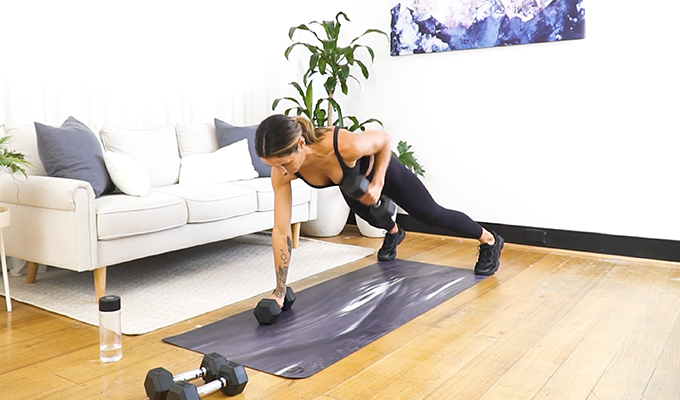 Builds muscle – Obviously! By increasing the strength of our muscles, we're increasing our physical capacity overall. This helps with day-to-day activities, and even helps with your other forms of exercise like cardio-based workouts.
Strengthens your joints – The low impact nature of strength training means you're working out with less stress on your joints. Strength training also uses functional movements that you use in everyday life, meaning you're developing muscles and putting great movement through your joints that will help avoid general wear and tear in future.
Supports bone health – Strong muscles actually lead to strong bones! Working on our bone density by doing strength training is a really important benefit or this type of workout, particularly as we get older and are more prone to injuries and osteoporosis
Weight management – You may have heard it before, muscles burn more calories. So, the more you can build your muscles, the better your after-workout burn will be! Combining these types of workouts with your HIIT and other cardio workouts is a really holistic form of weight management.
So, there you have it – strength training is awesome! If you're sold on doing your first session with Sarah, sign up to be a 28er and get started straight away!