Many of you know my beautiful chocolate lab, Hendrix. He's been in my life for the last 10 years and really is man's best friend. He's been there for all the ups and the downs, there really is nothing quite like the bond between us.
So, it's no wonder we want to make sure we're giving them everything they need to be happy and healthy. If we feel unwell, straight to the doctor we go. But it's really hard with pets, sometimes we don't know what's going on with them.
Between work, kids and everything that life throws at you, there's always the risk that you might miss a worming tablet here and there, or not pick up on a cue when it's most important – which can be downright disastrous! Sometimes it can be a real guessing game as to whether or not you should actually take your pet to see a vet or not, and when you do – those bills can certainly start to add up fast.
That's why I'm stoked to be partnering up with Your PetPA – a new format of affordable, convenient, and supportive expert vet care for your furry friends that is completely online.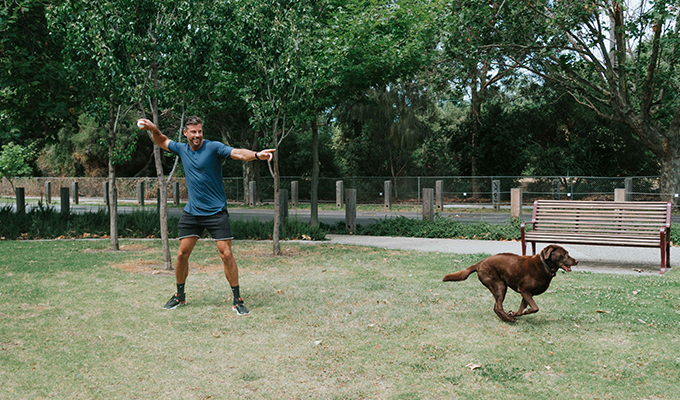 I downloaded the app and created a free Vet Care Plan for Hendo. It's a real plan developed by vets and offers guidance for the next 12 months completely tailored to him. We're now signed up to their Thriving Pet Plan and it's a gamechanger. This service organises everything your pet will need for an entire year – combining everything from unlimited vet chats and advice, your custom vet care plan, and all flea, tick and worming prevention delivered to your door.
It is invaluable peace of mind knowing that Hendo is getting the best expert care year-round, and I don't have to worry about anything slipping my mind. If you've got a furry friend at home that you'd love to organise a care plan for, download Your PetPA and explore all the different resources they have to offer. And if you'd like to sign up to their Thriving Pet Plan, as a 28er you get to enjoy 20% off.
To celebrate our partnership, we're also offering 28ers 20% off their first order to their online pet store that offers everything you need to care for your pet – nutrition, parasite prevention, grooming and healthcare products. With next day dispatch and re-occurring orders it's the perfect peace of mind service.
Our pets give us so much, I know you'll agree with me when I say they absolutely deserve the very best! Check out how easy that can be with Your PetPA.