As Australia's #1 online nutrition & fitness program, it might seem strange that we don't calorie count.
The calorie myth
For years people have been told that monitoring calorie input and output is the only way to get results when it comes to losing weight. This way of thinking saw many of us spending unnecessary hours at the gym, and/or eating a dangerously low amount of food.
Eventually, people started eating food with the least amount of calories (think lite or low fat foods) without any consideration for the quality of food that they were eating.
The problem with this is that all calories are created equal. A calorie deficit may make you lose weight due to being in starvation and/or burning all your reserves with excessive exercise, but this isn't sustainable. As most of us who have tried any type of diet know, once your extreme measures stop, your weight piles back on, sometimes with interest!
Although it can be hard to let go of the habit of calorie counting, your first thought should be to just eat real food, and remember the following points:
Calories are not created equal.
Calories provide us with energy, however, what people forget is that we also get an abundance of micronutrients from our macros which are essential for our health.
Select foods based on their nutrient density rather than their associated calories
Macros are not just about providing calories for energy.
Our macronutrients (i.e. carbohydrates, proteins and fats) not only provide different amounts of energy per calorie, but they also elicit different effects on the body
Fat loss is not about calories.
There are so many different factors that can effect weight loss, such as hormonal balance, blood sugar control and gut health just to name a few. These things are not controlled by the amount of calories you eat but by your macro and micronutrient intakes. By focussing on whole foods rather than calories you will naturally be able to control these factors for optimal weight loss.
The thermic effect of food.
The amount of energy required to break down our macronutrients known as the thermic effect of food varies significantly. Your body burns far more calories digesting protein and fibrous vegetables compared to simple sugars like pasta, white bread or packaged cereals.
Get a taste of nutrition the 28 way, with this sample 'day on a plate'.
Here are some of my 28ers favourite recipes that have helped them collectively lose over 2 million kilos.
Green Machine Smoothie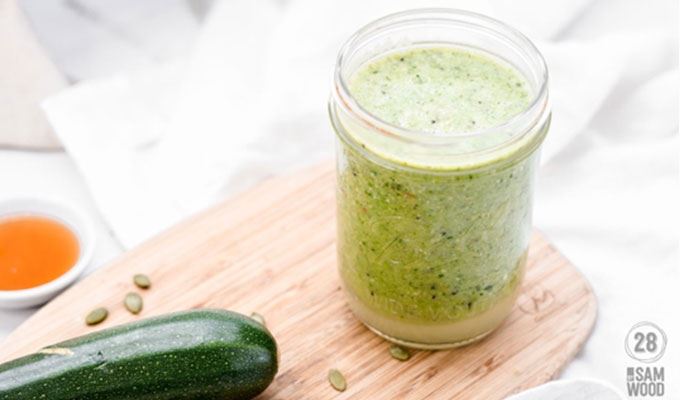 Ingredients
1/2 zucchini
1 cup baby spinach
1 kiwi fruit
1 teaspoon raw honey
2 tablespoon pepitas (pumpkin seeds)
1 cup coconut milk (from carton)
1/2 cup water
1 handful ice cube.
Method
Place all ingredients in a high-speed blender and blend until smooth.
Pan-Fried Salmon with Sweet Corn & Avo Salsa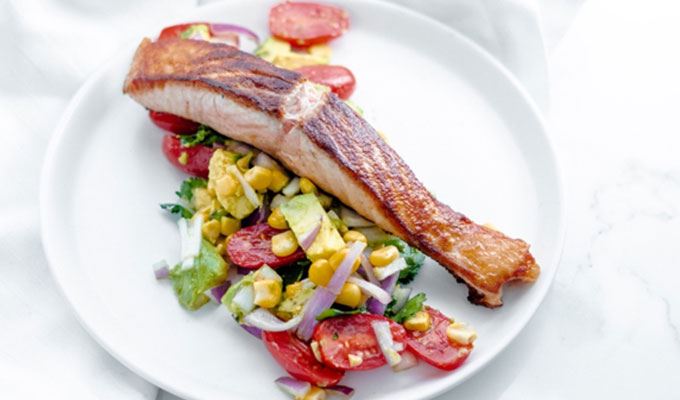 Ingredients
100 grams salmon fillet(s) cooked thoroughly for pregnancy
1/2 teaspoon olive oil (extra virgin) salt & pepper to taste
Ingredients for Sweet Corn & Avocado Salad
75 grams corn kernels (tinned)
6 cherry tomatoes halved
2.5 tablespoons avocado diced
2 tablespoons onion (red) diced
2 tablespoons coriander (fresh) chopped
1/2 teaspoons olive oil (extra virgin)
1/2 teaspoons wine vinegar (red)
1/4 lemon to serve salt & pepper to taste.
Method
Place all salad ingredients in a bowl and toss gently. Set aside while you cook the salmon.
Heat a fry pan to medium-high heat. Coat the salmon in oil and season both sides with salt and pepper.
Cook salmon skin side down for 2-4 minutes depending on thickness.
Turn and cook other side for a few minutes until cooked. It should flake easily with a fork and still be a little pink in the centre.
Serve salmon with salad and a wedge of lemon.
G'day, Sam Wood here! Did you know we're also the only online program with the I Quit Sugar Recommended Tick? Click through to find out why 28 works and how it can work for you!


---