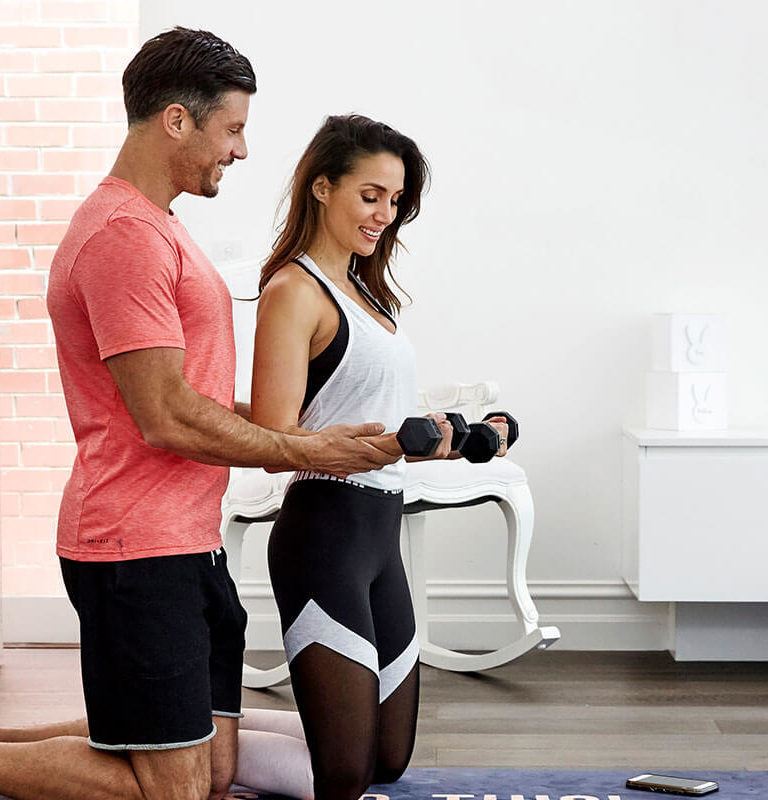 Stay healthy & get fit from home with my online exercise program
If you want to get fit at home, you don't need to waste hours of your day working out, you just need a phone and 28 minutes a day!
To stay fit, experts recommend you get at least 150 minutes of moderate-intensity physical activity a week. That might sound like a massive block of time, but luckily you don't have to do this all at once, and you don't have to do it alone.
Here at 28, my team and I are passionate about helping you start (and continue) your journey towards a healthier lifestyle so you can become the best version of you. That's why I developed an online exercise workout program that has now helped over 400,000 Australians get fit from the comfort of their own home.
The 28 Exercise and Training Program
I know you'll love the convenience of my exercise & nutrition program. Every day you'll receive a new 28-minute customised workout with me as well as ongoing support 7 days a week from myself and my crew of nutrition and fitness professionals. To help you stay motivated and on track, keep an eye out for my daily "Sam Cam" video that I send you every morning in real-time. You'll also gain access to our incredibly supportive private Facebook community, so you'll never feel alone.
Kick Start Your Healthier Lifestyle Today
My exercise & nutrition program has helped over 400,000 people get fit and live healthier lives, so I know from experience that the hardest part of your journey is taking your first step. That's why I'm here. For less than the cost of a cup of coffee, I can help you achieve your health & fitness goals.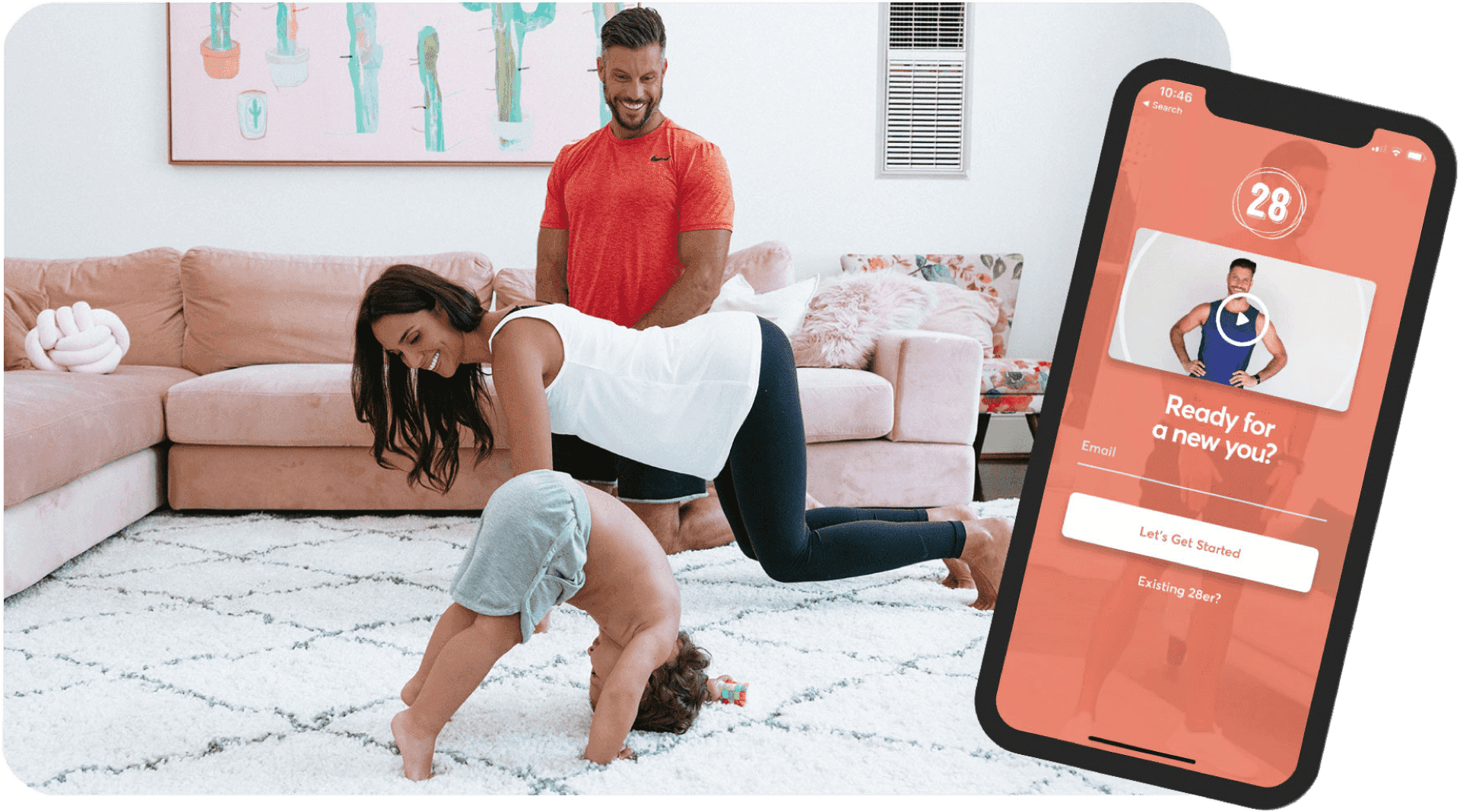 I've helped over 400,000 people live healthier, fitter lives, and I'd love to help you too.
The fastest way to get fit at home
My online fitness program was designed for people who want a quick and easy way to get fit, with live support from me and my crew, 7 days a week, so you'll stay motivated and on track towards becoming a healthier you. Whether you're a busy mum looking to squeeze in a quick workout before the kids wake up or a corporate hotshot short on time, my 28-minute workouts are suitable for anyone, anywhere.
All you need is 28 minutes and your mobile phone. It really is the fastest and easiest way to get fit at home.
You don't need a gym membership, you don't need to work out for hours each day, and you don't even need to be fit. You just need to start.
An exercise and training program to suit every level of fitness
My 28 exercise and training program is designed to make it easy to get fit at home, and flexible enough that you can do your 28-minute workout anytime and anywhere, at an intensity that will challenge and improve your current level of fitness. I have designed a workout to suit every fitness level. From nervous newbies to fitness fanatics, 28 will work for you! There are 6 different workout levels including low impact.
Want to try a home exercise workout with me?
My 28-minute exercise routines will work your whole body and help you build lean muscle, tone up and shed that stubborn fat. If you're ready for the challenge, I'd love you to try one of my home exercise workout videos called Absolute Power!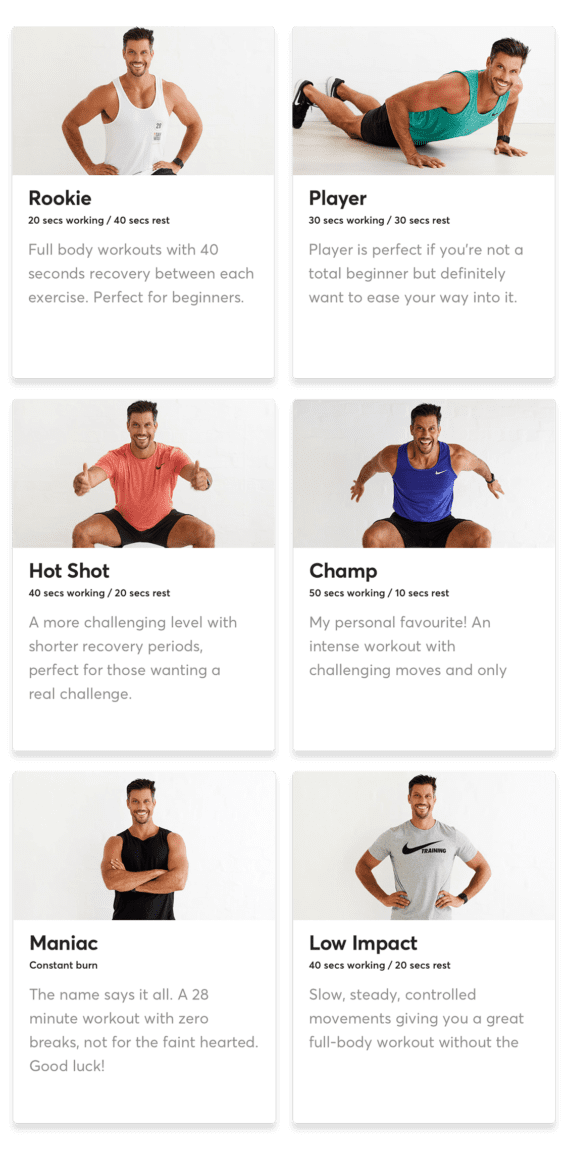 We also have a postnatal option and a pregnancy exercise program available for our new mums too.
My top tips for getting fit at home FAST!
Over 400,000 people, just like you, have gotten healthier and improved their lives by training for only 28 minutes a day. Trust me, it works! Here's a few tips that have consistently worked for so many 28ers…

1. Have a plan… and make it '28'!
28 is the magic number. I plan everything in 28-day blocks, and my workouts are 28 minutes. Why? It's short enough that you won't feel overwhelmed, you won't get bored and it's also long enough to see real results.

2. Set yourself a specific goal & tell someone about it
Write it down, tell someone about it and make yourself accountable.

3. Don't worry if you stuff up sometimes
We all have bad days and lazy days, it makes us human. What's important is how you feel about those days, and that you can brush yourself off and keep going. (my program has a library of videos and articles devoted to mindset, plus you'll be able to chat with Sam's Crew 7 days a week if you need extra support)

4. Remember the key to success is progress not perfection.
Nobody is perfect 100% of the time. So just make sure do something active and healthy every day, no matter how small, because the small wins add up to big results.
Give this home exercise workout a go with me!
No matter what your current fitness level is, regular, moderate-intensity activity is one of the best ways to get fit and stay healthy at home. I'd love you to try this full-body 28 minute HIIT workout with me.
This workout is designed for 28ers with an intermediate level of fitness already, so, if it's a little too much for your current fitness level, no worries! Simply increase the rest time between each exercise to 40 seconds.
The philosophy behind my home training program
At 28, we keep things realistic, achievable and effective.
After 20 years as a personal trainer, I know that successful training for fitness isn't about volume. It's about consistency. That's why my fitness program encourages you to move, every day, and it varies the intensity of each workout so your body and your fitness levels won't plateau, and it varies the types of workouts so you never get bored.
On 28, you get to choose how challenging your workouts will be, just by clicking a button in your program settings. And as you get fitter, you can change the intensity at any time, and your workout videos will adapt to your new fitness level. Easy as!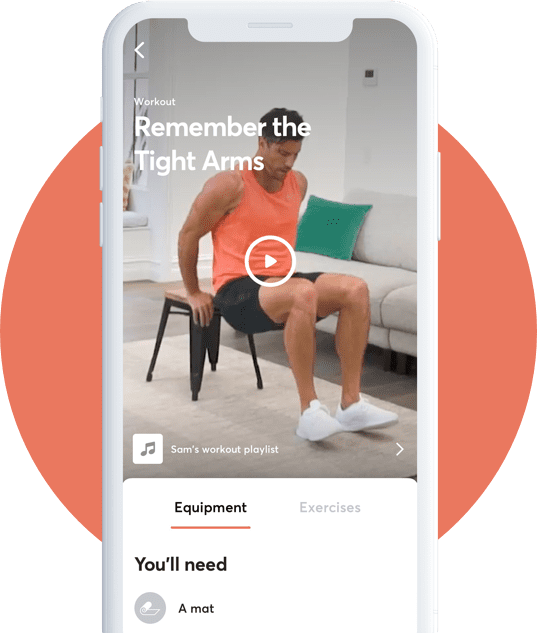 How to improve your fitness fast with my home exercise program
Change only happens if you push yourself beyond your comfort zone. And, to see real changes in the shortest possible time, you will need to get comfortable with being uncomfortable. This means you'll always work up a sweat with me but, I promise, you'll learn to love it. And even in the first week of your exercise program (when it feels the toughest, and you might not be loving it quite yet), our 28-minute workout goes by really fast, and once it's done, you'll be so happy you did it!
Your workouts don't have to go for long IF you train at the right intensity that has the maximum impact on your fitness levels
Your fitness goals will come easier (and faster) when you have your head in the right frame of mind. 
For anyone looking to start their journey to a healthier lifestyle, regular mindfulness exercises can really help. It's important to learn to de-stress and stay focused on your goals. That's why I've created a range of mindfulness exercises with my team of mind and motivation experts so you can stay in the right frame of mind and on track throughout your health and fitness journey with 28. Whether it be a quick meditation session before bed or a motivational pep talk first thing in the morning, my team is here to ensure you maintain a positive state of mind at every stage of your fitness journey.
Real food for real fitness results. 
An active body needs quality fuel. We believe meals should be nutritious, tasty and easy to prepare and that's exactly what you'll get with our weekly meal plans prepared by trained Nutritionists.
Our healthy meal plans support your body with quality, 'real food' nutrition… that's easy to make!
Our head of nutrition, Shahna Sarpi will create a new menu for you every week (based on your dietary preferences) that will ensure you're eating high quality, delicious meals that are quick and easy to prepare. Every weekend you'll be able to review the menu and make optional recipe swaps, then you'll have a consolidated shopping list so you know exactly what fresh ingredients to buy, so you're prepared ahead of time.
Preparation is one of the keys to staying healthy at home, so we make sure you'll know exactly what to buy and what to cook, so you can stay on track in the kitchen.
---
PROGRESS NOT PERFECTION
It's less than $2 a day on a monthly subscription. No contracts, cancel anytime.
---
My 28 Program really is something the whole family can enjoy
Workouts that you can do from home in 28 minutes.
Delicious, family-friendly recipes
Real-time support from 'Sam's Crew', my trained team of fitness & nutrition experts
A supportive member community on Facebook
Daily 'Sam Cams' from me every day, that I send you via our 28 app, in real time!
Join the thousands of people just like you who are getting great results from the comfort of their own home, for less than the cost of a cup of coffee per day!