At 28, our food philosophy is JERF (Just Eat Real Food). This means our recipes are packed full of delicious whole foods and nutritious ingredients.
Following our JERF philosophy simply means doing your best to stay away from packaged and labelled foods, because they are usually packed full of hidden nasty ingredients that are not great for your longterm health.
When you just eat real food you are excluding added sugars and artificial ingredients from your diet that, in turn, reduces the risks that can come from eating too much of it. Just eating 'real food' doesn't mean you're going to miss out on the flavours you love, and it doesn't mean you have to give up your favourite meals either.
Real food with real flavour… for real results!
The good news is you will still find delicious pasta, pizza and even burgers on the 28 menu. If you've got a sweet tooth, don't worry, we have you covered as there are over 3,000 recipes to choose from, so there really is something for everyone.
Balance and variety are some of the most important nutritional principles. Food is meant to nourish us, but it's also to be shared and enjoyed… and we sure do enjoy our food here at 28!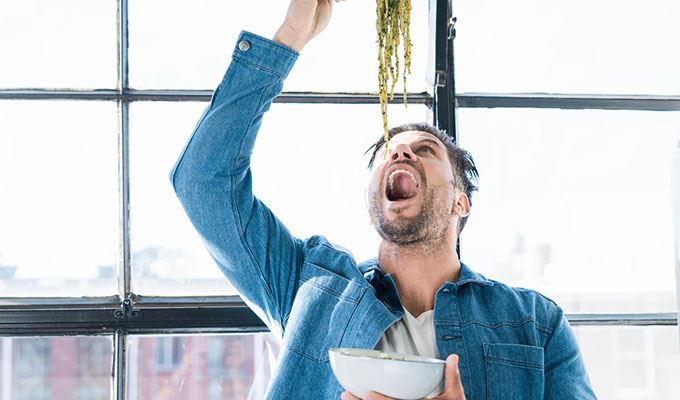 Try this 'day on a plate' to get your health on track
To get you started on the road to eating healthier, I've pulled together some of my 28ers favourite recipes. These dishes taste so tasty, you won't believe that they're actually good for you!
Breakfast: Build Your Own Hot Brekkie
Ingredients
1 teaspoon olive oil (extra virgin)
2 free-range eggs (well-cooked if pregnant)
1/2 tomato cut into wedges
1/2 avocado sliced
2 cups baby spinach
salt & pepper to taste
Method
Heat oil in a frying pan over medium heat.
Crack eggs straight into the pan and add tomato wedges to the side as well.
Cook for 2-3 minutes, turning tomatoes halfway. You can flip your eggs if you like!
Place eggs and tomato on a serving plate with the avocado.
Place the spinach in the same frying pan and saute for 30 seconds until wilted.
Place on the plate to serve. Season generously with salt and pepper and serve.
---
Did you know we're the only online fitness & nutrition program recommended by 'I Quit Sugar'?

---
Lunch: Detox Tuna Salad
Ingredients
1 cup rocket leaves
1/2 cucumber (Lebanese) sliced
1/4 avocado sliced
1/2 pear sliced
1 teaspoon sesame seeds
1/2 lemon juice
95 grams tinned tuna (drained)
1.5 tablespoon almonds (roasted) roughly chopped
Method
Add all ingredients to a bowl and toss to combine.
---
Dinner: Cashew & Lemon Grass Stir Fry
Ingredients
2 tablespoon brown rice (raw)
1 teaspoon olive oil (extra virgin)
2 mushrooms (cup or button) sliced
1 cup broccoli cut into florets
1/2 capsicum (red) cut into 2cm pieces
1/4 onion (red) sliced
1 cup snow peas trimmed
1/2 tablespoon lemongrass
1/2 tablespoon ginger (fresh) grated
1/2 teaspoon chilli (red) finely chopped
1/2 tablespoon tamari (or soy sauce)
1.5 tablespoon cashews (natural)
Method
To begin, cook rice according to packet instructions.
Meanwhile, heat the oil in a wok over high heat. Add the mushrooms, broccoli, capsicum, onion and snow peas for 3-4 mins or until just tender.
Add the lemongrass, ginger, chilli, tamari and cashews and cook for a further minute.
Serve stir-fry in a bowl with the brown rice.
---
Let me be the personal trainer in your pocket!
Workout with me for just 28 minutes a day – with customised workouts you can do any time, any where. Then join me in the kitchen with a delicious weekly eating plan. Our meal plans are designed to make cooking healthy easy, and have been created by our 28 nutrition team, and give you the flexibility to swap recipes or change quantities as needed. You can even generate a weekly shopping list with the touch of a button.
My mindfulness experts will help you with techniques to de-stress and sleep better; and my motivation coaches and I will help you stay on track so you can reach your health and fitness goals.
You'll never be alone as a 28er. You will be supported every step of the way by me and my crew, as well as the supportive community of thousands of 28ers, just like you.
Click through to find out why 28 works and how it can work for you!