Boost your metabolism and lose weight with this day on a plate!
We all know someone who can eat anything and everything but still not gain weight. Whether it's good genetics or good luck, we all have that friend who can eat whatever they like and somehow not put on any weight. The truth is some people are simply blessed with a fast metabolism, but that doesn't mean that you can't implement a few habits to start speeding yours up. That's right, you can make your metabolism work for you and one of the best ways to do this is through nutrition.
Let's get your metabolic engine revving and keep those kilos off! Have a go at boosting your metabolism with this day on a plate!
Breakfast: Fuel with Fat!
The healthy kind of course! I'm talking about avocado, fatty fish like salmon, olive oils and nuts. My Raspberry & Coconut smoothie has almost 29g of fat per serve, what a way to start the day!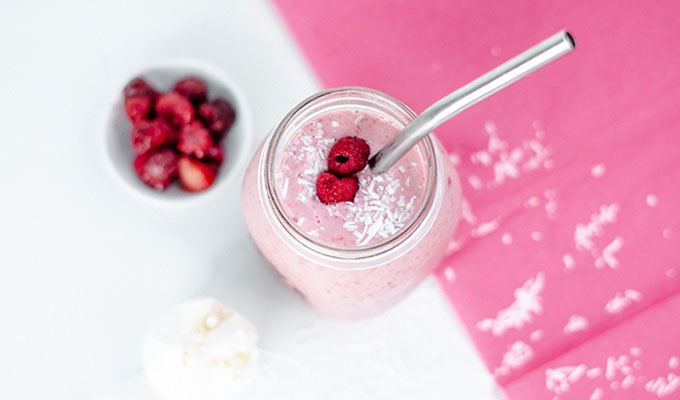 Raspberry & Coconut Smoothie
Ingredients
1/2 cup raspberries (fresh or frozen) use fresh if you prefer 2 tablespoons vanilla protein powder (optional) 1 cup coconut milk (from the carton) 1 tablespoon chia seeds 1/2 tablespoon almond butter 4 ice cube (optional)
Method
Place all ingredients in a high-speed blender. Blend until smooth and serve.
Lunch: Spice It Up
We love a bit of spice here at 28, and not just because it adds an extra hit of flavour. Spice such as chilli, cumin or cinnamon are shown to boost your metabolism because they increase the body's release of hormones like adrenaline, which in turn increases your calorie burn.
Give my Paprika Roast Cauli Salad a go, it's packed full of those fat burning spices, plus a healthy dose of garlic which has been known to help burn belly fat.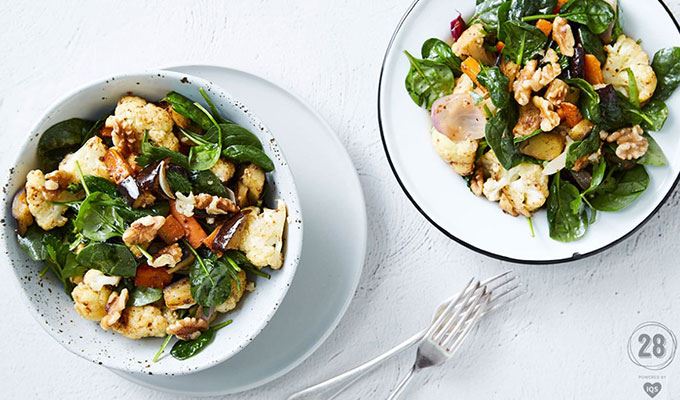 Paprika Roast Cauliflower Salad
Ingredients
1 clove garlic minced 1/4 teaspoon smoked paprika 1/4 teaspoon cumin (ground) 1/4 teaspoon cinnamon (ground) 1 cup cauliflower cut into florets 1/4 eggplant cut into 2cm chunks 1/2 carrot cut into 2cm chunks 1/4 onion (red) sliced 1/2 tablespoon olive oil (extra virgin) 2 tablespoon walnuts (raw) 1 free range egg (well cooked for pregnancy) 1 teaspoon apple cider vinegar 1 cup baby spinach 1/4 cup parsley (fresh) roughly chopped salt & pepper to taste.
Method
Preheat a fan-forced oven to 180C/350F/Gas Mark 4 and line a large tray with baking paper. Add garlic, paprika, cumin, cinnamon, salt and pepper to a small bowl and mix to combine. To a large bowl, add in cauliflower, eggplant, carrot and red onion. Drizzle oil over the lot and toss until veggies are well-coated. Spread evenly over the baking tray and sprinkle the veggies with the dry spice mix. Place in the oven for 25 minutes, or until veggies are cooked through and slightly brown. In the last 5 minutes of cooking, scatter walnuts on the veggie tray and bake in the oven to lightly toast.
Meanwhile to poach the egg: bring a small saucepan of water to the boil. Add vinegar. Crack the egg into a cup and create a gentle whirlpool in the water. Slowly tip the egg into the water, white first and cook for 3 minutes. Remove with a slotted spoon and drain on kitchen paper. Add spinach leaves and parsley to the bowl you used to marinate the veggies and add cooked veggies to the bowl, toss through to coat the leaves in the oil and spices. Top with the poached egg to serve.
Dinner: Pack on the Protein
When you're looking to increase the speed of your metabolism, one of the first things you should do is start packing your diet full of protein. Because of its large thermic effect, protein means & that the body expends more energy to absorb and digest the nutrients the perfect fat-loss equation!
Eating plenty of protein means you can increase your daily energy expenditure or the amount of calories your body uses to perform important physiological functions.
With over 36 grams of protein per serve my Sticky Chicken is a sure-fire recipe to push your metabolism into top gear.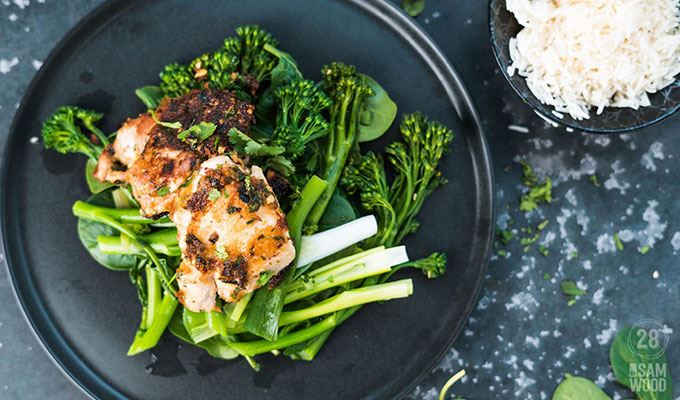 Sam's Sticky Chicken
Ingredients
1 teaspoon raw honey 1/2 tablespoon tamari (or soy sauce) 1/2 tablespoon almond butter 1/4 chilli (red) finely chopped 1/4 lime juice 1/4 cup coriander (fresh) roughly chopped 150 grams chicken thigh fillets Ingredients for Salad 1/2 bunch broccolini (baby broccoli) 1 cup rocket leaves 1.5 teaspoon olive oil (extra virgin)
Method
Preheat oven to 180 degrees Celcius. Combine honey, tamari, almond butter, chilli, lime and coriander in a small bowl and mix until well combined. In a large bowl, mix chicken thighs with the sauce until each thigh is thoroughly coated. If time permits, place the chicken in the fridge for two to three hours to marinate. To cook the chicken, place thighs on a baking tray lined with baking paper. Bake for 25-30 minutes, or until the chicken is cooked. While the chicken is cooking, make the salad by boiling the broccolini in a saucepan of boiling water for three to five minutes, or until cooked to your liking. Drain water and set broccolini aside to cool slightly. Toss the broccolini and rocket in a small bowl with olive oil. Serve cooked chicken alongside salad.
---
Let me be the personal trainer in your pocket!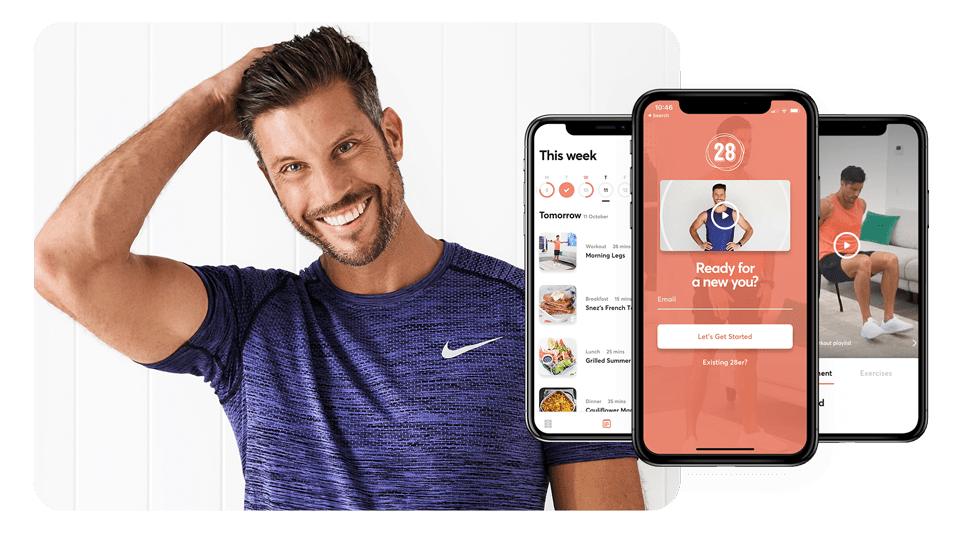 G'day, Sam Wood here! Join me every day for a different 28-minute workout. My dynamic workouts are suitable for all fitness levels and designed to get results fast. Join me in the kitchen with a delicious eating plan every week created by our 28 nutrition team with recipes and shopping list at the touch of a button. Did you know we're also the only online program with the I Quit Sugar Recommended Tick? Let me show you how to get your mind right, with my mindfulness & motivation experts who will ensure that you de-stress, sleep better, focus and stay motivated. As a member of the 28 family you are never alone. You will be supported every step of the way by me, my crew and thousands of 28ers just like you.