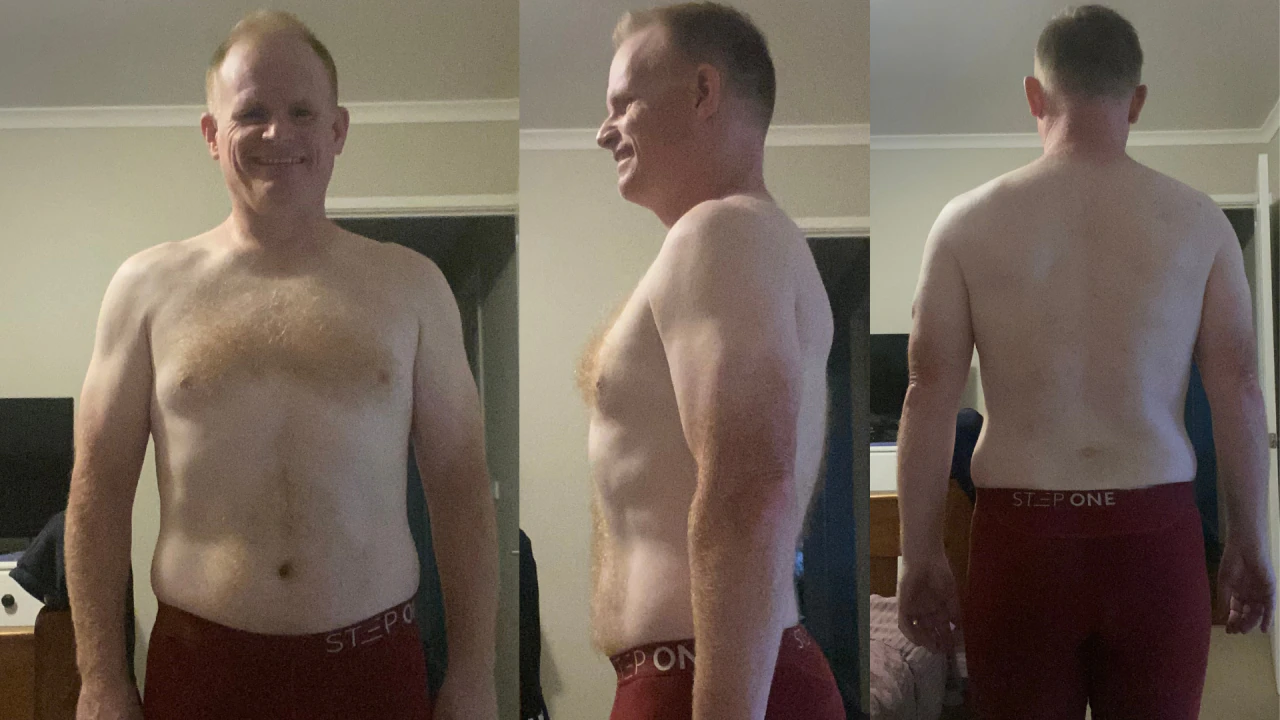 Bradley Burns would once use every excuse to avoid exercising. Now he does it every day, and he's lost a whopping 23kg in the process. 
We all know it is easy to find excuses for not moving our bodies, or eating junk food. From the demands of work, the lack of time, to the weather, and simply just not being in the right headspace, falling into unhealthy patterns is much easier than clawing your way out of them.
Bradley Burns knows all too well about the toxic cycle of sedentary behaviour. Add work-related stress to the mix, on top of multiple lockdowns during the pandemic, and Burns soon added other unhealthy behaviours to his routine, namely alcohol.
However, when he caught a glimpse of himself at his heaviest point and started to connect the dots (unhealthy diet, minimal exercise, declining self-esteem), he realised that his quality of life was something he could control, and make better.
Life before Burns' journey
Burns admits candidly that he's always found it difficult to stay on top of his weight. "I led a very sedentary lifestyle with my work days consisting of full-time work in an office job, long commutes in the car or public transport and then nights sitting in front of the TV or browsing social media."
And while he would often be left with ample time on the weekends to engage in some form of physical activity, his motivation remained low. "I generally always found an excuse to not exercise," he tells Body+Soul.
In terms of his diet, his meals weren't a concern; he ate nutritious, home-cooked meals every night. It was the snacking and the drinking that became an engrained habit, ultimately feeding his weight gain.
It was not unusual for me to consume multiple alcoholic drinks every day, followed by salty snacks," he admits, saying that like most people struggling with the stress of the state of the world, he turned to food and booze as a comfort.
"I was using a busy work life, stress and lockdowns during the pandemic as my reasons to turn to these comforts. I felt that drinking relieved stress and made me feel relaxed."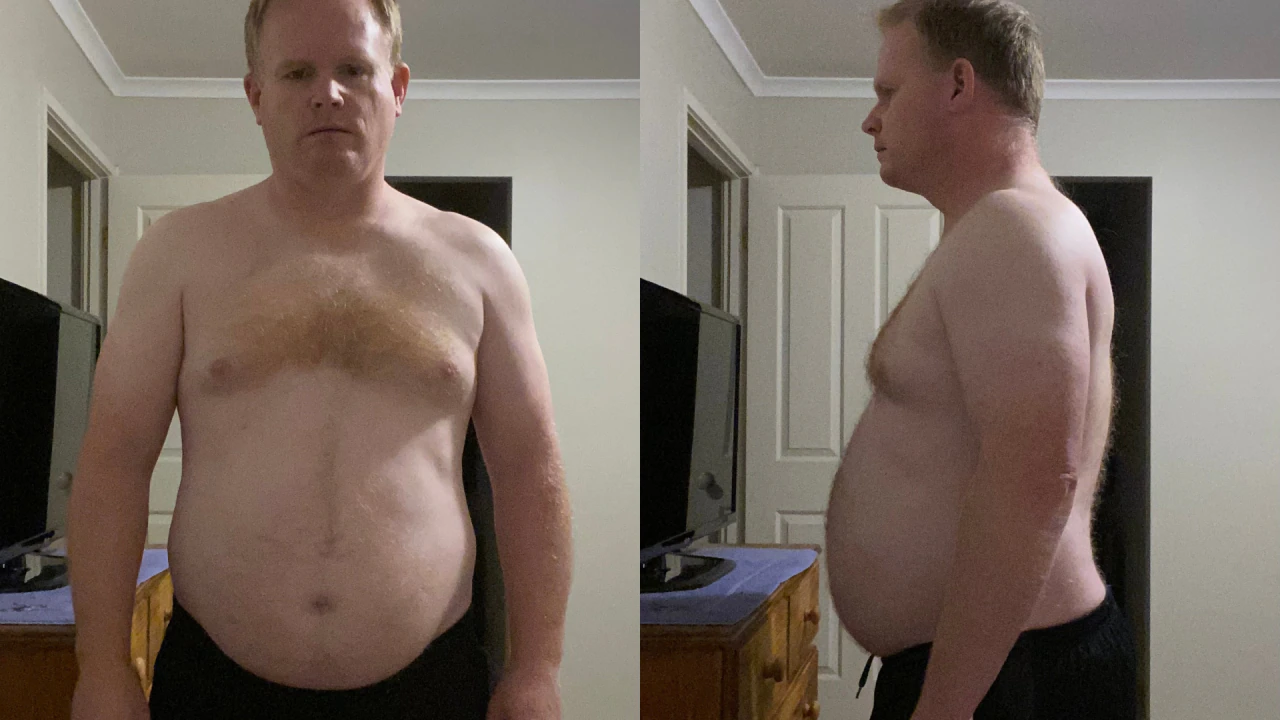 A change was needed
As Burns' weight continued to increase, he started to notice that his mental health started to decline, which had a ripple effect on his diet.
"My diet deteriorated even further, taking shortcuts to buy takeaway food, pre-packaged meals and continued to drink in excess," he says. And thanks to the lockdowns, Burns found himself spending more time at home which encouraged his snacking habit even further.
"Days consisted of very little movement and generally involved sitting on the couch or at the dining room table working from home… followed by snacking every day."
In 2021, Burns found himself suffocated by the reality of his sedentary life. He suffered constant feelings of fatigue, bloating, and a daily sense of unhappiness that he no longer wanted for himself.
"I had let my weight gain spiral out of control. I had looked in the mirror and looked at my beautiful wife and daughter and something clicked," he says of his turning point. "I said to myself, 'What are you doing? Do you want this for yourself? Do you want to be around to share all the life moments that were still to come?' I thought, it's up to me to make positive change."
After researching multiple health and wellbeing programs to help kickstart his weight loss journey, Burns stumbled upon 28 by Sam Wood.
It really hit home for me, the program and what was promised resonated with me and so I decided to sign up for one of the eight-week challenges and I have never looked back."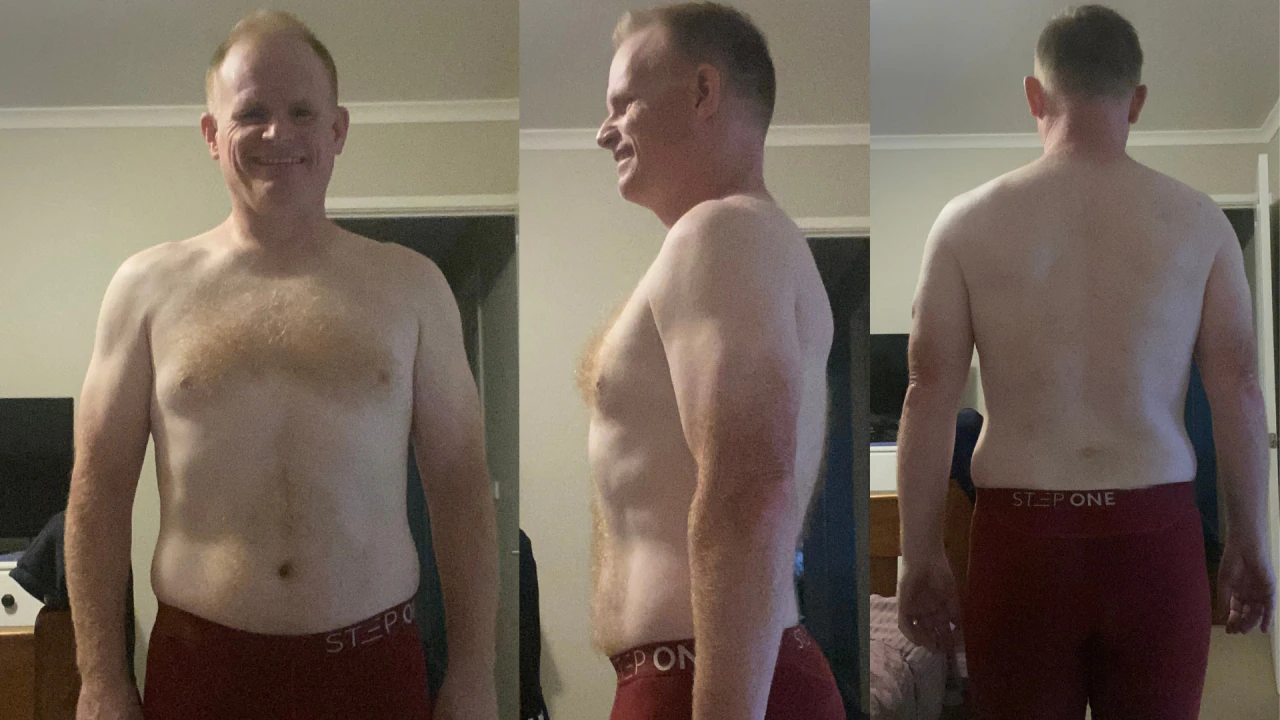 A new lease on life
At his heaviest (114kg), Burns made small, yet effective changes to his daily routine, starting with his diet. He swapped out alcohol and coffee for water, increasing his daily hydration, and gave up regular snacking for clean eating.
"The first few weeks on the program were challenging," Burns admits. "I had instilled so many bad habits that it did take a lot of mental strength and discipline to tell myself that what I was doing was for the best."
But Burns says the hard work and the discipline is something he'd do over and over again to feel like his younger self again. "As each day and week passed, it got easier. I felt stronger, more alert and I didn't crave the alcohol, sugar and salt that I had been feeding my body previously."
Burns' day on a plate
Breakfast: Smoothie, yoghurt, fruits and granola or an omelette
Lunch: Wraps, salads, leftovers from dinners the night before
Dinner: Soups, Vegetable dishes with chicken or lamb, and my 2 favourites (spring chicken paella and butter chicken curry)
Drinks: 3 litres of water consumption a day
Snacks: No snacking or desserts
A typical week of exercise
Going from minimal exercise, Burns now engages in some form of physical activity seven days a week. Following the 28 by Sam Wood program, Burns completes a 28-minute workout every day from Monday to Saturday, on top of a long walk or jog. As for his Sundays, this is the day Burns likes to reserve for active recovery, which often includes a walk or time spent outside with his family.
Since joining the 28 by Sam Wood program, Burns has lost 23kg as a result of this combination of a healthy diet and regular exercise.
Burns' key piece of advice
"The single biggest lesson I learnt on my journey to a better me was that I needed to do this for myself. I needed to become the best version of me to live a fuller life and by extension, I knew that this would benefit all those around me that are close to me."
Additionally, Burns emphasises the importance of instilling healthy habits into your daily routine, but not all at once.
"You can build up your habits. Start small by changing your movement, or drink more water, or committing to eating one healthy meal a day, or cut out snacking after dinner. In time these habits compound and before you know it, your day/week is filled with a healthy routine.
This article is originally from Body & Soul.