Motivation is always at it's highest when you start out on a new fitness regimen, however, over time, this initial burst of motivation fades. The trick to getting fit is finding ways to keep motivated and keep moving, even on days you don't feel like it. That's when you'll really start to see why there's nothing like having your furry best friend by your side.
So, with all that in mind, I have some easy tips to getting fit with your dog, and a workout video with dog-friendly exercises, to help you and your pup stay on track to achieving a healthy, active lifestyle… even when your initial motivation might be starting to fade.
How your furry friend can help you create an active lifestyle you'll BOTH enjoy
Walking Hendrix is one of the best parts of my day. Not only is walking free, but it can be done virtually anywhere and has mental and physical benefits for both you and your canine companion. And while walking is relatively low-impact, that doesn't mean you can't step things up a notch, especially as your dog needs (and loves) lots of exercise too.
Your dog loves to move, so when they're at your side, you may find it's easier to walk for longer or faster than you normally do when alone.
Your dog always knows when it's 'workout time'
The best part about having your dog as your fitness training buddy is that they make you accountable. They love routine, and they've got an amazing sense of time so, even if you forget (or try to skip it!), your best friend will always let you know when it's time to put your runners on and head out for a play!
VIDEO: Exercises to get fitter while you're walking your dog
Exercising with your dog always makes exercise an adventure
Dogs are undeniably creatures of habit and they'll walk the same route each and every day if we don't mix it up for them. Rather than going for your usual walk, try to introduce some variety into your routine by visiting a new park, taking a new route or hitting a dog beach. Making this exercise an adventure and mixing it up is an awesome way to bring an element of excitement for you both, so it won't even feel like a workout!
Why not change your usual dog walking route to add in some extra hill climbs? You'll give you and your dog some variety, plus you'll burn some extra calories… naturally!
It introduces healthy habits for you both
When we have healthy, active habits in place they become like second nature and simply a normal part of our day. Pencilling in the same time each day to hit the pavement with your pooch is an awesome way to put this healthy habit in place and establish a good routine you will both stick to.
You can increase the intensity and make it fun
When it comes to staying fit, I've always been big on quality over quantity. This means focusing on the intensity of a workout rather than the length of time. Try not to limit your exercise to a walk around the block. Instead of up the intensity for you and your pooch by including some hill sprints into your daily walk, or throw the ball and try to do as many squats in between until your furry best friend brings the ball back. If you initiate it, your dog will love it, and that happy face will keep you going!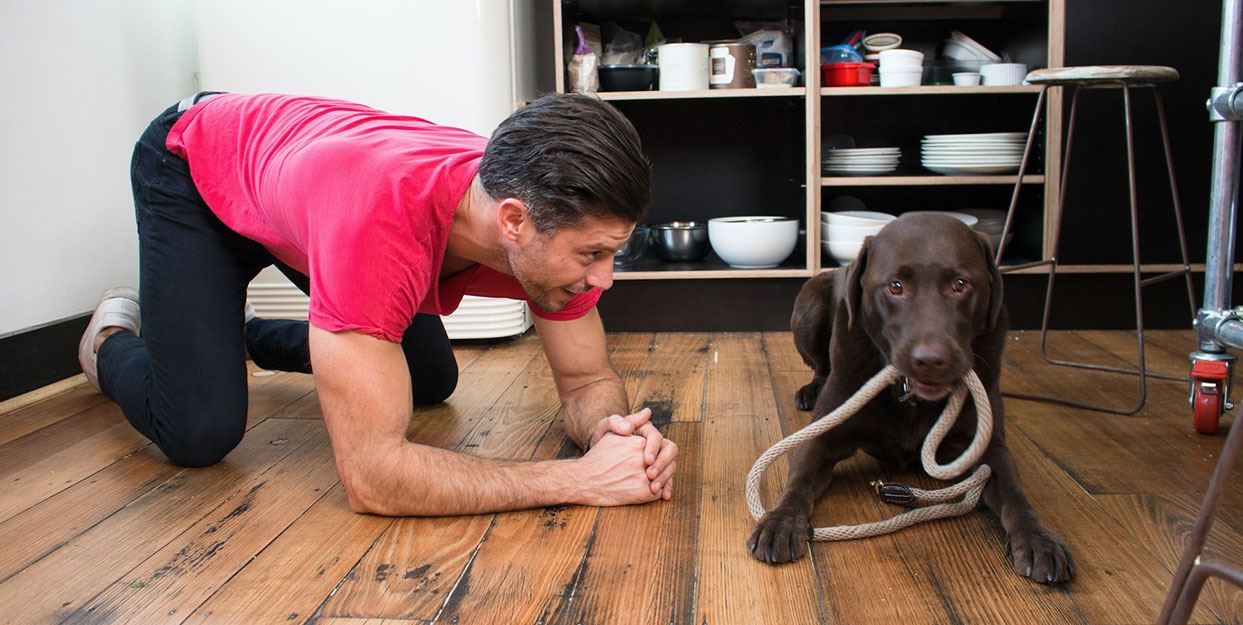 You can make fitness fun for the whole family
Over the weekend dog walking becomes a family affair. Snez and I push Willow in the pram while Evie takes the reigns, aka the leash, with Hendrix. It's a fun bonding experience that allows us to get outdoors and stay active as a family.
This weekend, why not walk down to the local park for a picnic or kick of the footy to make it a fun day out for the whole family, including your four-legged friend?
… And if you're thinking of skipping a workout, just think of those puppy dog eyes!
When I'm finding it hard to muster up the motivation to tick off my workout, all it takes is one look at Hendrix's face to get me out of the door.

Did you know?
41 percent of Aussie dogs are estimated to be overweight or obese. Every breed and size of dog will have different exercise and nutritional requirements so make sure you talk to your local vet or pet shop about the best way to look after your pooch. But one thing that every vet will agree, walking your dog is an essential part of keeping your best friend physically and mentally happy and healthy.
The health benefits of getting active with your dog
Our dogs are truly one of the greatest workout companions – they're not only the ultimate motivators but stress relievers too, so don't forget to remind yourself of the health benefits to both of you by just getting out and moving each day.
1. Improved Weight Control
Walking for at least 30 minutes a day helps with weight control for both you and your dog.
2. Positive Stress Management
Studies have shown that just being around animals can lower stress levels in humans, which makes a lot of sense… Who can stay stressed when they're with their furry friend?
Extend those benefits by getting outdoors with your dog; it's great for your mental wellbeing and mood. And, the good news is that regular exercise has the same stress and anxiety-reducing health benefits for you AND your pet, so it's a win-win for you both!
3. Reduced Risk of Heart Disease and Stroke
Brisk walking is great for your cardiovascular fitness and can reduce your risk of heart disease, stroke and high blood pressure. If that doesn't encourage you to get walking, I don't know what will!
Anyone who knows me knows how much I love my dog. I love walking Hendrix, it is one of the best parts of my day. Not only is walking free, but it can be done virtually anywhere and has mental and physical benefits for both you and your canine companion. I love to walk Hendo to a local park so I can add in some body-weight exercises while he enjoys some time off-leash. Squats, lunges, burpees and step-ups on a park bench are just some of my go-to moves when I want to take my dog walk to the next level.