I ADORE salads!! They are one of my favourite meals to eat.
Here are my steps to creating a healthy, delicious and absolutely scrumptious salad.
1. Start with greens
I always add some form of salad leaves to my salads. Spinach, rocket, iceberg, butter lettuce, kale. Try chopping spinach or rocket when you're just making a salad at home – it's easier to eat this way. Use whichever you love or whatever you have in the fridge. A tip when using kale – place it in your salad bowl, drizzle over some extra virgin olive oil and massage it with your fingers. It softens the leaves and makes them much more delicious to eat!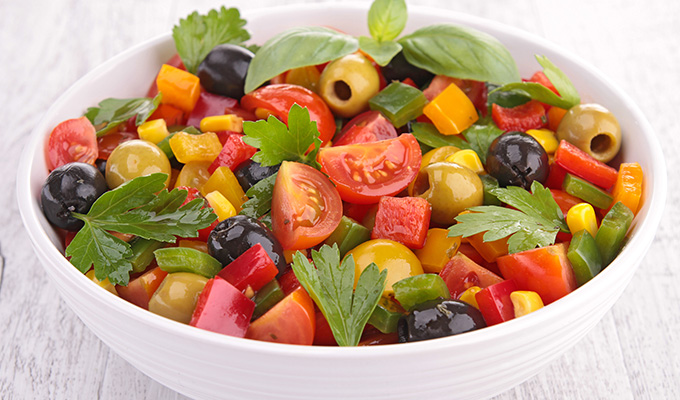 2. Add colourful veggies
Depending on the season and temperature, you can use raw or cooked vegetables or a mixture of both. In winter I love to roast vegetables such as cauliflower, zucchini, beetroot, pumpkin, sweet potato or carrots. In the warmer months, my usual go-to vegetables include cucumber, cherry tomatoes, celery, carrot, red cabbage, red/green/yellow capsicum, green beans, and snow peas. Use a rainbow of colours, it not only looks amazing, but you'll benefit from a variety of nutritional goodies in all the colours.
3. Add protein
I do love vegetarian salads, but also love to include meats in my salads. Oven-baked or poached chicken breast is something I put in many of my salads. Tinned tuna or salmon are also a great and convenient addition. Beef, pork and lamb are also great options. If you're wanting to add non-meat protein sources, go for ingredients such as nuts/seeds, eggs, tofu, chickpeas, lentils and grains. The protein sources will bulk out the salad further and keep you feeling fuller for longer.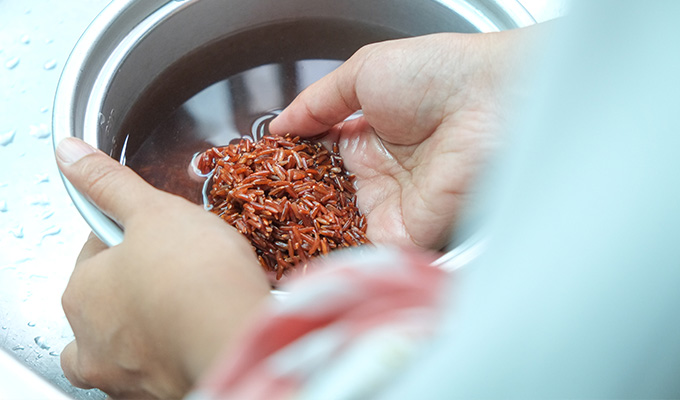 4. Add a grain of choice
I don't always add grains to my salads, but they are a wonderful ingredient to use in a salad. Depending on the grain you use, they can offer a low GI addition which allows the energy in your body to be released slowly over time, which keeps you feeling satisfied for longer. The grains I love to use in my salads include quinoa, brown rice, pearl barley, bulgur, buckwheat, wild rice, farro and freekeh.
5. Add fresh or dried fruit
This is optional, but adding some fresh or dried fruit to salads brings in some sweetness, which is often great to balance the acidity of the dressing in the salad. Fresh fruit additions include mango, pear, apple, orange, berries, pineapple and pomegranate seeds. They look wonderful and vibrant too. Dried fruit is also an ingredient I love adding to salads – they add sweetness, but also wonderful texture and chewiness to the salad. Examples include dried cranberries, currants and sultanas.
6. Add some healthy fats
Ingredients such as avocado, nuts/seeds, and some grated or crumbled cheese work really well. They offer some creaminess and can bring the salad together.
7. Add some fresh herbs
I adore herbs!!! They can be so versatile because you can throw any herbs you like into a salad. Parsley is a staple in most salads I usually have it growing, so it's on hand to throw into salads. Other herbs I love to use in salads include mint, coriander, basil, chives and dill. Vietnamese mint and Thai basil are also wonderful to add to Asian salads.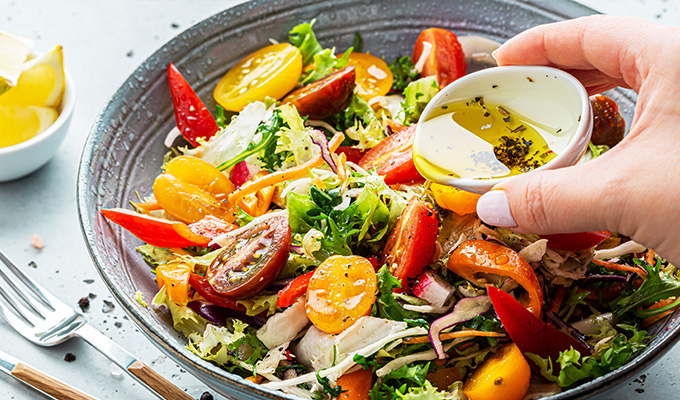 8. Add a show-stopper dressing
I really believe a good salad dressing can create a salad that is mouth-watering, delicious and keeps you coming back for more. Salad dressing brings the whole salad together and very much adds to the balance of flavours when it comes to salads. Try the below formula for creating a killer dressing every time.
1/4 cup extra virgin olive oil (healthy fat too)
1/8 cup vinegar (eg. apple cider vinegar, white wine vinegar, red wine vinegar or balsamic vinegar)
1 teaspoon Dijon mustard (or mustard of choice)
Then either a spice mix of choice or 1 clove of minced garlic
Season well with sea salt flakes and cracked black pepper
A teaspoon of honey or pure maple syrup can also add sweetness if it's needed in a salad.
Next time you're wanting to create a delicious and flavoursome salad, use the above tips to guide you along the way. Throw that apron on, get creative and create some show-stopping salads.