Gratitude equals positivity. And who doesn't want more general positivity and good vibes in their every day?
Practising gratitude each day (with something like gratitude journaling) is almost like a switching of gears for your mind. Because while we might be passively grateful for the things in our lives, rarely do we take the chance to really relish in the facts. You're purposefully shifting your focus to acknowledge and really drill down into the good aspects of your life, which is a fantastic note to start every day on.
So, what are some of the general benefits of a daily gratitude practice?
IT'S A MOOD BOOSTER
It shifts your attention away from negative emotions and experiences and makes you focus on the positives, meaning it is a straight up mood booster! When you cultivate gratitude, and sit in those positive thoughts for a few moments, you're literally boosting your mood OR further enhancing the good mood you already have.
IT HELPS TO ALLEVIATE ANXIETY
It's very easy to let ourselves get swept up in anxious thought patterns. Acknowledging the positive things and people in your life that you appreciate is a thought-pattern circuit-breaker if you will, helping to stop those circular anxious thoughts from pointlessly spinning.
IT INCREASES OUR RESILIENCE
When we practice gratitude regularly, we're training our minds to be able to focus on the positive aspects of our lives. Inevitably when life takes an unexpected and perhaps not so great turn that we can't control, our ability to not be consumed by this situation is bolstered by our gratitude practice. Our minds are better equipped to deal with the resulting emotions.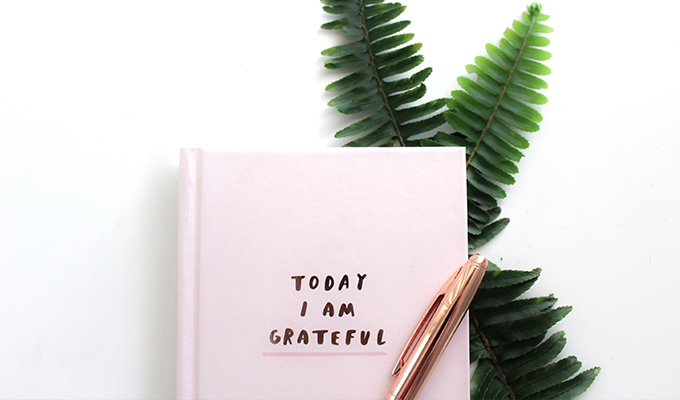 Want to start practicing gratitude yourself, or with your family? Here's a few things to try…
Gratitude Journaling – once a day, take 5 minutes to write down 5 things you are grateful for and why. These do not have to be big fancy things! They could be your morning cup of tea, or the birds outside your window every day, or the nice email you got from your colleague about some work you did. List these things, note how they made you feel and reflect.
Gratitude Meditation – meditation helps to ground us, and notice the small things in life; the wonder of our breath, the soft sounds of nature, the smells and touches we enjoy but often overlook.
Express Your Gratitude – had a nice experience thanks to someone in your life? Call them and tell them! Verbally expressing our gratitude is a sure win when it comes to boosting our happiness chemicals.