There's no denying that weight loss doesn't come easily to everyone. It takes hard work but it doesn't have to be as hard as people think.
After helping over 300,000 people lose over 3 million kilos, I can tell you that the best approach to getting healthier and losing weight is by following a easy, enjoyable and sustainable plan.
When you focus on small healthy changes over time, you'll discover you develop healthy habits that help you achieve your weight loss and health goals, quicker and easier than you thought was possible.
Here are four easy steps you can implement straight away that don't require a lot of effort but can make a big difference to your health, and get you the results you want!
#1 Increase your vegetable intake.
Aim to make at least half of each meal you have vegetables, by the time you add some protein, healthy fats and a small amount of complex carbohydrates, there isn't a lot of room in your diet for anything else! You don't have to stop at meals either. If we're aiming to get in as many vegetables as we can then using snacks to do this is a great idea also. Try veggie sticks with dip, savoury muffins, green smoothies or mini frittatas.
#2 Cook double to eat healthy AND save time!
Cook double the serving size and freeze for next time. You will be surprised how many meals are okay to be frozen and the time it saves you is a no brainer.
#3 Use pre-cooked grains, legumes and veggies.
Many people are wary when it comes to frozen and pre-cooked foods wondering if they are still a healthy option. The reality is that not everyone has time to cook everything from scratch so pre-cooked or frozen foods are your next best option. Make use of frozen veggies, canned legumes and pre-cooked grains to significantly cut down your cooking time, and get a healthy meal on your plate quicker.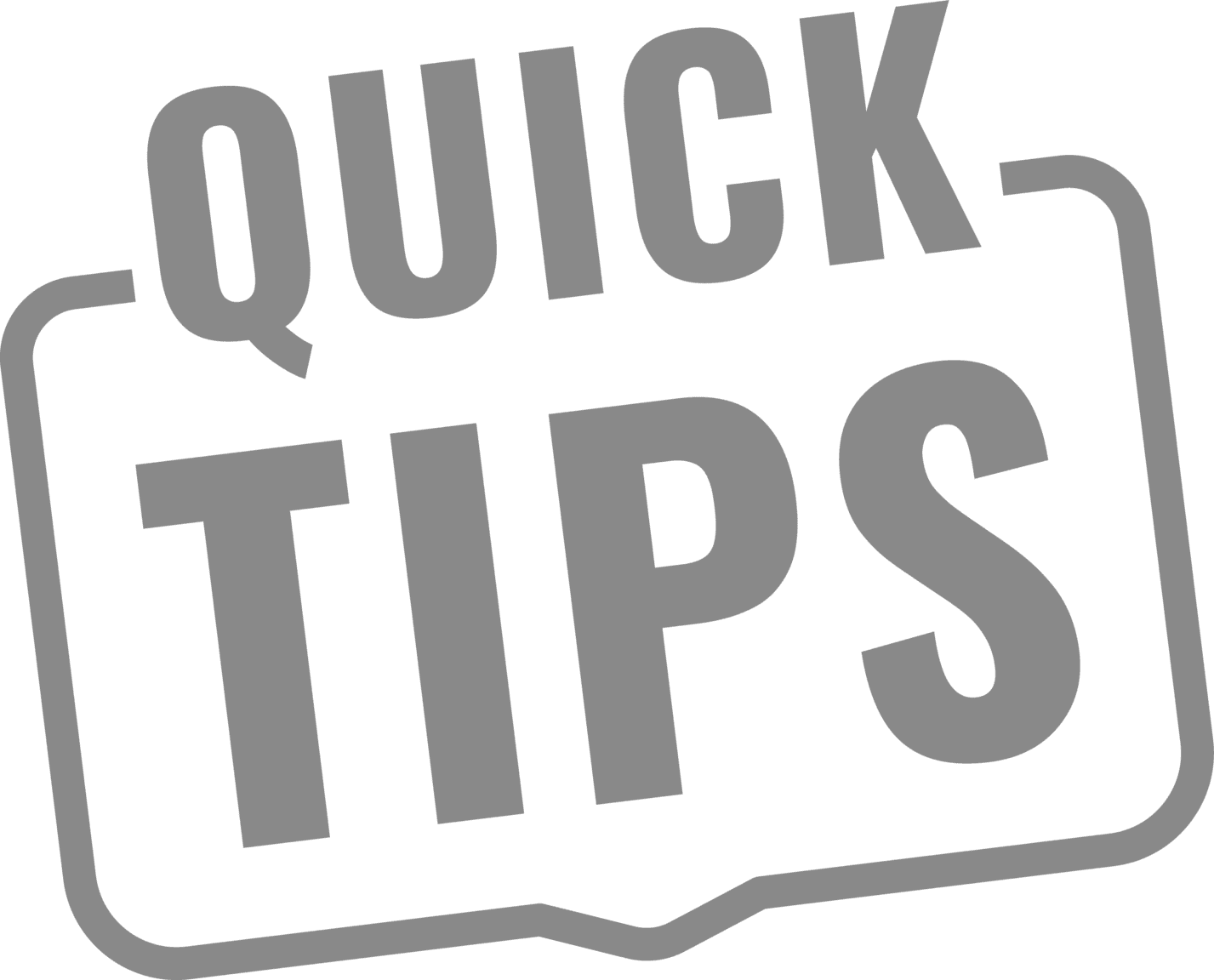 Frozen veggies can get a bad wrap for not being fresh, but they're actually very nutritious as the freezing process snap-locks the nutrients in.
In fact, frozen veggies can be even more nutritious than 'fresh' veggies that have travelled many miles to reach the supermarket shelves, as they may have lost a lot of their nutritional value before they get to you!
#4 Swap artificial drinks for water.
Start small and then build your way up, for example, if you drink 2 soft drinks and 2 coffees per day then just pick 1 to replace with water for two weeks. The following two weeks swap a second drink to water and so on until you are drinking mainly water, or ideally only water. Herbal tea is another good option you can use to replace soft drinks, juices, energy drinks, alcohol or coffee as they add to your hydration for the day plus have other benefits.
---
Find out why my 28 program gets results and how it can work for you!
---
Get a taste of 28's healthy eating program
Getting healthy or wanting to lose weight doesn't mean you have to deprive yourself of delicious foods and flavours. And if you don't believe us, give this day on a plate a try! If you're not ready to cook 3 meals a day yet, that's OK, just try to work some of these recipes into your existing diet, and you'll quickly learn that eating healthy can taste delicious, and it doesn't have to take long either!
When you're ready to try a full week of eating clean and healthy, the Sam Wood way, download our free 7-day healthy eating planner!
Healthy Breakfast Idea
If you're looking for a low carb breakfast recipe, try our Cauli Toast 'n' Eggs!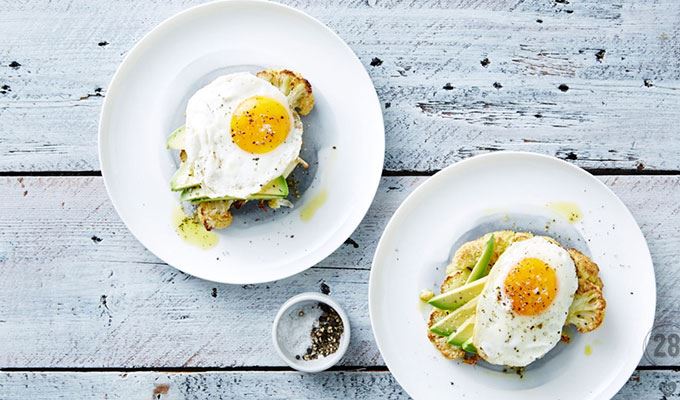 Cauli Toast n Eggs Ingredients
1/3 cauliflower
1 teaspoon olive oil (extra virgin)
2 free range eggs
1/2 avocado
salt & pepper to taste
Method
Preheat a fan-forced oven to 180°C/350°F/Gas Mark 4.
Prepare cauliflower toast by cutting into 2cm thick pieces. Place the steak of cauliflower on a lined baking tray, drizzle with half of the extra virgin olive oil and sprinkle with salt and pepper. Place in the oven for 25-35 minutes, until cauliflower has browned.
Remove from the oven.
Meanwhile prepare the eggs. Heat a small skillet over medium heat and crack in the eggs. Cook to your liking (cook your eggs well if you're pregnant!).
Spread the avocado on top of the cauliflower steak and top with the fried eggs.
---

---
Healthy Vegetarian Lunch Idea
Vegan Poke Salad Bowl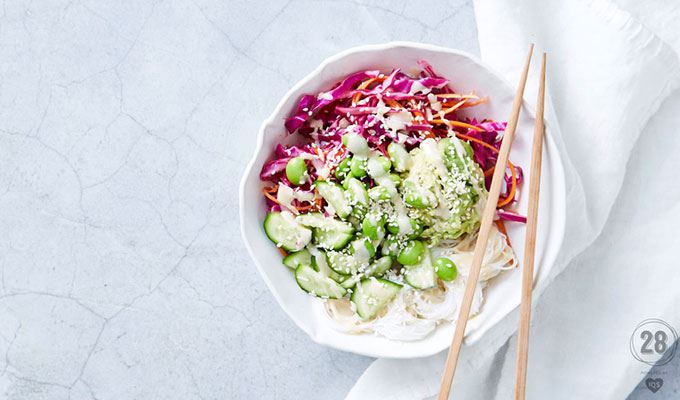 Ingredients for the Vegan Poke Salad
1 cup cabbage (red) finely shredded
1/2 tablespoon ginger (fresh) grated
3 teaspoons apple cider vinegar
1/4 teaspoon sesame oil
1 teaspoon tamari (or soy sauce)
20 grams rice noodles (vermicelli)
1/2 carrot shredded
1/2 cucumber chopped
1/3 cup edamame beans defrosted
1/4 avocado chopped
1/2 teaspoon sesame seeds
Ingredients for Miso Tahini Dressing
1 teaspoon miso paste (white)
1/2 tablespoon tahini
1/2 teaspoon apple cider vinegar
1.5 tablespoon water boiling
Method
In a large bowl, combine the cabbage, ginger, vinegar, sesame oil and tamari. Using tongs, coat the cabbage in the liquid. Put a bit of 'elbow grease' into it, bruising and breaking down the cabbage until it is wilted and shrunken in size.
Plunge the vermicelli noodles in boiling water and leave to soften for about 5 minutes.
In a small bowl or jar combine ingredients for the Miso Tahini with 30ml of hot water and set aside.
In the bowl with the cabbage mix, add in the carrot, cucumber, edamame, avocado and sesame seeds and toss to coat.
Drizzle with the Miso Tahini to serve.
Healthy Fast Dinner Idea
One Pan Apple Pork Chops with Broccolini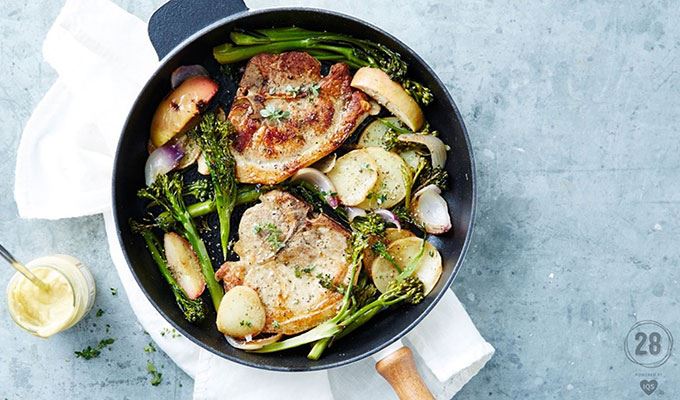 Ingredients
1 teaspoon olive oil (extra virgin)
150 g pork loin chops (or steaks)
1/2 onion (red) sliced into 2cm thick wedges
1/2 potato finely sliced into 0.5cm discs
1/2 apple (red) sliced into wedges
1/2 bunch broccolini (baby broccoli) sliced in half longways
1/2 teaspoon rosemary (dried or fresh)
1/2 teaspoon thyme (dried)
1/4 cup chicken stock (or bone broth)
1/2 tablespoon mustard (Dijon)
Method
Preheat oven to 200°C/400°F/Gas Mark 6.
Heat olive oil in an ovenproof frying pan over high heat. Once the oil is hot, add in the pork chop and cook for 2 minutes on each side, or until nicely browned. Remove from the pan and set aside.
Place the frying pan back over the heat and add in the onion and potato. Cook for 3 4 minutes, until starting to soften. Add in the apple, broccolini, rosemary and thyme and cook for another minute, or until fragrant.
Pour in the chicken stock and nestle the pork chops in between the vegetables (if you don't have an ovenproof frying pan, transfer everything to a baking dish).
Place into the oven and bake for 10 minutes, or until pork is cooked through and veggies are tender.
Serve with dijon mustard and a generous seasoning of salt and pepper.
Let me be the personal trainer in your pocket
G'day, Sam Wood here!
Are you ready to get fitter and healthier? Join me, every day, for a different 28-minute high-intensity interval workout, and then join me in the kitchen with a delicious eating plan every week created by our 28 nutrition team. My program is suitable for all dietary needs and fitness levels and, most importantly, it's designed to get you results… fast!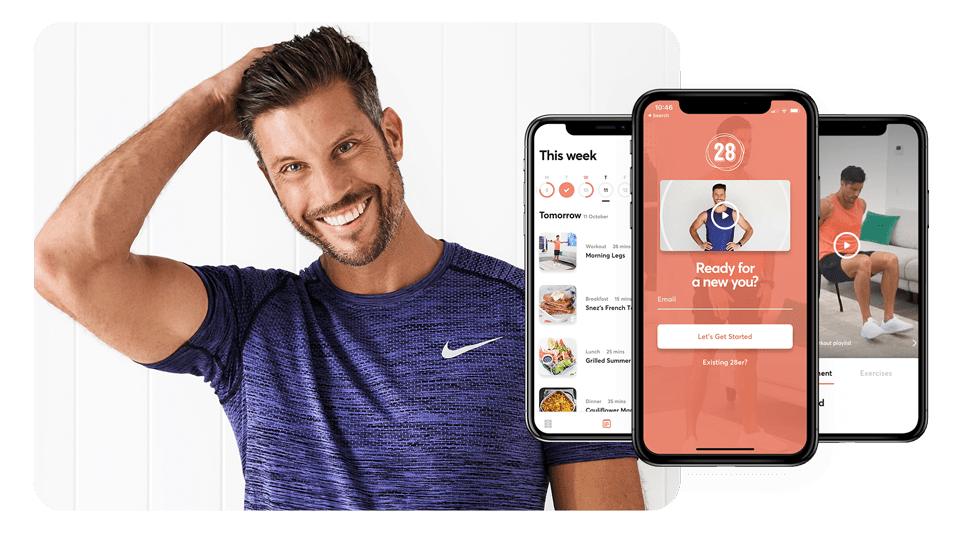 LET'S DO THIS!
Need More Help?

FAQs
Got a question? Drop us a line and we'll get back to you ASAP
[simple_contact_form]