Are you guilty of any of these weight gaining cooking mistakes?
So you're doing all the right things and still not getting results. You're eating all the right things, making sure you're moving every day but some reason those kilos just don't seem to be shifting. It could be these cooking mistakes that are holding you back from getting the results you want.
You've increased your portion sizes over time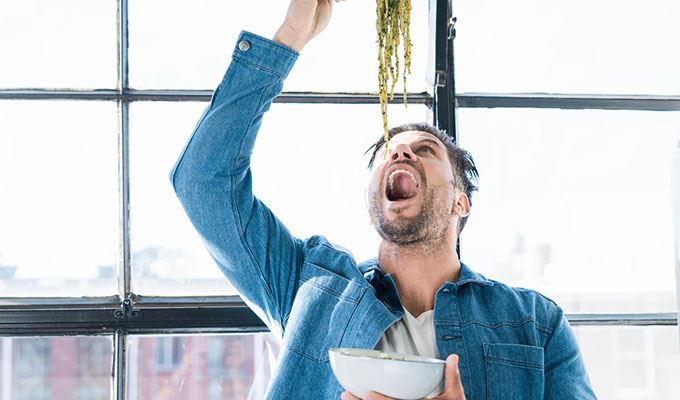 When you have cooked meals a few times sometimes you can fall into the trap of not measuring and following the recipe. If it's with veggies that's ok but when it comes to your macronutrients (proteins, carbs and fats) if you start guessing you could be throwing the balance out and might be eating up to 1.5 times the recommended portion.
You repeat the same meals consistently
Some people are creatures of habit and are happy to eat the same meal over and over again. While of course, it's Ok to repeat meals especially to save on costs and time (we love our hour of power healthy meal prepping at 28).
However in order to reach our nutritional requirements, and also to populate our microbiome with healthy flora, we need a large variety of foods included in our diet. Make sure you're being consistent in changing up your meals.
You're using the wrong kind of coconut milk
Coconut milk can be found in a can or in a carton. The difference between the two is the amount of coconut in the product. The carton has roughly 10% coconut and the can has roughly 40%. Stick to what the recipe suggests to make sure you are getting the right balance of fat across the day.
Day On A Plate: Healthy Meal Ideas
If you need some help getting on track and seeing results, you may want to give these recipes a go. Here's my quick 'day on a plate' meal ideas, featuring some of my favourite recipes to help you stop making cooking mistakes and start seeing results!
Breakfast: Acai Bowl
Ingredients
100 grams acai (frozen puree)
1/2 banana frozen
1/2 cup blueberries (fresh or frozen)
1 tablespoon coconut milk (canned) just enough to mix the fruit and still be thick
1 tablespoon vanilla protein powder (optional)
Ingredients for Toppings
1 tablespoon walnuts (raw) roughly chopped
1.5 tablespoons coconut flakes
1/2 tablespoon goji berries
2 tablespoon blueberries (fresh or frozen)
2 tablespoons raspberries (fresh or frozen)
Method
Place all ingredients (except the toppings) in a blender. Start the blender on slow setting whilst slowly adding the milk.
When evenly blended, scoop acai into a serving bowl and top with walnuts, coconut flakes, goji berries and extra fruit.
Lunch: Spicy Mushroom & Chickpea Bow
Ingredients
1/2 tablespoon coconut oil (extra virgin)
2 sprigs spring onions white part finely sliced, plus extra for serving
1.5 tablespoons cashews (natural) finely chopped
1/2 clove garlic minced
1/2 tablespoon ginger (fresh) grated
4 mushrooms (cup or button) chopped
2/3 cup chickpeas (tinned) drained and rinsed
2 tablespoon green peas (frozen)
3 teaspoons tamari (or soy sauce)
1/2 teaspoon sesame oil
2 leaves iceberg lettuce torn into 4 cups
1/2 teaspoon chilli flakes or to taste
Method
Heat coconut oil in a large skillet pan over a medium to high heat. Add spring onions, cashews, garlic and ginger to the pan and cook for 2-3 minutes.
Add in the mushrooms and cook until they've shrunk in size, about 5 minutes.
Add in the chickpeas and using the back of a fork, roughly mash the chickpeas to break them up a bit.
Add in the peas and tamari and stir until peas are defrosted.
Remove from the heat and drizzle with sesame oil.
To serve, spoon the mixture into the lettuce cups and top with chilli flakes.
Dinner: Creamy Green Quinoa Risotto
Ingredients
1/2 tablespoon butter
1 clove garlic minced
1 cup broccoli chopped into small florets
1/4 cup quinoa (raw) rinsed
1/2 cup vegetable stock
salt & pepper to taste
1/2 zucchini grated
1/2 cup green peas (frozen)
1/2 tablespoon thyme (dried)
1.5 cup baby spinach
1 tablespoon parmesan cheese
Method
Heat butter in a pan over a medium heat. Add in garlic and broccoli and stir until browned, about 5 minutes.
Add in quinoa, vegetable stock, salt and pepper and leave to simmer for 15-20 minutes, covered, stirring occasionally.
When quinoa is 5 minutes away from being ready, add zucchini, peas, thyme and simmer for a further 5 minutes or until quinoa is fully cooked.
Remove lid and add in spinach and parmesan. Stir through until the spinach is wilted. Serve.