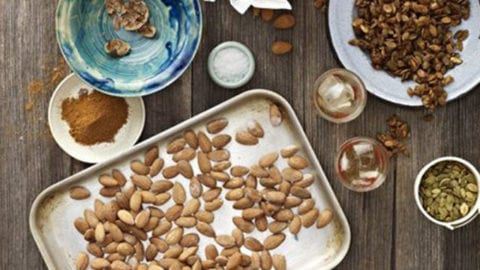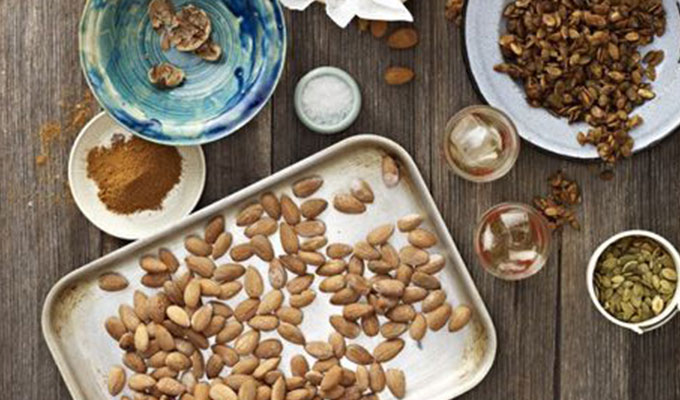 Homemade Activated Nuts
Activated nuts are raw nuts that have been soaked for long enough to activate the nut's digestive enzymes, which starts the nut's natural sprouting process. We activate nuts to reduce their phytic acid content, which makes them a lot easier to digest. And if that wasn't a good enough reason to try this healthy snack recipe… you'll end up with a tasty batch of healthy snacks with crunchy, slightly-salty goodness!
Ingredients
3

cups

mixed nuts

(choose your fave nuts)

2

tbsp

sea salt
Instructions
Soaking
Soak the nuts or seeds overnight in a pot of salted water. Note: macadamias and cashews should only be soaked for 6hrs max.

The next morning, drain the nuts, and then lay them on a baking tray.
Almost 'No-Bake' Baking
Now we 'bake' the nuts in the oven at the very lowest temperature for 12-24 hours. For electric ovens set it to under 65ºC /150°F, or for gas ovens just leave the pilot light on.
Notes
IMPORTANT: only soak cashews & macadamias for 6 hours max, otherwise they may go a little slimy and their taste might change. All other nuts are fine to soak for 12 hours longer.  
STORAGE TIP: You can store the cooked activated nuts by popping them in individual serving bags, then eat them straight from the freezer whenever you need a quick, healthy snack to keep you going between meals.