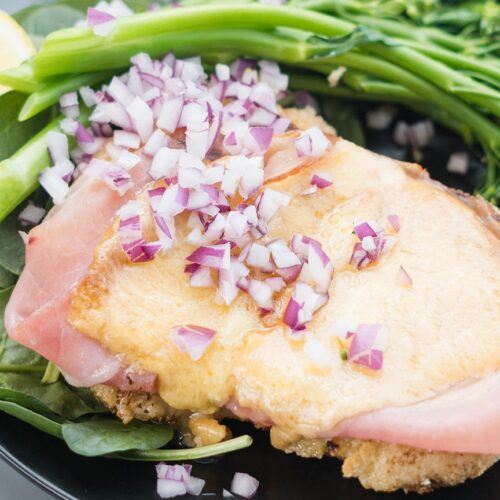 Clean Eats Chicken Parma
This healthy parma recipe has become a family favourite for thousands of our 28ers. Even fussy eaters love this healthy alternative to a pub chicken parma!
Ingredients
For the parma
125

g

skinless chicken thigh fillets

1

egg

free-range

1.5

tbsp

almond meal

1.5

tsp

coconut oil

extra virgin

1

tbsp

tomato paste

1

slice

ham

shaved

20

g

cheddar cheese

salt

to taste

pepper

to taste
For the side
1/2

bunch broccolini

baby broccoli

1

cup

rocket leaves

Salt and pepper

to taste

1/4

red onion

finely diced, for garnish

1/4

lemon

optional, wedge for garnish
Instructions
Meanwhile, Crack an egg into a small bowl and whisk well. In a separate bowl, add the almond meal and season it well. Dip the chicken thigh into the egg and then toss it through the seasoned almond meal.

Heat coconut oil in a large pan and fry chicken on both sides until lightly browned.

Transfer the chicken from the frypan and onto a lined baking tray. Top the chicken with tomato paste, ham and cheese. Bake in the oven for 10 minutes or until the cheese has melted.

While the chicken parma is baking, bring a saucepan of water to the boil and add the broccolini to the steam for 5 minutes or until softened.

To serve, combine the rocket and broccolini and top with the parma. Season well and enjoy!
Notes
If multiplying this recipe, you only need 1 egg for up to 3 serves – as it is only used to lightly coat the chicken.
NOTE: this recipe is not suitable during pregnancy