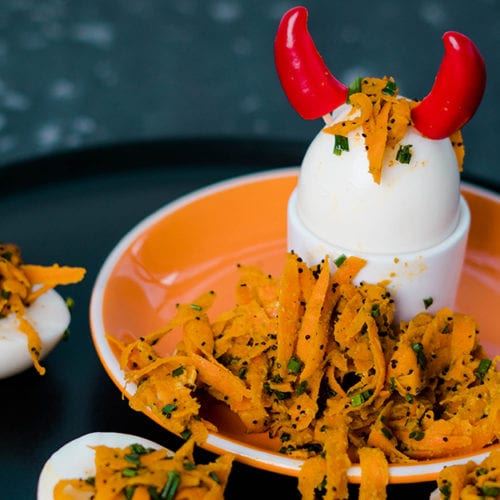 Devilled Eggs
What better halloween snack than some devilled eggs, the name already says it all. And they're ready to serve in 20 minutes or less!
Ingredients
4

eggs

1/4

cups

carrot

grated

1

tablespoon

butter

1/2

teaspoon

curry powder

1/3

teaspoon

cayenne pepper

1/2

teaspoon

onion powder

1/2

teaspoon

mustard

dijon

1

tablespoon

chives

salt & pepper

1

teaspoon

poppy seeds
Instructions
Bring salted water to the boil in a medium sized saucepan.

Gently add eggs and cook for 7-8 minutes until hard boiled.

Drain, rinse under cold water and allow to cool.

Meanwhile, place carrot, butter, curry, cayenne and onion powder in a small frypan on medium heat and cook carrot until soft.

Stir through dijon mustard. Remove from heat and set aside to cool slightly.

Mix through chives and cracked pepper.

Peel eggs and cut in half, lengthways. Remove the yolk centre, set aside.

Place carrot mix gently into egg centre with a teaspoon. Crumble egg yolk over the top.

Serve with a sprinkle of poppy seeds.