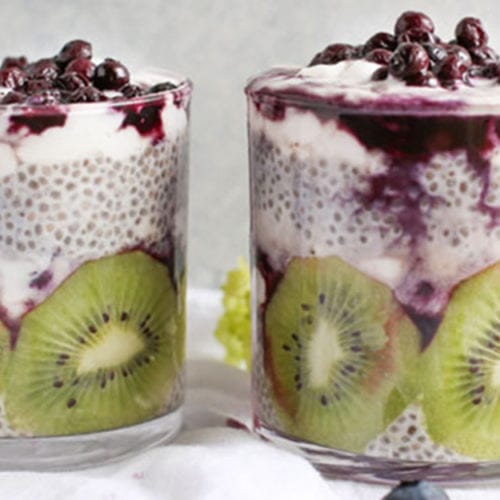 Gut-Lovin' Raspberry Chia Pot
Chia seeds are a high-quality plant-based protein known to be gentle on the stomach. Once chia seeds have been soaked in liquid, they expand and develop a bit of a slimy pudding-like texture which acts as a barrier for the gut, so it's a good choice for anyone with a sensitive tummy.
Ingredients
1/3

cup

raspberries

fresh or frozen

3/4

cups

chia seeds

2 1/4

cups

full-fat milk

1/2

lemon

juiced

1

green apple

small, grated

1

teaspoon

ground cinnamon

1/2

teaspoon

vanilla extract
To serve
1

tablespoon

natural yoghurt

full fat

2

tablespoons

almonds

roughly chopped

.5

kiwifruit
Instructions
Directions

Gently mash berries until they form a puree.

Mix together berries and remaining ingredients (except for the yoghurt and almond) in a bowl or glass jar.

Slive the kiwifruit thinly and place around the bottom inside of the glass jars, as a little decorative flourish, and now it's ready for the chia pudding.

Carefully divide chia pudding into 3 separate jars (try not to disturb the kiwifruit) and store in the fridge ready for breakfast.

Refrigerate for at least 3 hours or overnight (but give it a gentle stir 20 minutes after refrigerating to ensure it sets evenly and the apple doesn't sink to the bottom).

When the pudding is ready to eat, add 1 tablespoon of natural yoghurt and 2 tablespoons of chopped almonds on the top of each jar.
Notes
For a dairy-free option: Use almond or coconut milk in place of full-fat milk and replace yoghurt with coconut or almond yoghurt.