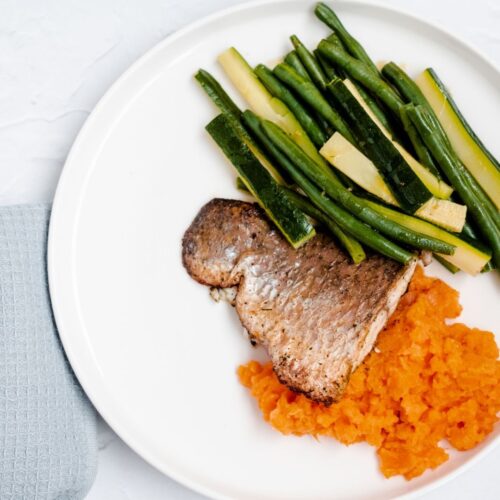 Herb Salsa Barramundi with Sweet Potato Mash
Ingredients
1

cup

sweet potato

cut into cubes

¾

cup

green beans

ends trimmed

½

zucchini

cut into thick matchsticks

1

teaspoon

extra-virgin olive oil

1

piece

frozen Birds Eye Ocean Selections Barramundi – Herb Salsa

thawed

1/2

tablespoon

unsalted butter

1

tablespoon

full cream milk

1

teaspoon

extra-virgin olive oil
Instructions
Place the sweet potato cubes in the bottom pan of a steamer set and cover with water. Add the steaming basket on top and add the green beans and zucchini. Cover with a lid and place the steamer set on the stove at medium heat and cook for 5-7 minutes.

After this time, remove the steamer basket with the green beans and zucchini. Place the lid back on and leave the sweet potato to boil for another 5 minutes, until easy to stab with a fork.

During this time, heat the olive oil in a frying pan over medium heat and add the thawed Birds Eye Barramundi. Cook for 5 minutes on one side, before flipping and cooking for a final 4 minutes.

Once the sweet potato is soft, drain the water. Mash the sweet potato and mix in the butter and milk, adding more milk if required to reach a creamy consistency.

Plate up the mashed potato. Add the green beans and zucchini, drizzling over some extra-virgin olive oil and seasoning to taste.

Lastly, add the barramundi to the plate and serve.