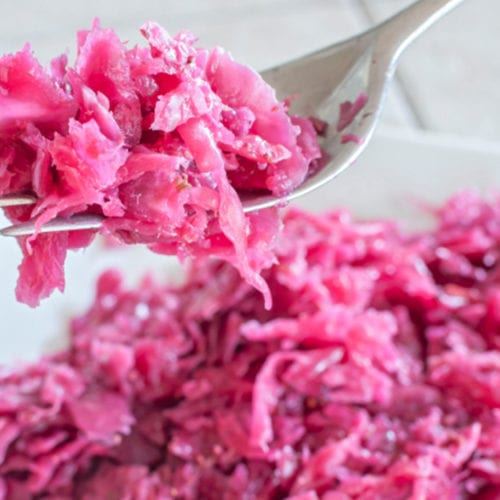 Homemade Purple Sauerkraut
Fermented vegetables are a great way to keep your gut healthy and to aid digestion of meals. It also adds a great flavour to your dishes!
Ingredients
1.5

kg

purple cabbage

cored and finely shredded with a knife or on a mandolin

1

tablespoon

caraway seeds

1

tablespoon

fine sea salt
Instructions
Place all ingredients in a sturdy bowl.

Using your hands, massage and squeeze the cabbage until it starts to release its juices. This can take around 10-15 minutes.

Scoop mixture into thoroughly cleaned mason jars and push down until juices cover the top of the cabbage. You might like to use a tool to help press the mixture down. We use the stick from our blender! (Note: if your sauerkraut has not produced enough liquid to cover the cabbage, make your own by mixing a pinch of sea salt in some water and pour on top of cabbage.)

Screw lid on tightly and place on the kitchen bench at room temperature for 2 weeks.

Every few days, open the kraut over the sink (due to the pressure, some liquid might come ouand push the cabbage down again below the liquid.

Your kraut will be ready to use in Week 4.

Store your jar of kraut in the fridge, where it will last several months.
Notes
Should you use whey? Sarah sometimes likes to use whey to kickstart the fermentation process. This is particularly useful if you are living in cooler parts of the world. Fermentation happens more quickly in the warmer months, so using just salt is enough. If you'd like to use whey, you will only need to leave your sauerkraut out for 3-5 days on your kitchen bench before it's ready to be placed in the fridge and eaten.
To make your own whey, you just need to make Sarah's homemade Cream Cheese, it produces whey on the side.
How do you know if your kraut is ready? Bubbles will start to form and your kraut should smell sour/vinegary (but pleasant).
Avoid using iodised salt when making this. The iodine has anti-bacterial qualities that can reduce the fermentation process.