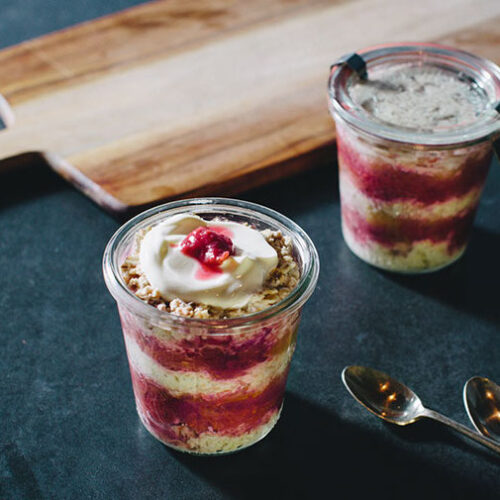 Overnight Bircher with Rhubarb & Pear
Ingredients
2/3

cup

rhubarb

trimmed into 2cm pieces

1/2

pear

cored and cut into squares

1/3

cup

rice flakes

1/2

cup

Greek yoghurt

2

teaspoons

raw honey

1/2

cup

water
Instructions
Place rhubarb, pear and one third cup of water in a small saucepan over high heat and bring to the boil. Once boiling turn the heat down to low and let the rhubarb and pear simmer for 8-10 minutes (or until cooked through).

In a small bowl combine rice flakes, yoghurt, remaining water and honey and mix together.

Spoon a quarter of the rice flake mixture followed by stewed rhubarb and pear into a glass jar with a secure lid (or small bowl and cover with plastic wrap). Repeat these steps until all the rice flake mixture are used up. Make sure to keep a little of the stewed fruit to top with at the end.

Place the lid on the jar and make sure it is secured tightly. Place in the fridge for at least 30 minutes but preferably overnight.