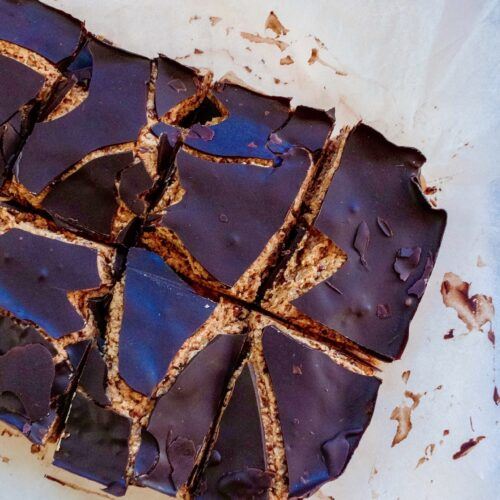 Healthy PB Protein Bar (no bake, 15 mins to make!)
These nutty, chewy protein bars are so delicious you won't believe that they're healthy. Peanut butter and dark chocolate is an unbeatable combo. Good luck stopping at one!
Ingredients
3/4

cup

Mayver's crunchy peanut butter

1/4

cup

raw honey

1.5

tablespoons

extra-virgin coconut oil

1/3

cup

linseed meal

1/2

cup

vanilla protein powder

100

g

85% dark chocolate
Instructions
Make the protein bar base
In a large bowl combine the peanut butter, honey and melted coconut oil until it's a smooth consistency. Mix in the flaxseed meal and vanilla protein powder, using a spoon or clean hands to combine. The batter should be soft and doughy.

Press the mixture into a roughly 20 x10 cm (line with baking paper to prevent sticking). Make sure the mixture is smooth on top in preparation for the chocolate layer.
Prepare the chocolate topping
Melt the dark chocolate in a small saucepan or in the microwave. If you're using the stove, stir regularly so it doesn't burn. If you're microwaving, melt in 30 second bursts, stirring in between.
Put it all together
Pour the melted chocolate on top of the peanut butter layer, covering the top completely with the chocolate.
Cool & wait
Refrigerate for 2 hours and store in the fridge or freezer in an airtight container.
Notes
Because this is a healthy no-bake slice, these are best eaten cold because the longer they stay at room temperature, the gooier they become.