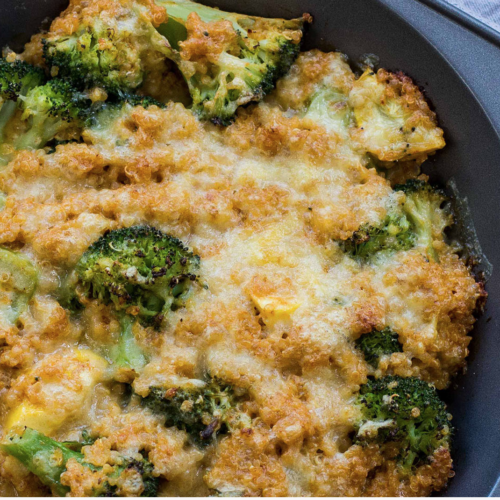 Quinoa Mac & Cheese
Ingredients
1/4

cup

raw quinoa

rinsed

1

cup

broccoli

chopped into small florets

1

cup

cauliflower

chopped into small florets

1/4

cup

full cream milk

1/3

cup

tasty cheese

grated

1

teaspoon

smoked paprika

1.5

tablespoon

Greek yoghurt
Ingredients to Serve:
1

tablespoon

tasty cheese

grated
Instructions
To begin, cook quinoa according to packet instructions.

Preheat the grill to medium–high (or the oven to 180°C/350ºF).

Meanwhile, lightly steam or blanch the broccoli and cauliflower.

Once quinoa is cooked, add in the milk stir over a medium heat until warmed through. Add cheese and paprika and continue to stir vigorously until the cheese has melted.

Remove from the heat and add yoghurt, broccoli and cauliflower.

Pour the mixture into a ramekin and sprinkle over the extra cheese. Grill for 3 minutes or bake for 10 minutes, until the cheese on top has melted and is starting to turn crusty and golden.