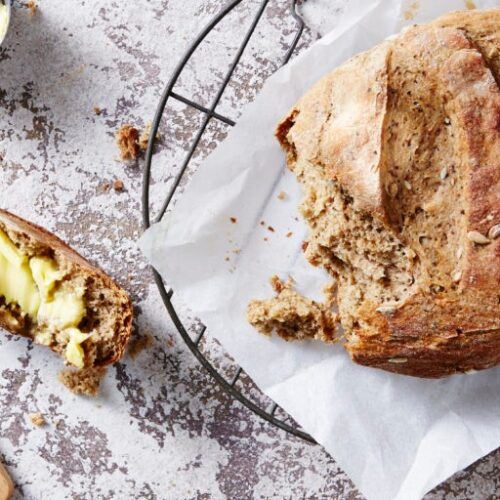 Slow Cooker Rye Spelt Bread with Wattleseed
If you've never made homemade bread before, and you don't have a breadmaker, then this is the perfect recipe for you. Not only does this healthy bread recipe use a slow cooker to bake the bread at the perfect temperature, it combines the wholesome flavours of rye, spelt and sunflower seeds with the nutty aroma of native Australian wattleseed. It's going to be a healthy loaf of fresh, hot bread your whole family will love!
Equipment
Slow Cooker

Mixing Bowl

Baking paper

a flat surface for kneading the dough

tea towel
Ingredients
200

g

rye flour

200

g

white spelt flour

or plain white flour

2

tsp

sea salt

1

tbs

instant yeast

300

ml

water

1/4

cup

sunflower seeds

1 1/2

tbs

ground wattleseed

or same qty of coffee grounds

1

tbs

rice malt syrup

3

ml

extra virgin olive oil
For dusting the kneading surface
Instructions
PREP TIP: to help you avoid getting sticky dough hands everywhere, we'd recommend you have all your equipment prepared BEFORE you reach the dough-kneading step. This includes having a floured surface for kneading, and a lightly oiled mixing bowl where you will place your kneaded dough to rest. Your clean up crew (which, lets face it, is probably you) will thank you later!

In your large mixing bowl add the flour, yeast, salt and ground wattleseed and mix the dry mixture well.

Place a saucepan over low-medium heat. Add in the water and rice malt syrup and heat until it is lukewarm and the rice malt syrup has dissolved. EXTRA TIP: Don't let the water get too hot, otherwise, it will kill the yeast in the next step!

Pour the lukewarm water into the dry mixture and mix the ingredients together until it forms a sticky dough.

Now, it's time to knead that dough. Tip the bread dough onto a floured board or floured work surface, and knead it firmly by hand for 4–5 minutes.

Place the dough in a mixing bowl that has been lightly oiled. Cover the bowl with a tea towel and place into a warm room for 1 hour. You know it's ready when the dough has doubled in size.

While the dough is resting (and hopefully rising!), prepare your slow cooker for baking. Place the baking paper into the slow cooker dish insert, flattening the paper as much as possible against the sides of the insert.

When the dough has risen, place the dough back onto a floured work surface and knead briefly, incorporating the sunflower seeds as you go. Shape your dough into a round.

Place the dough in the slow cooker. Cook on high for 1 1/2 hours (all slow cookers are different, so you may need up to another 30 minutes cooking time).

OPTIONAL STEP: If you want to darken the top of your loaf, place the cooked bread until the grill for 5 minutes until golden brown.
Notes
Need an alternative to ground wattleseeds?
Wattleseeds are a tasty Australian bush spice that is roasted and ground and can be used in a range of ways. It gives a distinctly coffee-like aroma and flavour so, if you can't find any Wattleseeds, no worries, simply use ground coffee beans in the same quantity as per the recipe.