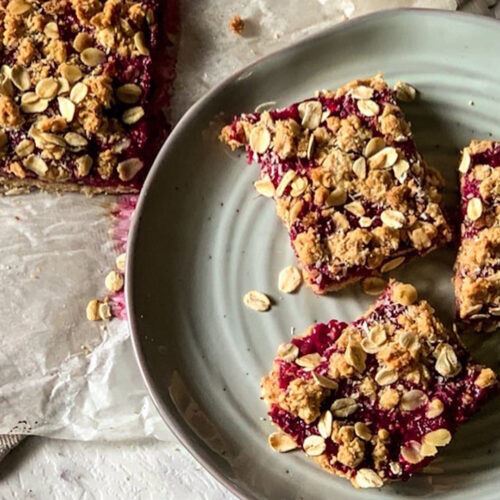 Strawberry Shortcake Crumble Bar
These bars from Noa's Healthy Eats are bursting with flavour & nutrients – and very low sugar and fat! NB: if you add the optional toppings, they'll change the nutrition amounts slightly!
Ingredients
Shortcake base and crumble topping
160

g

almond meal

30

g

tapioca flour

110

g

rolled oats

1/4

cup

maple syrup

3

tbs

coconut oil

1/3

tsp

baking powder

1

tsp

vanilla extract

1

pinch

salt

1

tbs

almond milk

(if needed – see instructions)
Strawberry filling
2

cups

strawberries

2

tbs

lemon juice

1/4

cup

maple syrup

1

tbs

cornstarch

or use more tapioca flour

chia seeds

(optional)
Optional topping add-ons
rolled oats

(optional – 2 tbsp) image pictured with oats

shredded coconut

(optional – 2 tbsp)

brown sugar

(optional – 2 tbsp)

nuts

(optional) crushed nuts of your choosing
Instructions
To make the shortcake crumble base
Preheat the oven to 180•c. Mix dry ingredients well, add in wet ingredients massaging the oil in to get a dough that sticks together. (tip: if it's not sticky enough, add a tablespoon or so of unsweetened almond milk). .

Reserve one heaped 1/2 cup of crumble mix for the topping and press remaining crumble into a square baking tin. Bake for 10 minutes.
To make the strawberry filling
While the base is baking in the oven, it is time to make your strawberry filling. Heat your berries, maple syrup and lemon in a saucepan, then add in corn starch and stir well. Bring to a boil and let it simmer for 10-15 minutes, stirring regularly to thicken, then take off the heat and let cool slightly. (tip: if the mixture gets too thick, add a little water). Then pour the strawberry filling over the shortcake base.
To make the crumble topping
You now have the option to use your topping options! If you choose the optional toppings, add the coconut and brown sugar to the reserved 1/2 cup of crumble topping mix and sprinkle the mixture over the berry-covered base.

Bake the crumble bar for an additional 10-15 minutes until golden.

Take the crumble out the oven and let it cool down, then put it in the fridge for 10 minutes, until it has set.

When the crumble has set, take it out of the fridge and slice into 12 squares and… it's time to enjoy!