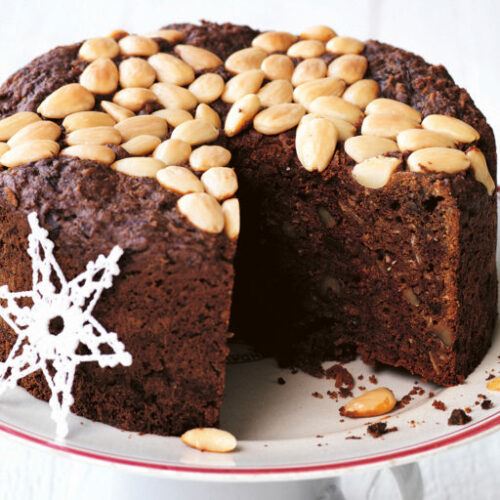 Sugar-Free Christmas Cake
This Totally Messed-With Christmas Cake is a winner for the festive season! Unlike traditional Christmas cakes that are chock full of dried fruit and sugar, this cake has wholesome ingredients and lots of Christmas spices.
Ingredients
2

cups

gluten-free self-raising flour

1

cup

shredded coconut

1

cup

almond meal

1/4

cup

raw cacao powder

1

teaspoon

baking powder

2

teaspoons

ground cinnamon

2

teaspoons

ground ginger

2

teaspoons

ground cardamom

1/2

teaspoon

ground cloves

1

medium orange

zested

1

cup

walnuts

chopped

100

g

85–90% dark chocolate

coarsely chopped

200

g

unsalted butter

cubed

1/2

cup

rice malt syrup

4

eggs

2

tablespoons

brandy

2

cups

beetroot

grated

1/2

cup

blanched almonds

optional
Instructions
Preheat the oven to 160°C/325°F/Gas Mark 3 and grease a 20cm spring-form cake tin.

In a large bowl combine the flour, coconut, almond meal, cacao powder, baking powder, spices and zest. Stir in the walnuts and chocolate.

Melt the butter and rice malt syrup in a small saucepan over a medium heat (or in the microwave). Cool slightly.

Break the eggs into a separate bowl and whisk. Stir in the brandy, then whisk in the melted butter and rice malt syrup.

Pour the wet ingredients into the dry ingredients. Add the beetroot and stir well. Transfer the mixture to the prepared tin and smooth the top. Decorate with blanched almonds (if using). Cover the tin with foil and bake for 1 hour and 15 minutes.

Remove the foil and cook for a further 15–25 minutes until a skewer inserted in the centre comes out clean. Allow the cake to cool for 20 minutes before removing it from a tin. This cake can be served warm or cool.
Notes
Storage warning: The reason traditional fruit-filled Christmas cakes last for so long is that they're full of sugar and alcohol. Both work as preservatives and in some cases they can keep the cake moist and mould-free for several months. This cake ain't that. Store it in an airtight container and it should keep for up to a week. Or freeze it for up to 2 months.