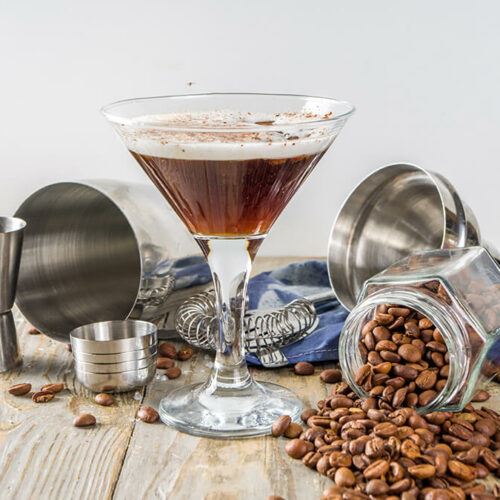 Sugar-Free Espresso Martini
You can enjoy a delicious espresso martini without the sugar if you use quality ingredients. Let us show you how to make the tastiest version of this classic cocktail that we've ever tried.
Equipment
Cocktail Shaker

Strainer

Martini Glass
Ingredients
45

ml

fresh coffee

homemade from freshly roasted beans is best

30

ml

Vodka

Optional : A vanilla vodka is delish

30

ml

Spiced Rum

(for example Sailor Jerry, Captain Morgan, etc)

3

coffee beans

to garnish

5

ice cubes

for shaking
Instructions
Prep
Ahead of time, you can make your esspresso coffee and pop it in the fridge until you're ready to make your martini. You should also place your martini glass in the freezer until it is chilled.

Add your ice cubes to a cocktail shaker, and pour the espresso, vodka and spiced rum into the shaker. Close the shaker and assume the bartender position.
Method
You can ensure the shaker top doesn't fly off if you place one hand on each end of the shaker. Now… shake vigorously! Shake at least 10 times (the harder you shake, the more it will foam).

Take the chilled martini glass out of the freezer. Open the shaker top, and use your strainer to hold the icecubes back, as you pour the drink into your glass.
Garnish & Serve
Garnish with 3 coffee beans and serve immediately.
Notes
A NOTE ON USING QUALITY INGREDIENTS: 

A lot of cocktail recipes add sugar to cover the fact they've been made with harsher-tasting, lower quality ingredients.  If your spirits and coffee ingredients are high quality and smooth tasting, then you will experience a naturally smoother tasting espresso martini, that doesn't need any sugar! 
BEWARE OF HIDDEN SUGAR IN COFFEE LIQUEURS:
If you prefer to use a coffee liqueur instead of, or as well as, a fresh espresso, be aware there is a LOT of sugar in store-bought coffee liqueurs. We recommend an Australian Coffee Liqueur brand called Mr Black, as it has half the sugar and ten times the coffee concentration of other coffee liqueurs.  
---
Looking for healthier drink recipe ideas? Grab a free copy of our Healthy Mocktail Recipe eBook