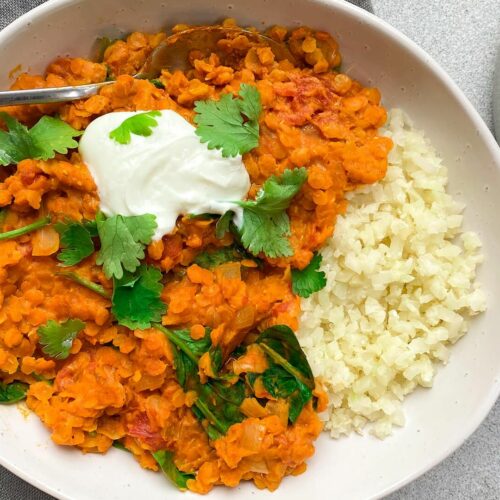 Veggie Dahl with Cauli Rice
Ingredients
1

teaspoon

butter

1

clove

garlic

minced

1

teaspoon

fresh ginger

minced

1/4

brown onion

finely chopped

1/2

tablespoon

curry powder

1/4

cup

Red Split Lentils

1/2

cup

canned diced tomatoes

1/3

cup

canned coconut milk

1

cup

baby spinach

125

g

Birds Eye Coconut Cauliflower Rice

1

tablespoon

Greek yoghurt

1

tablespoon

fresh coriander
Instructions
Melt the butter in a saucepan over medium heat. Add the onion, garlic and ginger and sauté until softened. Add the curry powder and cook for 1 minute, stirring continuously.

Add the lentils, tinned tomatoes, coconut milk and water. Cover and simmer for 20 minutes until lentils have softened and sauce is thick and creamy.

If curry is too thick, add extra water to reach desired consistency. Stir through the baby spinach until wilted.

Place frozen Birds Eye Cauliflower Rice in a microwave safe dish. Cook uncovered on HIGH for 5 minutes, stirring halfway. Remove excess moisture from Cauliflower Rice.

Place cauliflower rice in a bowl and top with the curry. Serve with a dollop of Greek yoghurt and garnish with coriander.