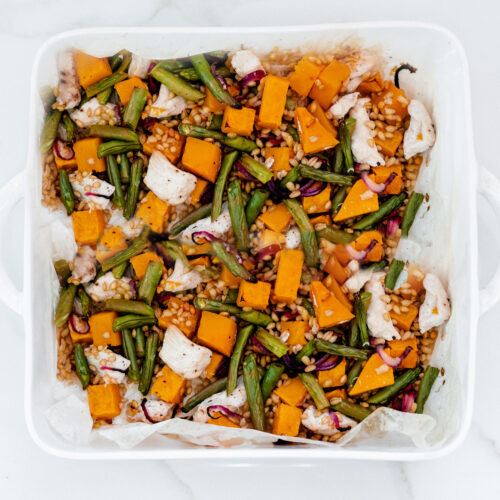 Roast Chicken Barley & Pumpkin Tray Bake
If you're looking for a nutritious one-pan dinner this winter, look no further than this tasty roast chicken, pumpkin and barley bake. There's over 30g of protein per serve, and it's wonderfully hot, simple and delicious.
Ingredients
1/4

cup

McKenzie's Pearl Barley

rinsed

3/4

cup

water

Salt and pepper

to taste

1

cup

pumpkin

cut into 1-inch cubes

100

g

chicken breast

diced or sliced thickly

3/4

cup

green beans

1/4

red onion

sliced (not too thinly)

1

tsp

olive oil

extra virgin

1/2

lemon

juiced
Instructions
Preheat the oven to 180 degrees Celsius.

Start by cooking the barley with the water and salt in a small saucepan over medium heat for 20 minutes.

Because pumpkin takes a little longer to soften and cook than the other ingredients, we will bake this first. So, while the barley is cooking, cut the pumpkin into 1 inch cubes. Place the cubes on a lined baking tray and into the preheated oven to cook for about 15 minutes.

Dice your chicken. After 15 minutes, remove your tray from the oven, and add the rest of the bake ingredients to the tray. Layer the cooked barley, chicken, green beans and red onion to the tray (there's no need to be too careful about the layering – just ensure everything is fairly evenly spaced).

When everything is placed on the tray, drizzle the olive oil and lemon juice over your chicken and veg tray, and season with salt and pepper to taste.

Return the tray to the oven for approximately 15-20 minutes, until the chicken is cooked through.

Remove the tray from the the oven, plate up and serve.