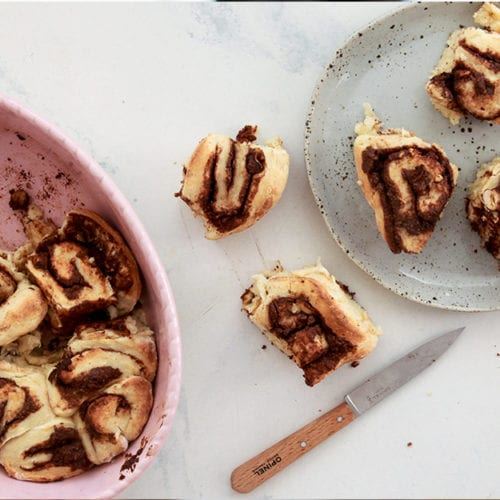 Sugar Free Nut-Ella Scroll
The processed store bought version is full of sugar, but we have a healthier alternative that will fool the biggest sceptics.
Ingredients
Nut- Ella Ingredients
1

cup

hazelnuts

1/2

cup

coconut milk

1

tablespoon

rice malt syrup

1

tablespoon

coconut oil

1/4

cup

raw cacao powder

1

tablespoon

vanilla powder
Scroll Ingredients
3

cups

self-raising flour

plus more for dusting

2

cups

Greek yoghurt

½

cup

Sugar-Free Nut-Ella

⅓

cup

hazelnuts

roughly chopped
Instructions
To prepare the Nut-Ella
Preheat oven to 180ºC/350ºF/Gas Mark 4.

Bake the hazelnuts for 8–10 minutes, until browned.

Rub most of the skins off as they can be a bit bitter (you don't have to be too precise).

Grind the nuts in a food processor until smooth.

Add the remaining ingredients and process until well mixed.

Add extra coconut milk if you want more of a 'sauce' consistency.

Store in the fridge for several weeks.
To prepare the Scrolls
Preheat oven to 180ºC/350ºF/Gas Mark 4 and grease and line a round 22cm baking tin.

Add flour and yoghurt to a mixing bowl. Combine with a wooden spoon until mixture comes together.

Turn out onto a floured bench and knead for a few minutes.

Add a little more yoghurt if the mixture is too dry or a little extra flour if the mixture is too wet.

Using a rolling pin, roll out dough into a rectangle until 0.5cm thick.

Spread Sugar-Free Nut-Ella evenly over the dough using the back of a large spoon, reaching the edges.

Sprinkle over hazelnuts.

Roll the dough from the long side into a long log.

Cut into 4cm pieces and place into the baking tin, squishing together.

Place into the oven and bake for 20 minutes until golden.

Remove from the oven and serve warm or cooled.
Notes
The processed version of this spread is a dire sugar explosion. This one, though, will fool even the most sceptical child.
For a vegan option, replace Greek yoghurt for coconut yoghurt.