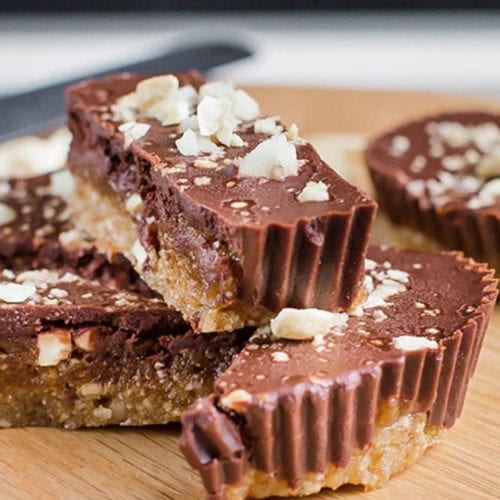 Vegan Snicker's Slice
Needing something extra to get you through Monday? We've got you sorted with Alex's Vegan Snicker's Slice. My brother Alex is not a vegan but he loves to create clean versions of traditional treats, so now you can have your afternoon pick me up, without the side of guilt!
Ingredients
12

medjool dates

2/3

cup

cashews

natural

1/3

cup

macadamia nuts

1/3

cup

almond butter

1/3

cup

cacao powder

1/3

cup

coconut oil

extra virgin

1/4

cup

pure maple syrup

1/4

teaspoon

salt

1

tablespoon

Vanilla Protein Powder (sugarfree) 28 By Sam Wood
Instructions
Make the nougat layer
To prepare the nougat layer, soak the macadamia nuts and cashew in warm water for 15 minutes.

Drain and then blend the nuts and 5 of the dates in a food processor until the dates are broken down into a fine consistency.

Lay 12 small cupcake liners (or 6 bigger ones) and evenly cover each base with the nougat. (I roll them into small discs and then place them into the cupcake liner).

Place in freezer while working on step two.
Make the caramel
Combine the almond butter with the remaining dates and process until combined.

Add the vanilla extract & vanilla protein powder, a dash of the maple syrup and a pinch of salt to the food processer and pulse until smooth.

Roll into small discs and place evenly into the cupcakes on top of the nougat.

Sprinkle some crushed macadamia and peanuts on top

Add the chocolate layer and press into the caramel.

Place back in freezer while making chocolate.
Make the chocolate
Put the coconut oil in the microwave for 30 seconds in a bowl.

Remove and mix through the cacao powder, remaining maple syrup and a teaspoon of vanilla extract.

Stir until combined then carefully pour the chocolate syrup evenly onto the cupcakes.

Sprinkle any remaining crushed nuts over the top for a garnish.

Place the cupcakes in an airtight container in the freezer until ready to serve and…. Enjoy!
Notes
This is a set serving size for 12 pieces, and ingredients cannot be adjusted down.
SUBSTITUTIONS: If you don't have any of our Fast Release WPI Vanilla Protein Powder, you can substitute 2 teaspoons of vanilla extract, but just be aware the protein content will be lower.