There's nothing better than sitting down to a warming meal on a winter's night. It feels so comforting and warms us up from within. Eating seasonally and matching meal types to the weather by enjoying warm food in winter and more raw food in summer is something that we're big advocates of here at 28. Keeping those meals nutritionally balanced and made up of real food is easy to do and we've got 3 protein packed dinners for you to enjoy this winter.
Protein is a macronutrient and is a vital part of every meal. Our balanced plate formula recommends half a plate of vegetables, a quarter of the plate protein, a quarter of the plate complex carbohydrates and a serve of healthy fats to top it all off. Proteins are made up of 20 different amino acids. When we consume protein, these amino acids go on to form thousands of other proteins within the body.
Some of the functions of protein include:
Growth and maintenance of tissues and muscles.
Providing structure and strength to our skin, hair, nails, bones, tendons, ligaments and various organs.
Creating enzymes that perform any number of biochemical reactions. For example, enzymes are involved in digestion, the production of energy, muscle contraction and blood clotting.
Acting as chemical messengers and communicating with different cells and systems in the body.
Regulating our pH.
Maintaining fluid balance.
Creating immune cells and supporting immunity.
Transporting and storing nutrients.
Supporting energy production.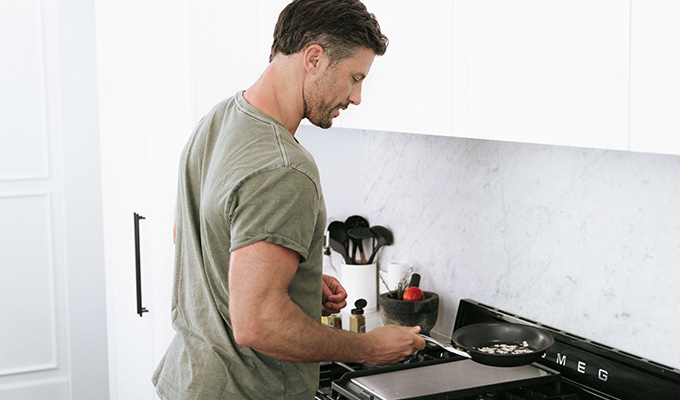 The main sources of protein in our diet include meat, poultry, fish, seafood, eggs, dairy and legumes like beans and lentils, or products made from legumes like tofu and tempeh. We also get some protein from certain whole grains, nuts and seeds.
When we can combine one or more sources of protein in a meal, it helps us get variety into our diet, while also boosting the overall protein content. Something we're loving at the moment is adding peanut butter into more of our savoury dishes for an added protein boost. Did someone say satay?! Peanut butter is made up of peanuts, which are actually a legume, and as a result contains a good amount of protein.
Choosing the right peanut butter isn't just important from a taste perspective, it's also important from a nutritional standpoint. Make sure you choose a PB that's either entirely peanuts, or peanuts and a little bit of salt. Our go to brand is Mayver's Peanut Butter, which in our opinion one of the tastiest and is also widely available across Australia. Be sure to steer clear from any conventional peanut butters that contain vegetable oils and opt for a natural option instead.
Check out these 3 satay recipes that'll keep you warm, while being packed with protein:
Chicken Miso Satay Skewers
An Asian style recipe that the whole family will love, skewers are a fun and delicious way to change things up. This recipe is easy to prepare and it contains some spices that will add to the warming factor of this meal. Check it out here: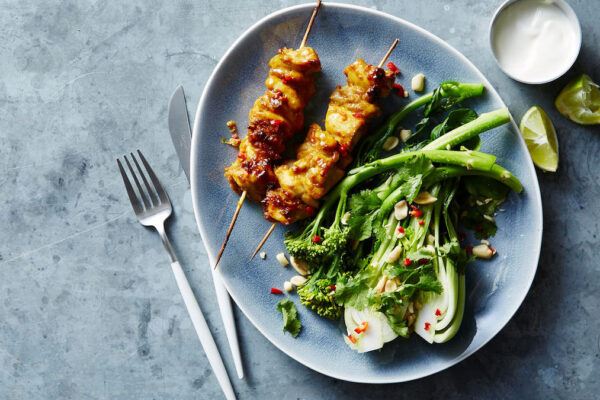 Chicken Miso Satay Skewers
Get the full recipe
Warm Satay Bowl
The name says it all – this Warm Satay Bowl is the perfect winter warmer that brings in the delicious satay flavour. It's a great way to load up on veg and the quinoa and PB have you covered for protein. Find the recipe here: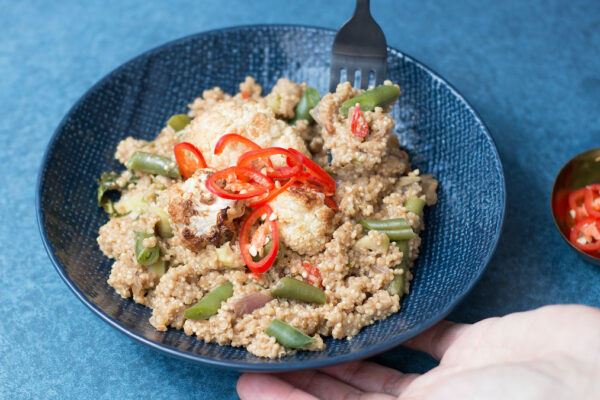 Warm Satay Bowl
A big bowl of goodness covered in satay sauce – this has got to be one of our favourite ways to get our veg in.
Get the full recipe
Satay Chicken Burger
Let's face it, burgers are one of the ultimate comfort foods and certainly help warm us up in winter. A healthy burger is a fun meal to enjoy with the family on the weekend and this one features protein through the chicken and the satay dressing. Feast your eyes on the recipe: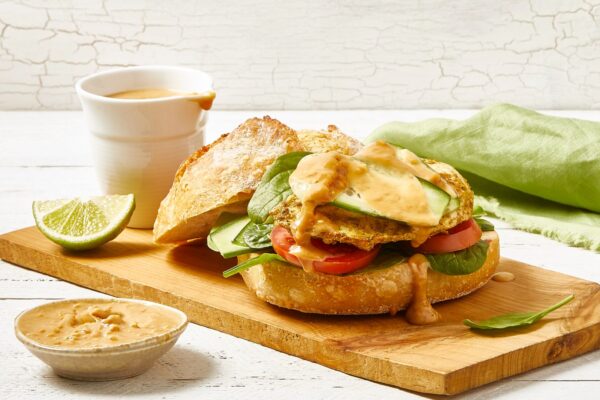 Satay Chicken Burger
Get the full recipe
We hope these recipes keep you warm, nourished and satisfied this winter! You can enjoy them knowing you're getting all of the benefits of protein and the delicious real foods inside. Which one will you be trying first?