There are two ways you can meal prep, the maximum method, which is prepping completely cooked meals for the week ahead that are ready to reheat and eat. The other is the minimal method, which prepares basic components that you can combine to create meals during the week.  
Here are some tips to help you prepare protein, some vegetables, and grain or carbohydrate (minimal method). If you like variety in your meals, you can prepare a few of each then mix and match to create quick, nourishing meals throughout the week. 
Check out some of these lunch/dinner recipes for your inspiration: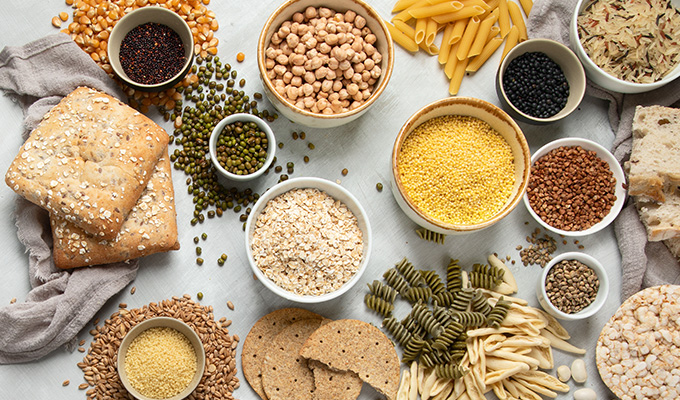 GRAIN/CARBOHYDRATE
Pasta, rice, quinoa 
Cook according to packet instructions, allow to cool and store in an airtight container for up to 3-4 days. For extra flavour, try cooking rice and quinoa with stock or spices. Pro tip: fluff the quinoa halfway through cooking with a fork to create extra volume, and drain if there is any water left.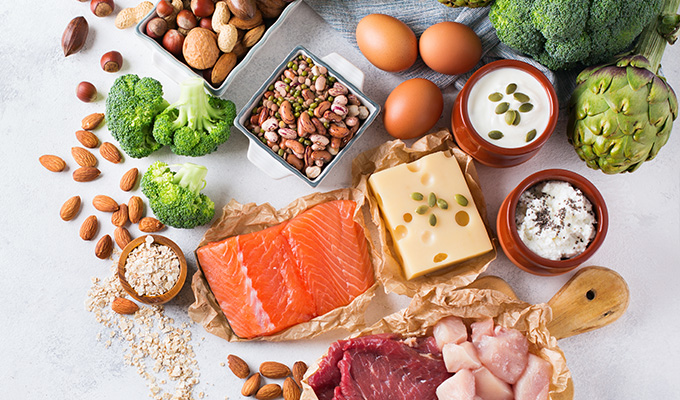 PROTEIN
Shredded Chicken
Place chicken breast or thigh in a saucepan/pot and cover with water.
Bring the water to a boil over high heat. Once boiling, reduce the temperature to low and simmer for 10-15 minutes until the chicken is cooked through. 
Drain and shred the meat with 2 forks, or with a hand mixer. Allow to cool slightly before storing in an airtight container for up to 3-5 days.
For extra flavour, add some lemon slices or herbs to the water.
Hard-boiled eggs 
Place eggs in a saucepan and cover with cold water.
Bring the water to a boil over high heat.
Once the water is boiling, take the saucepan off the heat, cover and leave the eggs in the hot water for 10-12 minutes.
Drain the water and transfer the eggs to a large bowl of ice water for 15 minutes to stop the cooking process and so they are easier to peel later on. For maximum freshness, leave boiled eggs in their shells until you are ready to eat them and store in the fridge for up to 7 days.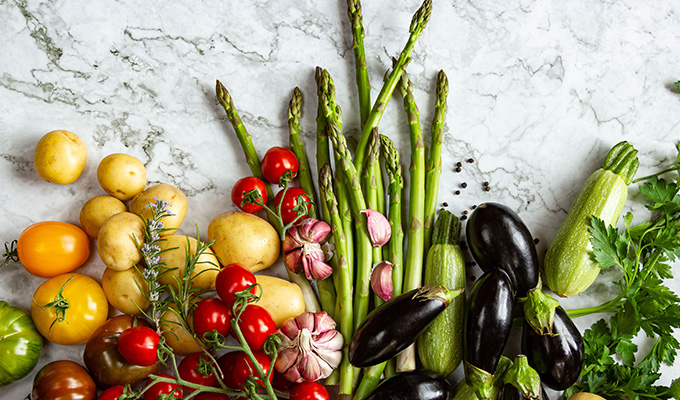 VEGETABLES
Roast veggies
Preheat oven to 200°C.
Cut vegetables of choice into large chunks, such as sweet potato, pumpkin, beetroot, zucchini, and carrot. 
Toss vegetables in ½ tbs melted coconut or extra-virgin olive oil and season well with salt and pepper. 
Roast for 30-40 minutes until tender, remove from the oven and allow to cool slightly before storing in an airtight container for up to 3-4 days.
Zucchini Noodles
Spiralize (or thinly slice longways and then into strips to make noodles) 2 large zucchinis. Store fresh or to pre-cook heat ½ tbs extra virgin olive oil in a frying pan on medium heat. Add in spiralized zucchini, cook and toss for 5 minutes until slightly softened.  
Chop Veggies 
Place chopped vegetables in a container or jar and cover them with water so they stay fresh and crunchy. 
Salad jars
If your meal prepping salads for the week, prepare them in a jar/containers in reverse order so the ingredients don't go soggy then flip it over and shake to combine the ingredients when you are ready to serve. 
First place the dressing into the jar so it stays at the bottom and doesn't soak through all the other ingredients, alternatively you can keep it separate together. You can find our favourite homemade salad dressings here – https://recipes.28bysamwood.com/recipe/tasty-salad-dressings/ 
Then add crisp veggies like tomatoes, cucumbers, red onion, asparagus, celery, capsicum, and carrots which will protect the other ingredients from getting soggy.  
Next, add vegetables that you don't mind getting a bit wet but still don't want to go soggy, such as mushrooms, zucchini, beans, lentils, peas, corn, broccoli. 
Now we can add delicate ingredients like hardboiled eggs and cheese (feta, halloumi, cheddar etc.) 
This layer helps to "seal" the jar and includes things like rice, pasta, quinoa and couscous.
Finally, we can add the ingredients that are spoiled if they turn limp, such as nuts and greens (kale, lettuce, spinach or rocket). 
Pop on a lid and place in the fridge for a quick and nourishing meal.