With everyone staying safe at home this Easter, there's never been a better time to try your hand at cooking up some healthy Easter recipes.
At 28, we don't believe in restricting carbs or any of your favourite meals for that matter, however, it's still important to find a healthy balance and avoid excessive amounts of sugar. To help you stay healthy during what could be a traditionally sugary and over indulgent time of year, we thought we'd share some healthy Easter treats that the whole family can enjoy!
Running low on some ingredients? You don't have to give up on cooking healthy if you learn how to make the most out of what you have in the cupboard. To help you, I've listed some ideas at the bottom of this post so you can make healthy ingredients swaps for common healthy ingredients.
Healthy Easter Treat Ideas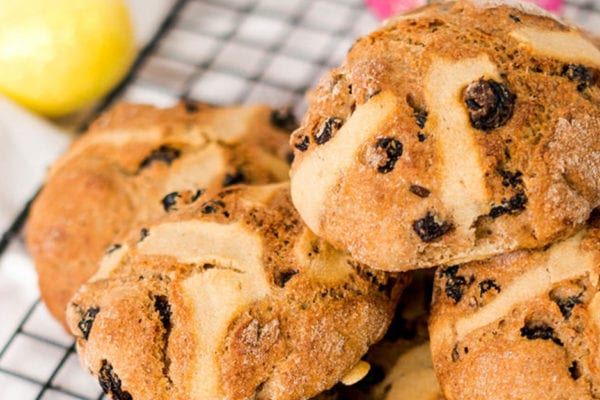 Epic Hot Cross Buns
Think that eating healthy over Easter means giving up Hot Cross Buns? Think again! Try my epic Hot Cross Buns this Easter and I promise you won't be missing out!
Get the full recipe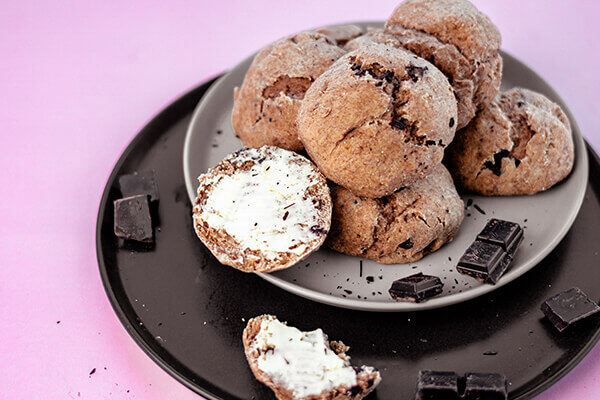 Low Sugar Choc Chip Hot Cross Buns Recipe
Traditional hot cross bun recipes contain over 5 teaspoons of sugar per bun. We've managed to reduce this to 1/2 teaspoon of fructose-free sweetener per serve. And… You won't believe how good they taste!
Get the full recipe
Sugar-Free Hot Cross Bun Cookies (from the IQS recipes blog)
These spiced cookies are very low in sugar, and a guilt-free way to enjoy Easter with your family.
Get the full recipe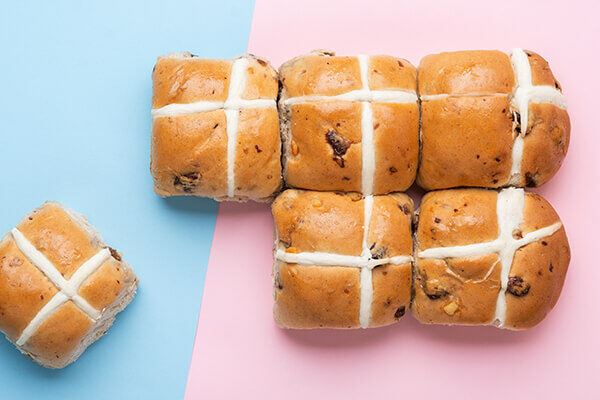 Paleo Hot Cross Buns Recipe (from the IQS recipes blog)
These Paleo Hot Cross Buns are filled with delicious spices and taste incredible toasted with a generous smear of grassfed butter.
Get the full recipe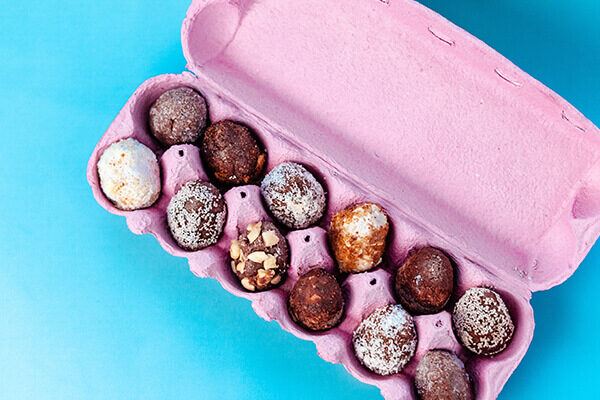 Sugar-Free Easter Eggs Recipe (from the IQS recipes blog)
Check our these Sugar-Free Easter Eggs from IQS's guest contributor, Sami Bloom!
Get the full recipe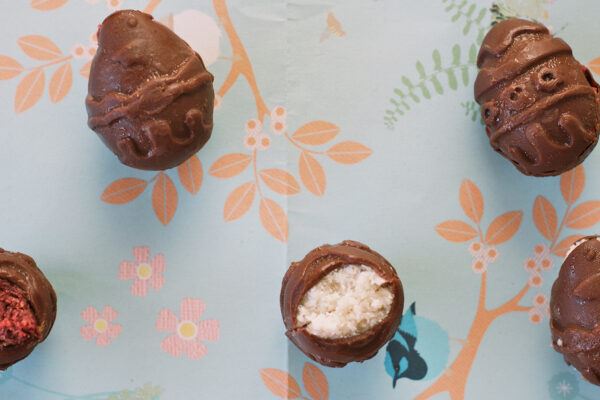 Homemade Easter Eggs Recipe (from the IQS recipes blog)
Note: This recipe is a bit of a challenge, and a little fiddly, especially when it comes to assembling the eggs. Don't be disheartened if they don't come out quite right… embrace the fun of it!
Get the full recipe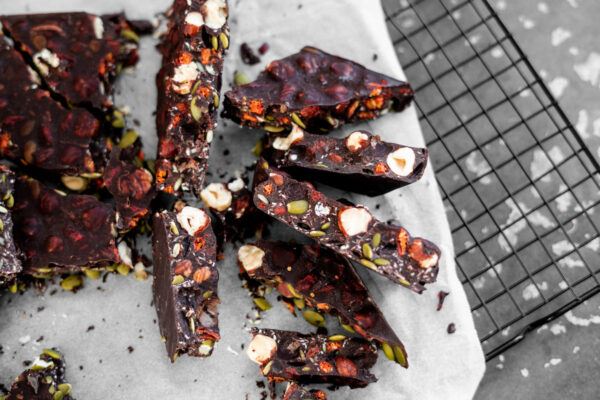 Shahna's Healthy Rocky Road
As a chocolate lover, Nutritionist Shahna Sarpi has created this healthy version of a rocky road. Great to have as a treat as something the whole family can enjoy… guilt free!
Get the full recipe
---
Keep on reading for common healthy ingredient swaps for Easter baking
---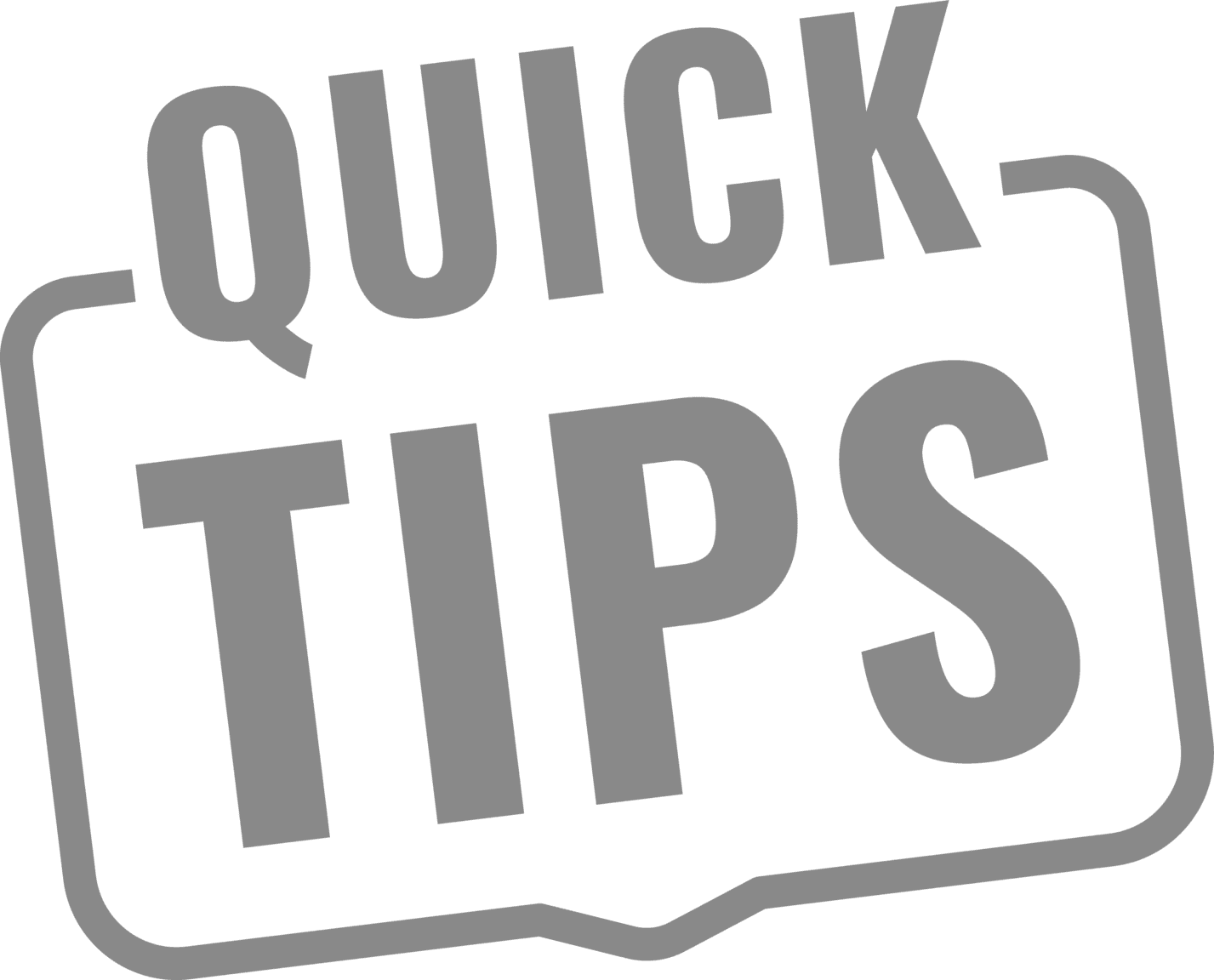 Do you have a fussy eater at home?
It's quite normal for kids to turn their nose up at foods & flavours they don't recognize. One of the tricks Sam & Snez always recommend is to get the kids involved in cooking. By being hands-on in the kitchen they'll see all the ingredients going in, and they'll be so proud that they helped you make it, they'll be much more likely to eat it with the family too.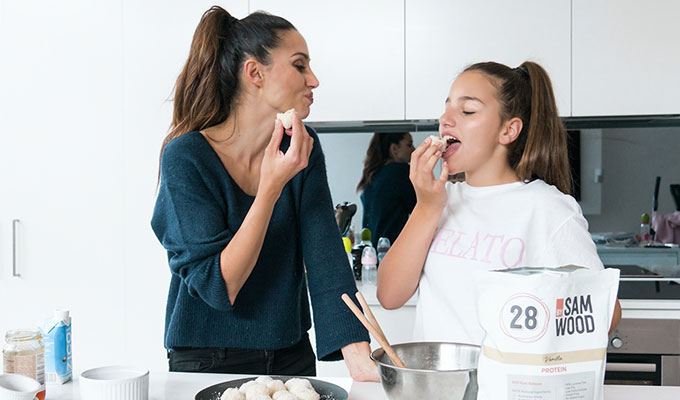 Healthy Easter ingredient swaps (if you don't have all the ingredients at home)
If you or someone you know has a nut allergy, you can easily make recipes nut free by swapping any nuts for a seed alternative. Use ground-up sunflower seeds instead of almond meal, tahini instead of nut butter, and coconut milk instead of almond milk.
Sugar alternatives for your Easter baking recipes
| | |
| --- | --- |
| INGREDIENT | REFINED SUGAR-FREE ALTERNATIVE |
| Rice malt syrup | Swap rice malt syrup with the same quantity of maple syrup or raw honey. |
| Maple syrup | Swap maple syrup with the same quantity of raw honey or rice malt syrup. |
| 90% dark chocolate | Swap with any dark chocolate. |
| Dark chocolate | If you have cacao powder + any healthy oil that is solid at room temperature (eg cacao butter or unprocessed coconut oil) then you can make your own homemade dark chocolate alternative. |
| Cacao powder & Cacao butter mix | If you don't have any dark chocolate or cacao you can always use milk chocolate (just be mindful that the sugar content will be much higher). |
Healthy Easter flour swaps
| | |
| --- | --- |
| INGREDIENT | HEALTHY FLOUR ALTERNATIVE |
| Buckwheat flour | Replace with either quinoa flour, brown rice flour or a gluten-free flour blend. |
| Wholemeal spelt flour | Swap spelt flour with any wholemeal flour to maintain a similar flavour/texture. |
| Wholemeal flour | Replace wholemeal flour with any non-self-raising flour (just bear in mind white flour reduces the fibre content of your healthy Easter recipes). |
| Almond meal | Swap almond meal with ground sunflower seeds. You can use a blender to bring sunflower seeds to a flour like consistency, otherwise a mortar or pestle or coffee grinder can do the trick. |
Healthy Easter butter swaps
| | |
| --- | --- |
| INGREDIENT | HEALTHY BUTTER ALTERNATIVES |
| Cacao butter | Swap for cacao butter (ideally a plain version, with no added sugar). Or, swap with coconut oil (but note this may change the consistency). |
| Cashew butter | Swap with almond butter, peanut butter, sunflower butter or tahini. |
NB: If you've only got dairy butter, ideally grassfed/organic, go ahead but please bear in mind it will contain a lot more fat than a nut butter and could a create slightly oily consistency (and, of course, the recipe will no longer be vegan-friendly!)
Healthy Easter milk swaps
| | |
| --- | --- |
| INGREDIENT | HEALTHY MILK ALTERNATIVE |
| Coconut milk | Swap with coconut cream, and just water it down to a similar consistency as coconut milk. |
| Almond milk | Replace with any plant milk of your choice. |
---
Healthy Easter Meals for a Good Friday Feast
A long-standing tradition of Good Friday is the abstinence of eating meat, which originates from the Catholic religion. Many people, whether religious or not, also choose to abstain from eating meat and opt for fish or vegetarian meals on this day instead. Here are some of our suggestions to add to your Good Friday menu: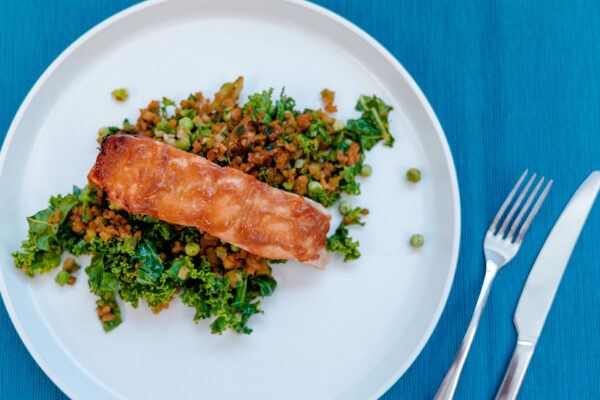 Baked Miso Salmon with Broccoli & Cauli Rice
Get the full recipe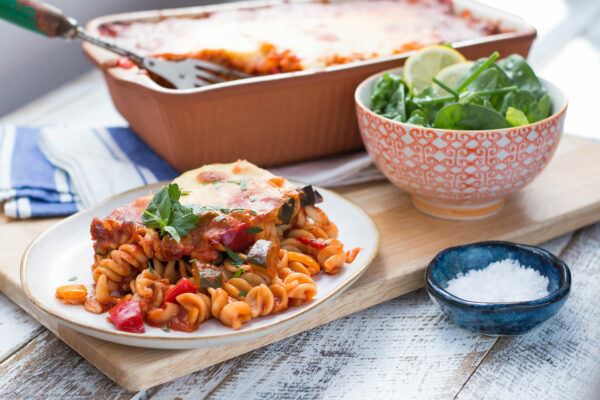 Ratatouille Pasta Bake
A delicious pasta dish that's so warming and hearty, the whole family will love it… and they probably won't even notice it's vegetarian! Get into this one for a healthy Winter dinner idea!
Get the full recipe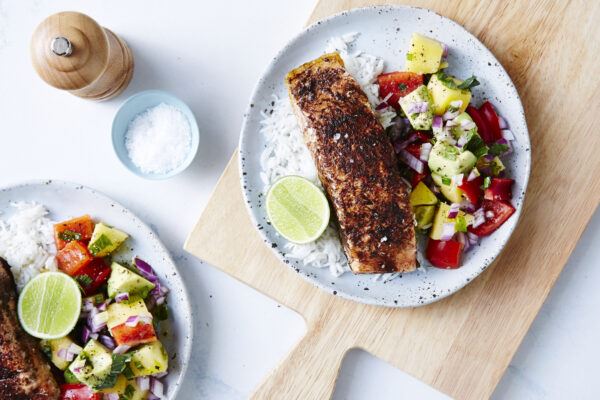 Healthy Jerk Salmon Bowl
You'll love this Jamaican-inspired salmon dish contributed by the team from I Quit Sugar. It's a tasty healthy dinner, served with a fruity summer salsa. To make it even quicker, have some cooked Basmati rice in the freezer which will make this dinner even quicker to make!
Get the full recipe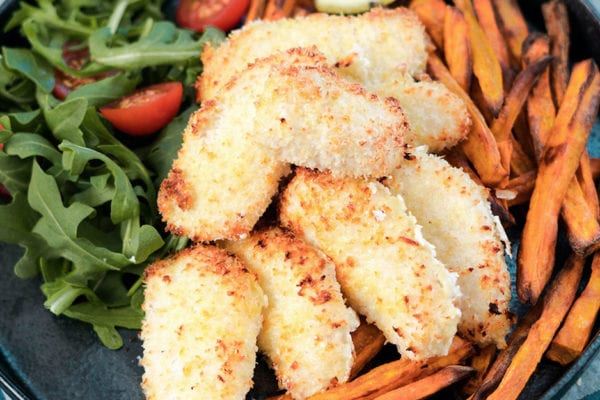 Coconut Fish & Chips
Who doesn't love fish and chips? I certainly do, and I don't want to have to pass up on indulging in this favourite of mine just because I'm eating healthily. The sweet potato chips here are not only delicious but are also a wonderful source of slow-release energy, helping to prevent the blood sugar spikes linked to weight gain that can often result from eating carbohydrate-rich foods.
Get the full recipe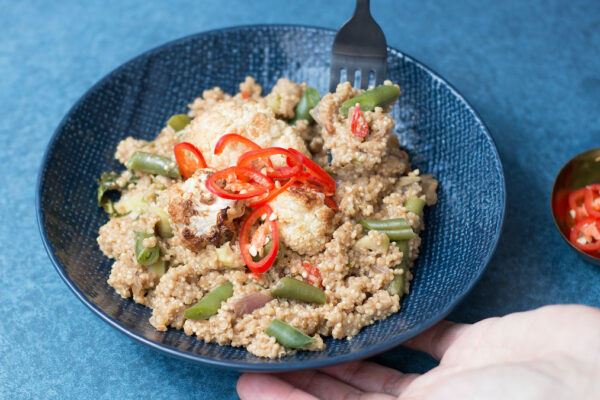 Warm Satay Bowl
A big bowl of goodness covered in satay sauce – this has got to be one of our favourite ways to get our veg in.
Get the full recipe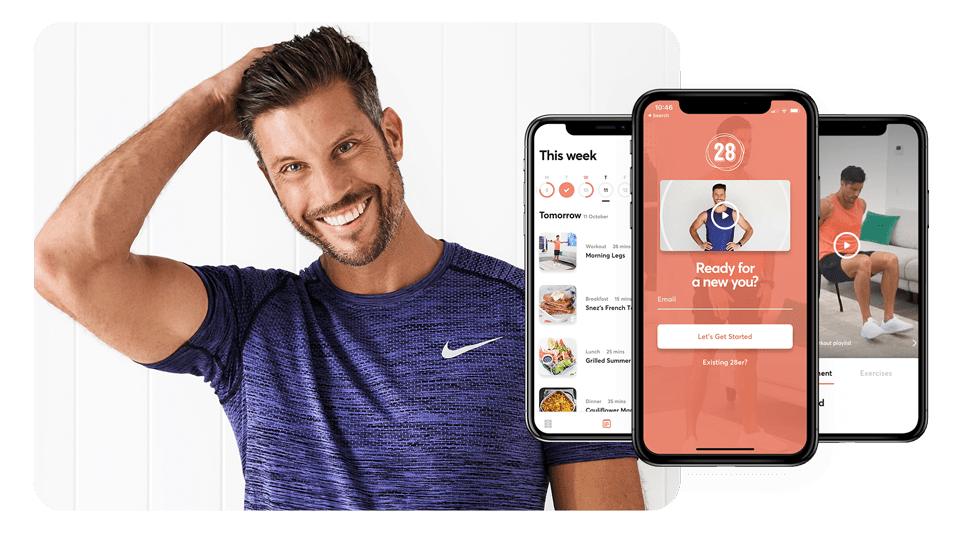 Need More Help?

FAQs
Got a question? Drop us a line and we'll get back to you ASAP
[simple_contact_form]