Need something healthy for dinner? It's a challenge to try to come up with new meal ideas that are healthy, delicious and that won't take you long to whip up! So I'm here to make things easy for you with 10 of my favourite quick and healthy dinner recipes.
These recipes not only tick all the boxes nutritionally but they will take you less than 30 minutes to whip together – perfect for weeknight dinners!
Tangled Thai Chicken Salad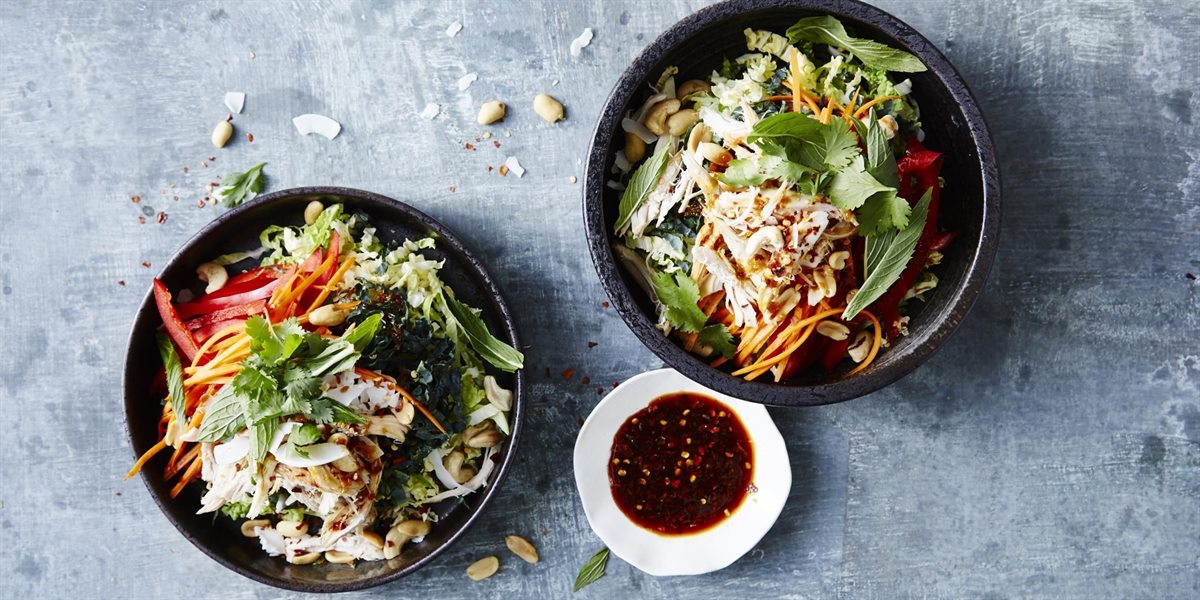 Ingredients
For the Thai salad dressing
1

clove

garlic

minced.

1/2

teaspoon

chilli flakes

1

lime

juiced.

2

tablespoons

tamari

2

teaspoons

I Quit Sugar Organic Rice Malt Syrup.
For the thai salad
1

cup

kale

finely shredded.

1

carrot

large, julienned.

1

small napa cabbage.

1

red capsicum

1

cup

fresh mint

leaves picked.

1

cup

fresh coriander

leaves picked.

400

g

roast chicken

shredded
For the garnish
1/2

cup

cashews

roasted

1/4

cup

coconut flakes
Instructions
Add all ingredients for the salad dressing into a large mixing bowl. Whisk to combine.

Add the ingredients for the salad into the bowl and toss to combine.

Serve the salad into four bowls, then top with nuts and coconut flakes to serve.
Notes
How to use your leftovers and skip cooking the next day!
This Thai salad recipe is the perfect vehicle to use up leftover produce. We also love adding in finely shredded broccoli florets, thinly sliced snow peas, herbs like flat-leaf parsley and chives and diced cucumber.
NB: All main course recipes use quantities from the 'Female Healthy Weight Maintenance' Stream of the 28 By Sam Wood program. So if you're a male, feel free to bulk it up.
If you're looking for sustainable weight loss, why not check out our 28 By Sam Wood Weight Loss Program?
Jerk Salmon Bowl
This Jamaican-inspired salmon dish served with fruity summer salsa is always a winner at my place. It's also a delicious way to get your daily dose of omega-3 fatty acids.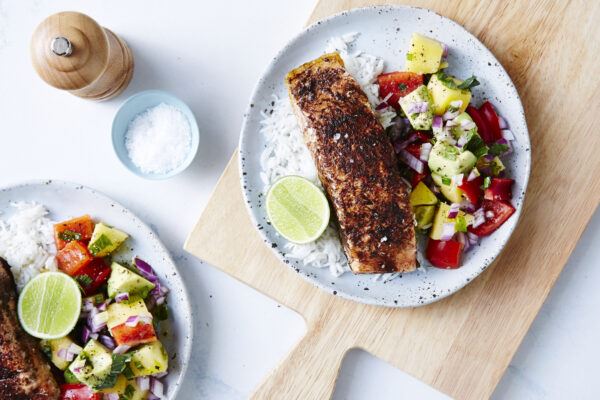 Healthy Jerk Salmon Bowl
You'll love this Jamaican-inspired salmon dish contributed by the team from I Quit Sugar. It's a tasty healthy dinner, served with a fruity summer salsa. To make it even quicker, have some cooked Basmati rice in the freezer which will make this dinner even quicker to make!
Get the full recipe
Skillet Korean Chicken Nachos
There's nothing I love more than 'cheat meals' (or treat meals as I like to call it) that's actually healthy. Trust me, after trying these 15-minute nachos you won't make them any other way. With delicious glazed Korean chicken, crunchy corn chips, fresh avo, cucumber, carrot and plenty of cheese these nachos are the ultimate crowd pleaser.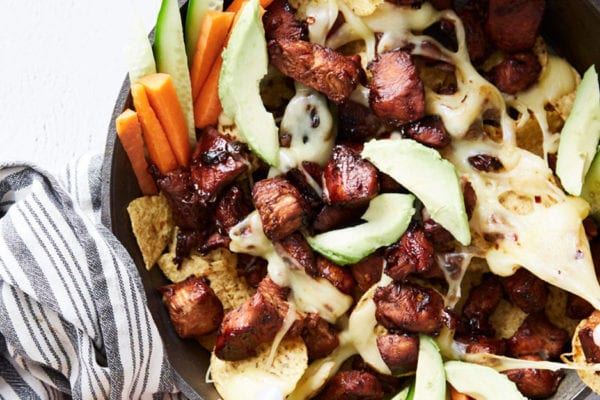 Korean Chilli Chicken Nachos
Delicious glazed Korean chicken on crunchy baked corn chips, fresh avo, cucumber, carrot and a whole lotta mozzarella cheesiness. Quick & tasty, it's ready in under 28 minutes!
Get the full recipe
---
Are you ready to get fitter, healthier and become the best version of you?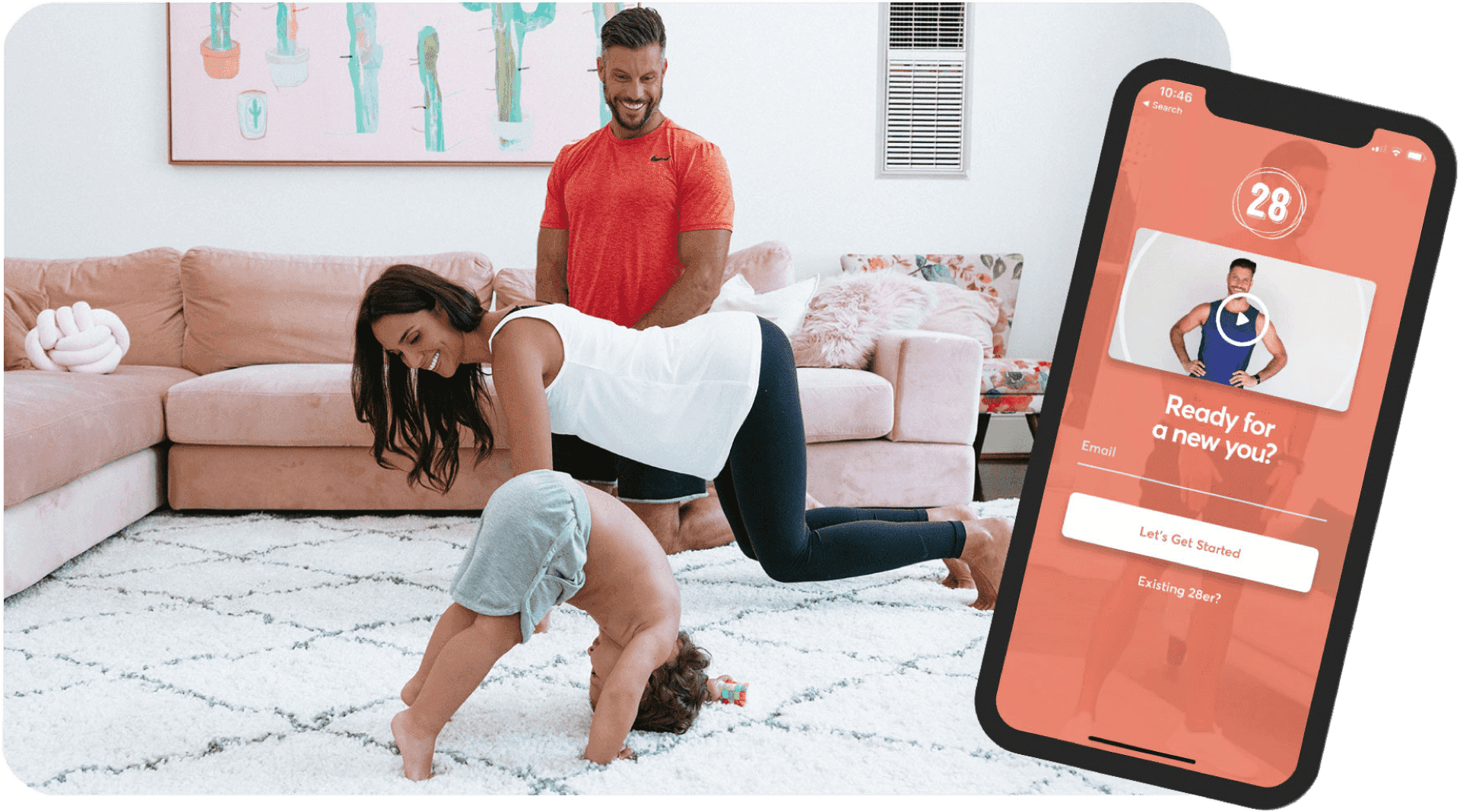 If you're ready to get healthier and fitter, I'd love you to join my 28 family. As a member of the 28 family you'll be supported every step of the way by me, my crew and thousands of 28ers, just like you. Click through to find out why 28 works and how it can work for you!
---
Spicy Fish Taco Bowl
This taco bowl is packed with three types of vegies, anti-inflammatory turmeric, deliciously creamy avocado and fish – one of the most lean, healthy sources protein you can have. Even better – it'll only take you 5 minutes to cook!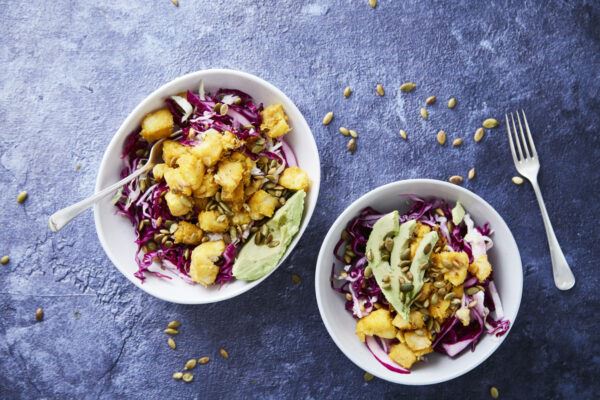 Spicy Fish Taco Bowl
This taco bowl is loaded with three lots of veg, anti-inflammatory turmeric and deliciously creamy avo!
Get the full recipe
Five Minute Fig Radicchio
I always love a mixture of sweet and savoury, and this 5-minute healthy salad is a killer combination of bitter radicchio leaves with sweet figs and the bite of blue cheese makes this a perfect healthy dinner on its own, or a great side salad.
5-Minute Fig, Radicchio & Blue Cheese Salad
This combo of fresh ingredients brings the best of sweet and savoury together.
Get the full recipe
Skin Beauty Avocado Salad
This is the perfect dish when you're looking to whip up something fresh and fuss-free. The best part? This one combines plenty of ingredients that are vital for good skin health, like avocado, nuts, and leafy greens that my nutritionists tell me can give your skin a natural beauty boost.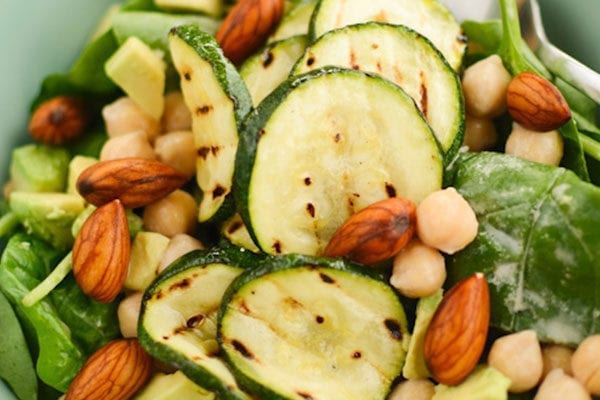 Skin Beauty Avocado Salad
This beauty salad combines many ingredients vital for good skin health including avocado, nuts and leafy greens.
Get the full recipe
Mushroom Chilli Spinach Pasta
In the mood for a nutritious but hearty dish for dinner? This mushroom, chilli and spinach pasta is packed full of vegetables and I have no doubt it will hit the spot for your family, as it does for mine!
Mushroom, Chilli & Spinach Pasta
A hearty, healthy pasta recipe that is great for Meat-free Monday. This recipe even has gluten-free and paleo options for you too.
Get the full recipe
---

Did you know we're also the only online nutrition & fitness program with the 'I Quit Sugar Recommended Tick' of approval?

---
Beef Spring Roll Bowl
This is one of my favourites when I feel like something hearty and packed with Asian flavour. The best part about this dish is that it's cooked in one pan and we've managed to sneak in four different vegies and so it's a healthy meal that's great for the whole family.
Healthy Beef 'Spring Roll In A Bowl' Recipe
This one-pan wonder packs in four different veggies and is full of those Asian flavours that we love! Sans the sugar of course!
Get the full recipe
Lentil Meatball Wraps with Avocado and Cucumber Salsa
Green veggies are something we often lack in our diet, because let's be real – when they're not done correctly they can taste downright boring. Well the good news is – this is a delicious way to "green outs' your dinner. These vegetarian meatballs are packed with fresh parsley and served in a lettuce wrap to make this tasty meal nutrient dense and refreshing.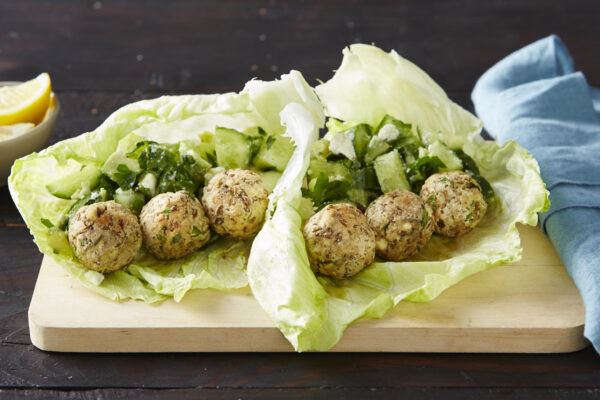 Vegetarian Lentil Meatball Lettuce Wraps with Avo Cucumber Salsa
We take any opportunity to "green out" meals. This time round, we've filled added fresh parsley to the meatballs and served them in a lettuce wrap to make this tasty meal nutrient-dense and incredibly refreshing! There's also a dairy-free version of this healthy recipe too!
Get the full recipe
Coconut Curry Meatballs
If you didn't know already, coconut, curry, chicken and thyme make the ultimate tasty combination when combined in a meatball. Serve these ones with either steamed veggies, salad or rice and make extra as they're great to keep handy in the freezer or to have for leftovers the next day.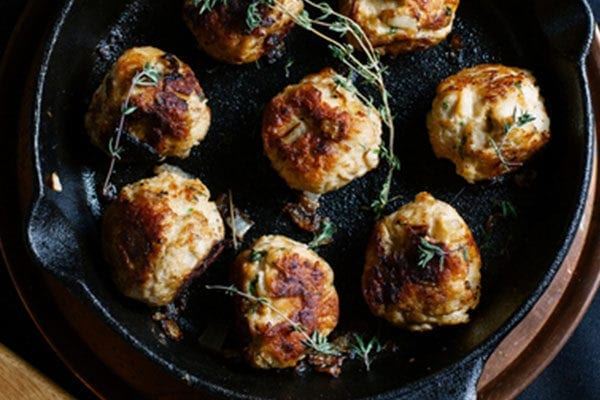 Coconut Curry Meatball Recipe
Tasty, quick, simple and healthy too – just how we like it!
Get the full recipe