You won't eat nachos any other way after tasting our new healthy favourites!
Who said nachos can't be good for you? My 28 nutrition team love creating healthy versions of crowd-pleasers and family favourites; There is nothing we love more than reminding you just how delicious eating healthy can be.
Today we've whipped up 3 healthy versions of everyone's favourite: Nachos!
What's your flavour? Choose our vegetarian healthy loaded nachos or go for something a little more traditional with our spicy beef healthy nachos or, if you feel like something new, we've got a super tasty and healthy Asian-fusion nachos option too. There's something for everyone and there's enough to go round with these servings. Dig in, totally guilt-free!
---
VIDEO: When my brother & I got in the kitchen…
If you're looking for a healthy vegetarian meal that is so delicious, even the biggest meat-eaters at home will love it, this is the one!
Check out this video, when my brother Alex and I got in the kitchen and we whipped some up vegetarian loaded sweet potato nachos together.
Healthy Nachos Recipe #1: Vegetarian Sweet Potato Nachos
It's no wonder my Loaded Sweet Potato Nachos are one of our 28ers favourite meals on my Program – delicious and healthy – it's almost too good to be true!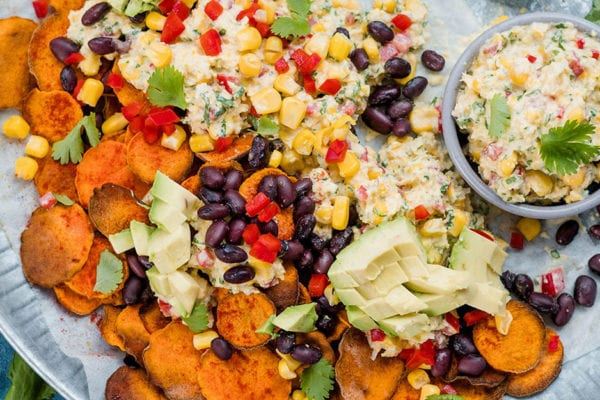 Loaded Sweet Potato Nachos
My oven-baked sweet potato slices are a healthy alternative when you're craving nachos. These will be one of your go-to healthy dinners this summer!
Get the full recipe
---
Looking for more healthy cooking ideas?
READ: 28 Sugar-Free Snack Recipes (for sweet & savoury lovers)
---
Healthy Nachos Recipe #2: Asian-Fusion Chicken Nachos
And now for something different! Fresh, flavoursome and quick… everyone loves this glazed Korean chicken flavour (and you can cut back on the chilli for the little ones!).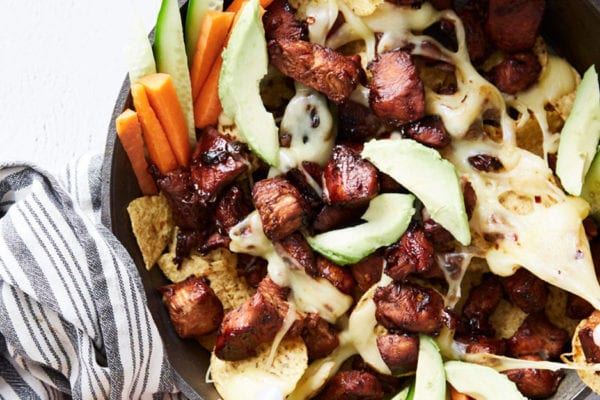 Korean Chilli Chicken Nachos
Delicious glazed Korean chicken on crunchy baked corn chips, fresh avo, cucumber, carrot and a whole lotta mozzarella cheesiness. Quick & tasty, it's ready in under 28 minutes!
Get the full recipe
---
Healthy Nachos Recipe #3: Spicy Beef Nachos
A healthy alternative to traditional Mexican beef nachos that has more nutrition per serve, with more good fats and less bad fats than what you'd usually get in a Mexican restaurant as we have replaced the normally fried tortillas with healthy oven-crisped sweet potatoes!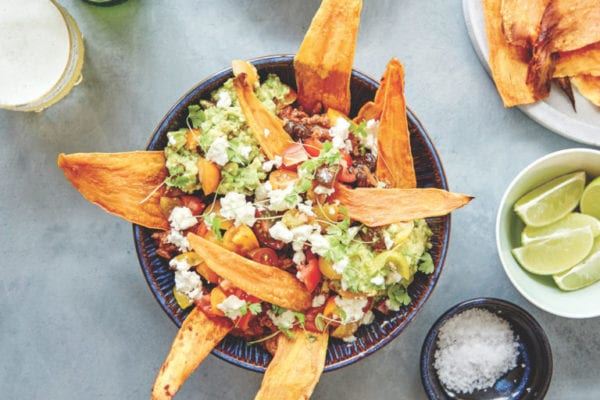 Sweet Potato Nachos With Spicy Beef
So many delicious flavours and textures! The spicy beef is loaded with Mexican spices and the guacamole has jalapeno for some extra zing. We reckon this loaded comfort bowl has it going on.
---

Did you know?
28 is the only online nutrition & fitness program with the 'I Quit Sugar' tick of approval. Learn why our 28 fitness & nutrition program works, and how it can work for you
---