Yes, you can order a takeaway without blowing your diet, and yes there are healthy takeaway options if you know how to find them. You just need to follow a few simple tips & tricks.

Anyone on my 28 program knows I've never been one to say you can't eat something. That's because I've discovered the secret to sticking to a healthy eating routine that lasts is about finding a healthy balance. This includes being able to enjoy a takeaway occasionally, without a side order of guilt!
So, if you want to order in tonight but you want to make it healthy, keep on reading and I'll show you how!
How to enjoy a takeaway without overeating or blowing your diet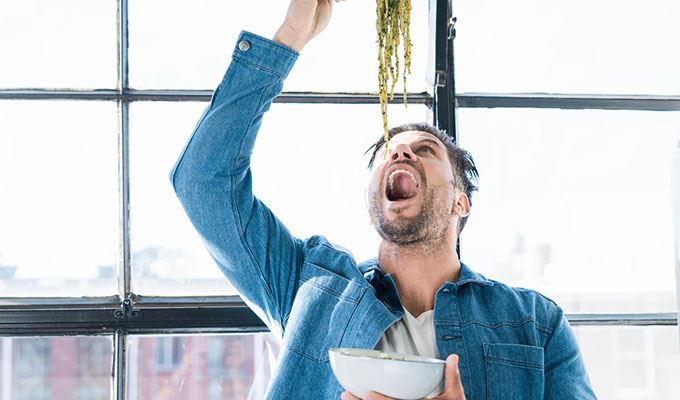 One of my favourite things to do on a Friday night is order Uber eats with Snez and the girls (even if it means we always order from 3 separate restaurants because we can never collectively settle on one!). Over the years I've found several ways to order a takeaway and still keep it healthy and delicious.
I know this isn't always easy to do, so I'm going to share a few simple ways you can order a healthy but still 100% delicious takeaway.
So, with that said, let me start by explaining the two most important parts to successfully ordering a healthy takeaway:
know your healthy choices before you order
enjoy your occasional treat night (but don't go overboard)
If you're too hungry to read the entire post right now, you can jump straight to my list of the healthiest takeaway dishes you can order
5 tips to keeping it healthy when ordering a takeaway
Tip #1: Don't order when you're starving
Don't leave ordering too late in the day. When you're hungry your eyes will get bigger than your stomach, it's a sure-fire way to end up with extra dumplings that just have to be polished off.
Tip #2: Keep an eye on your portions
When your food is delivered, don't eat straight out of the container as you won't realise how much you've eaten until it's too late.
As soon as you order, put out the plates or bowls you normally use at home, ready for when the takeaway arrives. Then quickly portion your takeout into them before you dig in.
Tip #3: Aim for nutritional balance in your order
I'm not expecting that you'll order a standard meat and three veg, but at least try to get a good mix of protein, carbs and good fats somewhere in your takeaway order.
You can always find healthier choices on a takeaway menu if you know what to look for.
Tip #4: Skip the fried foods
Speaking of fats, I'm not here to tell you that you should kiss your spring rolls goodbye forever, but it's important to know what meals will help you achieve your health goals and what will not. Then, it's up to you to make an informed choice that's right for you.
Tip #5: Ditch the dessert
Steer clear of the sweet options on the delivery menu, the good news is that these are usually pretty unsatisfying anyway, especially since they often arrive plastered to the top of the container! Of course, if you know you always crave something sweet at the end of your meal, make sure you have some sweet healthy snacks waiting for you in the fridge.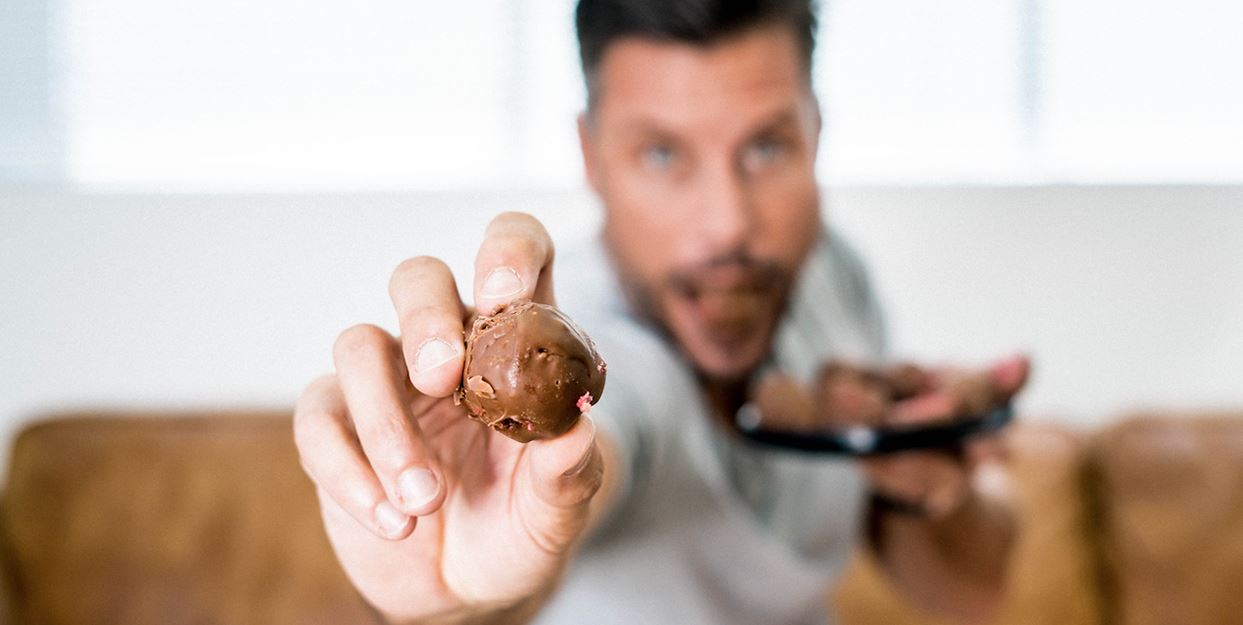 What are the healthiest takeaway menu options?
The most popular takeaway cuisines tend to be Chinese, Indian, Italian, Thai, Vietnamese and Japanese, so we've found the healthiest menu options for you.
Chinese: Your Healthiest Takeaway Options
Chinese take-out often gets a bad rap for being unhealthy, but amongst all the deep-fried goodness there are always some nutritious options available.
Look for dishes that have lean protein like seafood, lean meat or tofu
Choose tasty stir-fries packed with plenty of colourful veggies
Skip the fried rice, go for steamed rice (no more than 1/4 a cup)
Go for anything steamed (like fish with vegies)
Steamed dumplings are also a good choice if you're not gluten intolerant
Avoid anything deep-fried (yep sadly spring rolls should be off the menu if you're trying to be healthy).
OR COOK HEALTHY CHINESE 'TAKEAWAY' AT HOME INSTEAD!

If you want to save some money, why not make this cheap & healthy Chinese takeaway alternative in your slow cooker instead?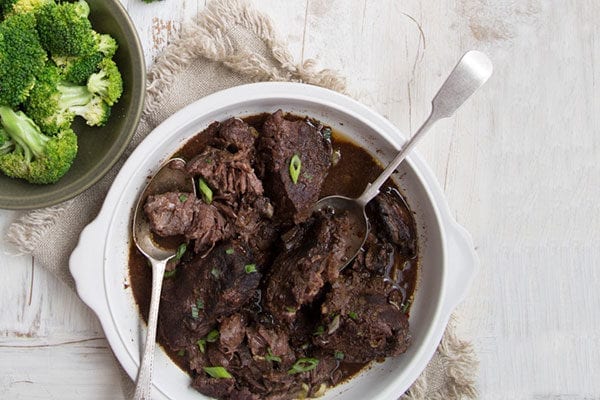 Chinese Slow-Cooked Beef Cheeks
These slow cooked Chinese Beef Cheeks are cheap, densely nutritious and insanely delicious.
Thai: Healthiest Takeaway Options
Everyone loves a good Thai takeaway, but if you're trying to stay healthy then I'd recommend you avoid fried delicacies like spring rolls and money bags.
Order dishes that are flavoured with herbs such as lemongrass, basil and chilli
Choose steamed and grilled proteins where possible
Avoid fried Thai dishes and anything with coconut cream
A healthy option is Larb Gai (chicken mince and salad) or Larb Beef (beef mince and salad)
A Tom Yum (hot and sour) soup is another healthy takeaway option if you don't mind a bit of spice!
OR COOK HEALTHY THAI 'TAKEAWAY' AT HOME INSTEAD!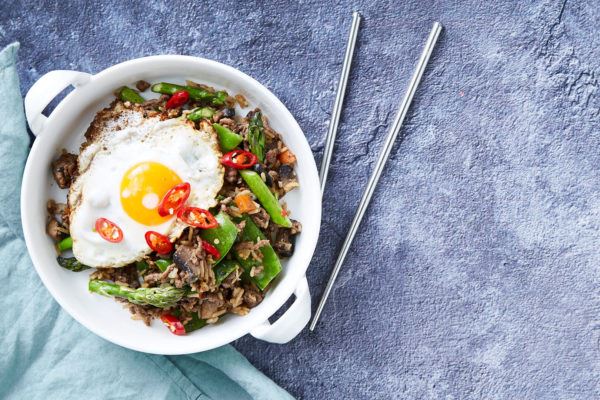 Thai Beef Larb With Fried Egg
Cook this healthy version of this Thai takeaway. Larb is a type of minced meat salad from Laos and it's not just tasty, it's packed with over 40g of protein so you'll stay fuller for longer.
Get the full recipe
Italian: Healthy Takeaway Ideas
I believe in eating a variety of food and I don't believe in demonising carbs. However, Italian takeaways do tend to be pretty carb-heavy, so moderation is key, especially if you're looking to shed a few kilos.
Stay healthy with your Italian order by trying some of these options:
Choose a thin-crust pizza loaded with veggie toppings
Share a couple of pizzas with the family rather than having a pizza to yourself
Add a side salad to bulk up your meal (and get extra nutrients!)
Stay away from creamy sauces, choose tomato-based pasta sauces instead
OR COOK HEALTHY ITALIAN 'TAKEAWAY' AT HOME INSTEAD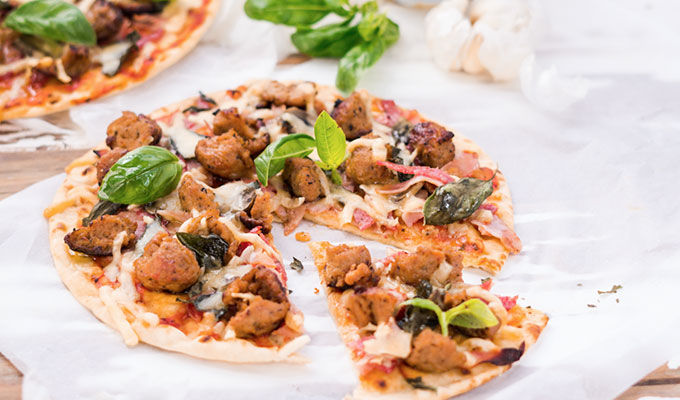 Japanese: The Best Takeaway Options
With plenty of fresh fish, raw ingredients and low saturated fat choices, Japanese is one of the healthiest takeaway options you can go for. Skip the heavy chicken curry though! Start your meal off with some edamame for an extra protein hit.
Order any of these healthy Japanese takeaway options:
Sashimi
Salmon Sushi (with brown rice if possible)
Any teppanyaki grilled meats
Steamed Japanese veggies – yum!
OR COOK HEALTHY JAPANESE 'TAKEAWAY' AT HOME INSTEAD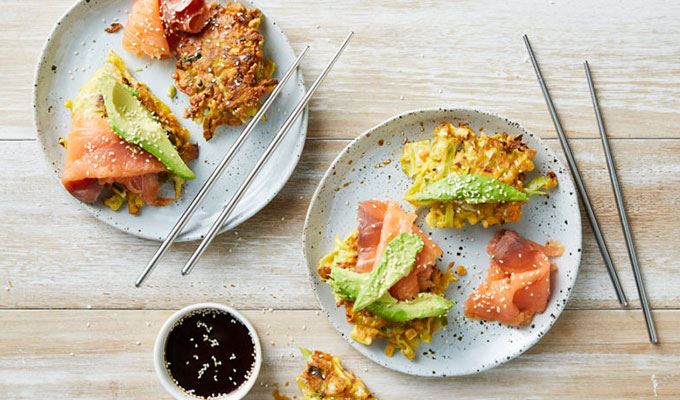 Looking for a healthy homemade option? This is one of my favourites, and they're so easy to whip up.
Indian: Ordering healthy
I love a good tandoori chicken. But I tend to avoid fried dishes like samosas and I rarely load up on naans or steamed rice sides.
If you're trying to have a healthy Indian takeaway here are my tips:
Go for oven-baked or grilled proteins (like a tandoori)
Choose tomato or yoghurt-based dishes like a Rogan Josh
Rice is ok in moderation, but aim for no more than 1/4 of a cup
Cucumber raita is a great healthy side dish
OR COOK HEALTHY INDIAN 'TAKEAWAY' AT HOME INSTEAD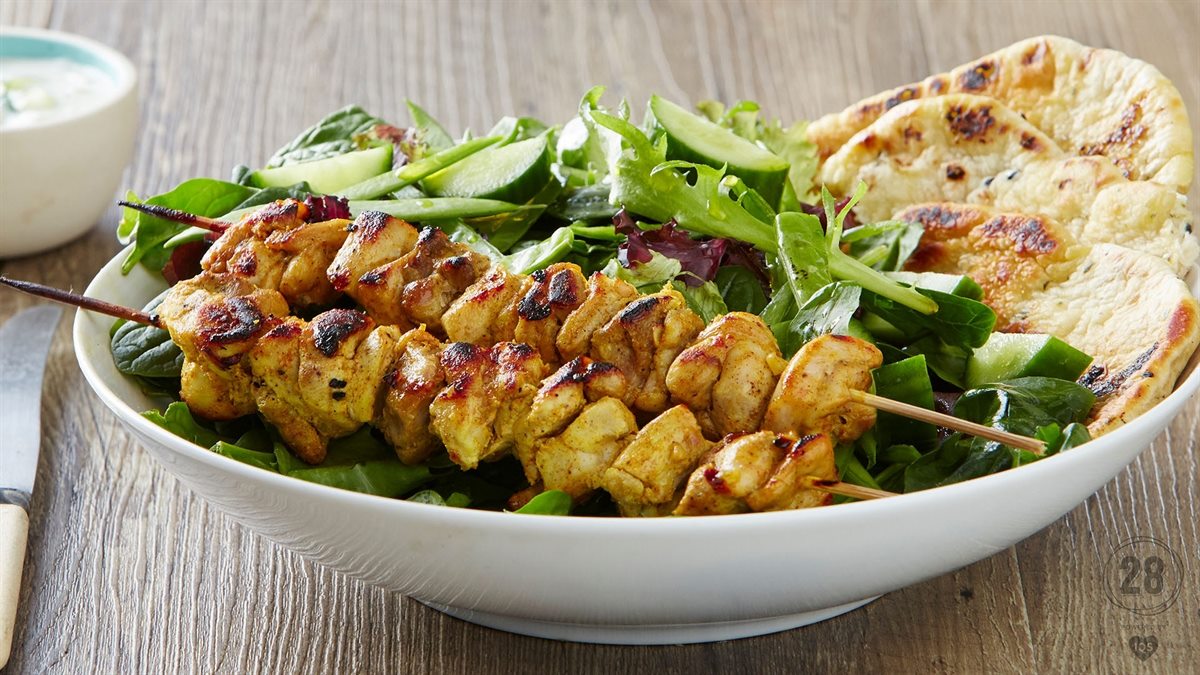 Vietnamese: Your Healthy Takeaway Choices
There's nothing like a warming bowl of pho with a side of fresh rice paper rolls to hit the spot on a cold Friday night in. With plenty of fresh veggies, herbs and spices, Vietnamese takeaway can provide an awesome balanced, yet totally satisfying meal. Just stay away from those fried spring rolls!
OR COOK HEALTHY VIETNAMESE 'TAKEAWAY' AT HOME INSTEAD