Yes, you can order a takeaway without blowing your diet, and yes there are healthy takeaway options if you know how to find them. You just need to follow a few simple tips & tricks.

Anyone on my 28 program knows I've never been one to say you can't eat something. That's because I've discovered the secret to sticking to a healthy eating routine that lasts is about finding a healthy balance. This includes being able to enjoy a takeaway occasionally, without a side order of guilt!
So, if you want to order in tonight but you want to make it healthy, keep on reading and I'll show you how!
How to enjoy a takeaway without overeating or blowing your diet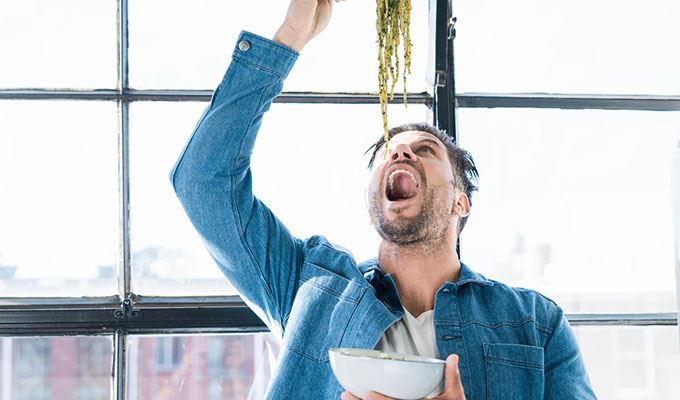 One of my favourite things to do on a Friday night is order Uber eats with Snez and the girls (even if it means we always order from 3 separate restaurants because we can never collectively settle on one!). Over the years I've found several ways to order a takeaway and still keep it healthy and delicious.
I know this isn't always easy to do, so I'm going to share a few simple ways you can order a healthy but still 100% delicious takeaway.
So, with that said, let me start by explaining the two most important parts to successfully ordering a healthy takeaway:
know your healthy choices before you order
enjoy your occasional treat night (but don't go overboard)
If you're too hungry to read the entire post right now, you can jump straight to my list of the healthiest takeaway dishes you can order
What are the healthiest takeaway menu options?
The most popular takeaway cuisines tend to be Chinese, Indian, Italian, Thai, Vietnamese and Japanese, so we've found the healthiest menu options for you.
Thai: Healthiest Takeaway Options
Everyone loves a good Thai takeaway, but if you're trying to stay healthy then I'd recommend you avoid fried delicacies like spring rolls and money bags.
Order dishes that are flavoured with herbs such as lemongrass, basil and chilli
Choose steamed and grilled proteins where possible
Avoid fried Thai dishes and anything with coconut cream
A healthy option is Larb Gai (chicken mince and salad) or Larb Beef (beef mince and salad)
A Tom Yum (hot and sour) soup is another healthy takeaway option if you don't mind a bit of spice!
OR COOK HEALTHY THAI 'TAKEAWAY' AT HOME INSTEAD!

Japanese: The Best Takeaway Options
With plenty of fresh fish, raw ingredients and low saturated fat choices, Japanese is one of the healthiest takeaway options you can go for. Skip the heavy chicken curry though! Start your meal off with some edamame for an extra protein hit.
Order any of these healthy Japanese takeaway options:
Sashimi
Salmon Sushi (with brown rice if possible)
Any teppanyaki grilled meats
Steamed Japanese veggies – yum!
Vietnamese: Your Healthy Takeaway Choices
There's nothing like a warming bowl of pho with a side of fresh rice paper rolls to hit the spot on a cold Friday night in. With plenty of fresh veggies, herbs and spices, Vietnamese takeaway can provide an awesome balanced, yet totally satisfying meal. Just stay away from those fried spring rolls!
OR COOK HEALTHY VIETNAMESE 'TAKEAWAY' AT HOME INSTEAD