We've all heard that breakfast is the most important meal of the day, but they forgot to mention that it's also usually the busiest time of day! Homemade smoothies can be the perfect healthy meal when you need a fast and nutritious breakfast (or lunch!) so you can get on with your day as quickly as possible. And, when you add some extra protein into your smoothie you'll not only feel more satisfied but you'll stay fuller for longer too. That's why we've got a list of tasty, fast protein-packed smoothie recipes you can try, and most are ready in 5 minutes or less!
P.S. If you keep on reading to the end, I'll explain why it's so important to get more protein in your diet.
My favourite protein smoothie recipes made with natural ingredients
Check out my 5 favourite protein-packed smoothie recipes made from all-natural ingredients – they're guaranteed to fill you up and keep you going all morning long.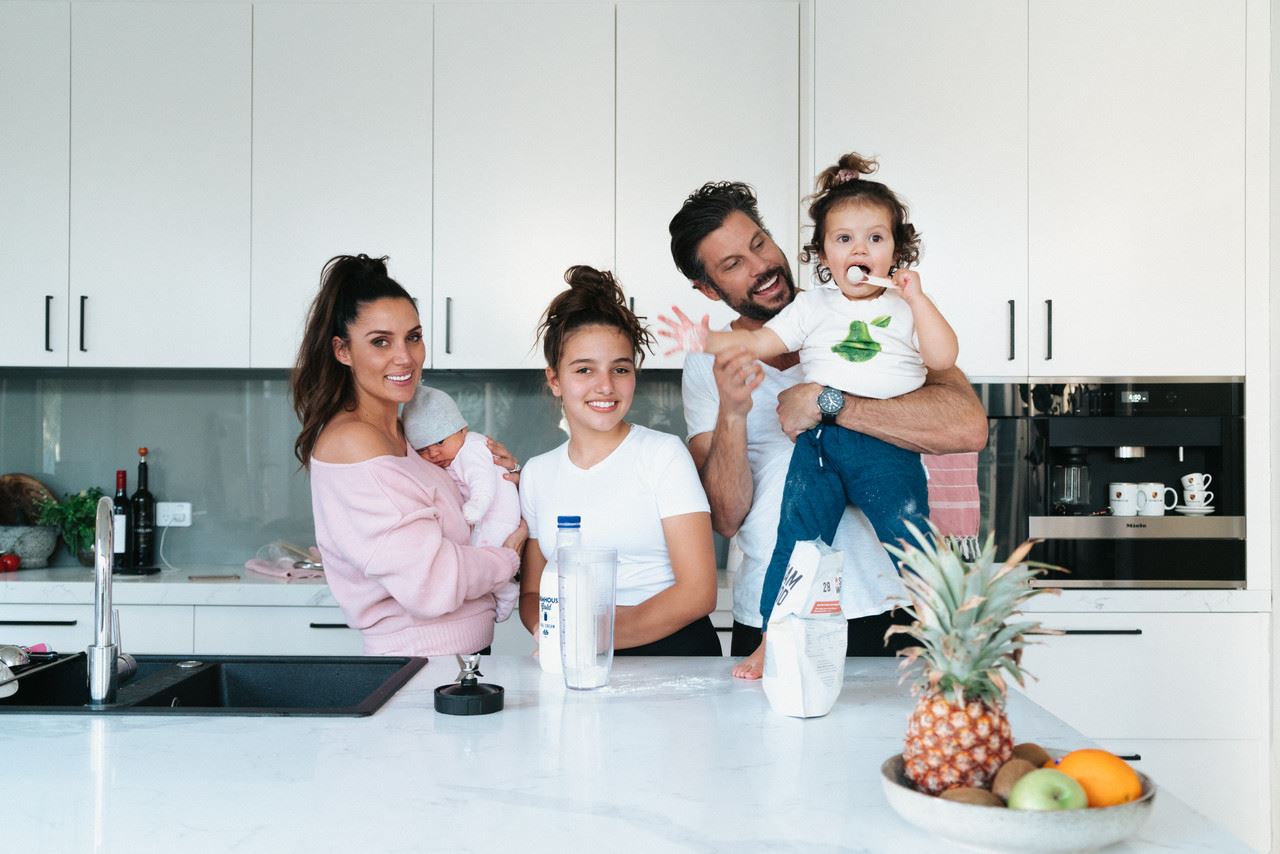 Thousands of my 28ers agree, this berry protein smoothie is delicious!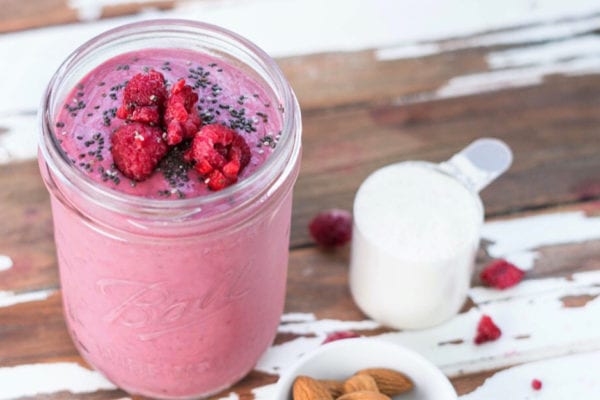 Berry Yummy Smoothie
Smoothies are such a perfect meal when you need to get out the door and get on with things as quickly as possible. Filled with antioxidants, natural carbohydrates with a hint of delicious almond milk flavour, this particular one is a winner. Try my Berry Yummy Raspberry Smoothie the next time you need to fuel up fast.
Get the full recipe
This high protein banana smoothie is made from all-natural wholefood ingredients.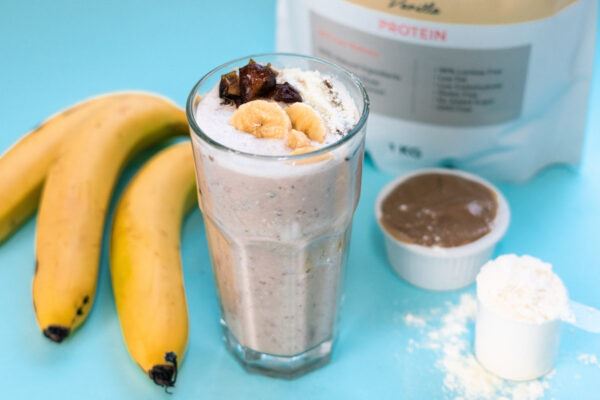 Banana & Almond Protein Smoothie
With nearly 13g of protein and 100% natural ingredients, it's no wonder this quick bannana smoothie is one of my 28er's favourite ways to start the day. Try it once and it'll become your favourite too!
Get the full recipe
Everyone loves a choc-mint smoothie (and the kids don't have to know it's healthy!)
Choc Mint Smoothie
Anyone up for a choc mint smoothie? Smoothies are a great idea when you need lunch on-the-go, which is why we've added more smoothie options to the 28 menu!
Get the full recipe
---
We've got more protein smoothie recipes coming up, including a healthy smoothie with a little coffee kick for the mornings!
---
If you can't start the morning without a dose of caffeine, try this coffee smoothie recipe as a healthier alternative to your morning latte!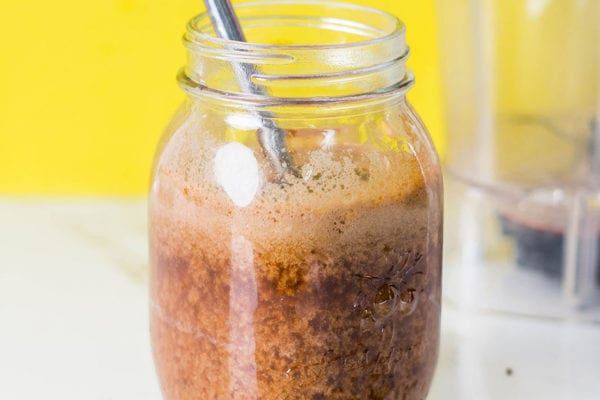 Snez's Kickstarter Smoothie
Can't function without coffee in the morning? Combine it with Snez's super quick breakfast smoothie.
Get the full recipe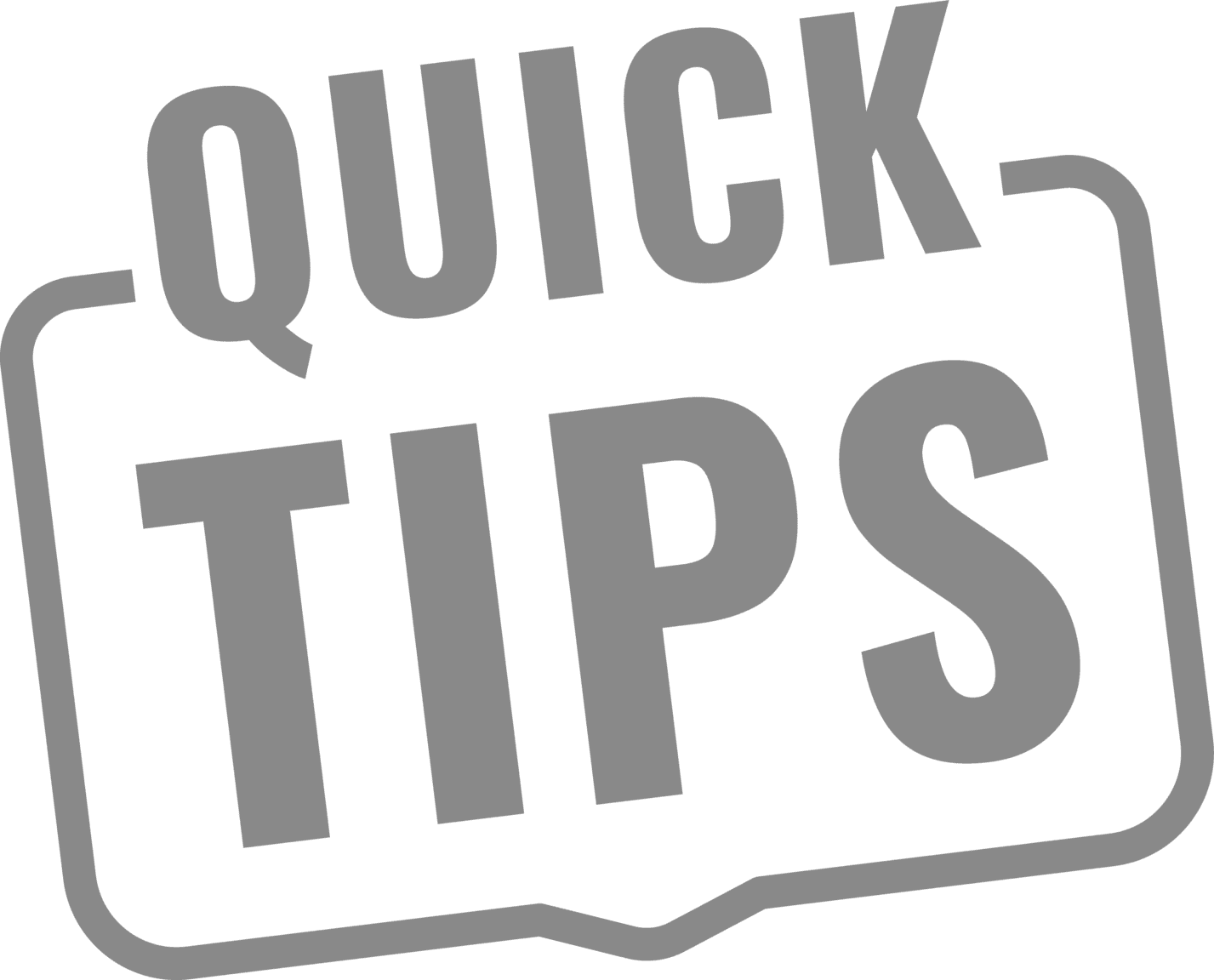 Need a healthy protein booster for your smoothies?
If you're shopping for a natural protein powder you can find the healthiest option by looking at the ingredients list. Basically, the fewer ingredients a protein powder has, the healthier it's likely to be!
Did you know 28 sells a range of natural protein powders?
We've got a vanilla pea protein powder for our vegan friends, plus we have our popular range of 100% natural whey protein powder which comes in vanilla or chocolate.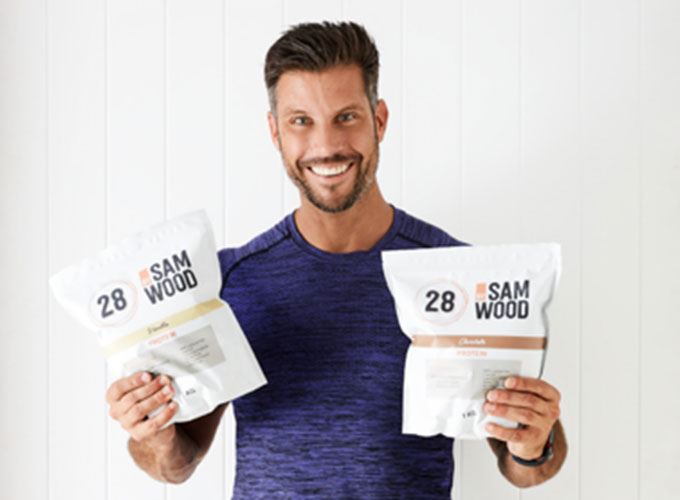 This natural protein smoothie is a balanced breakfast in a glass!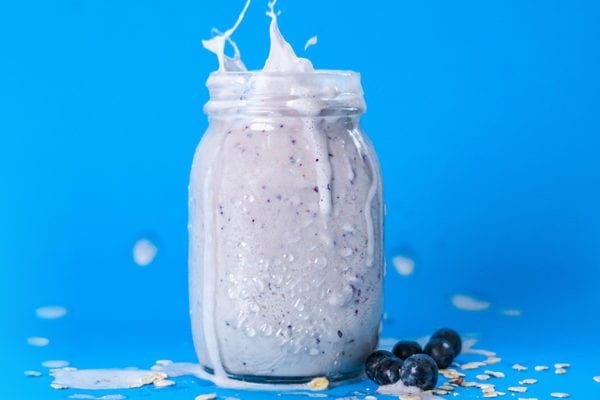 Brekkie To Go Smoothie
Running late but still need a healthy breakfast? We've got your back with our Brekkie-To-Go Smoothie recipe. It's as fast as you can throw in a few nutritious ingredients into your blender – and it's packed with protein so it will keep you full until lunch!
Get the full recipe
---
Why is protein so important anyway?
Protein plays a critical part in almost every biological and cellular function within our bodies, including the creation of enzymes and hormones that support our structural development, repairs and builds muscle tissue; and proteins are even responsible for creating the antibodies that help protect our bodies from viruses and bacteria.
We can't live without protein or, to be more accurate, we can't live without the essential amino acids (EAAs) found within protein molecules.
If you're trying to lose weight, eating more protein can help in a number of ways.
Not only does protein take longer to be digested than carbs or fruits & veg, but studies have shown that protein suppresses the hunger hormone, ghrelin, for longer than any other food group too. So, it seems that adding a little extra protein to your meals can help keep your hunger at bay, which can only help if you're on a weight loss diet.
When you eat protein, you'll experience a sense of fullness for longer than if you ate any other kind of food.
---
Over 500,000 people are living healthier lives with my home fitness & nutrition program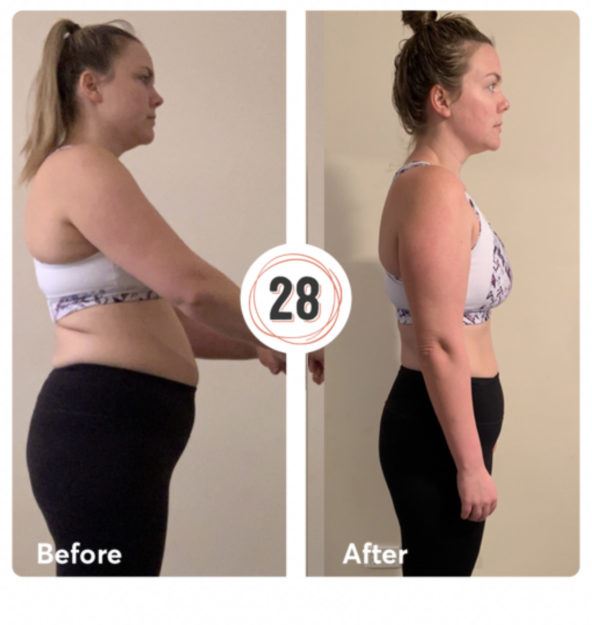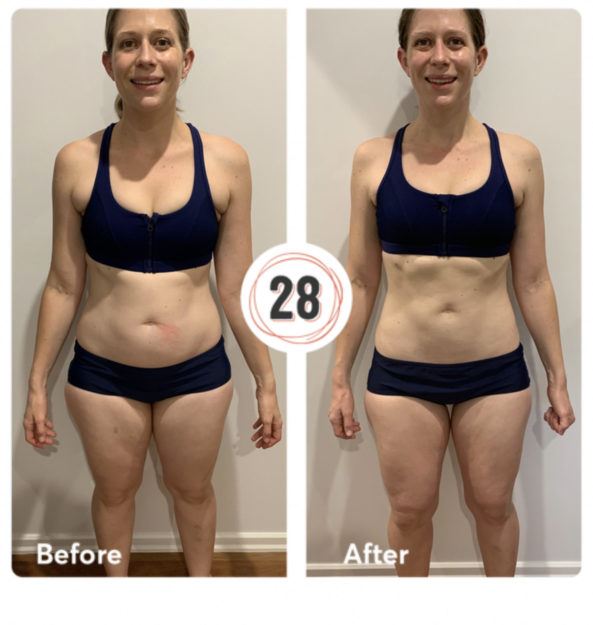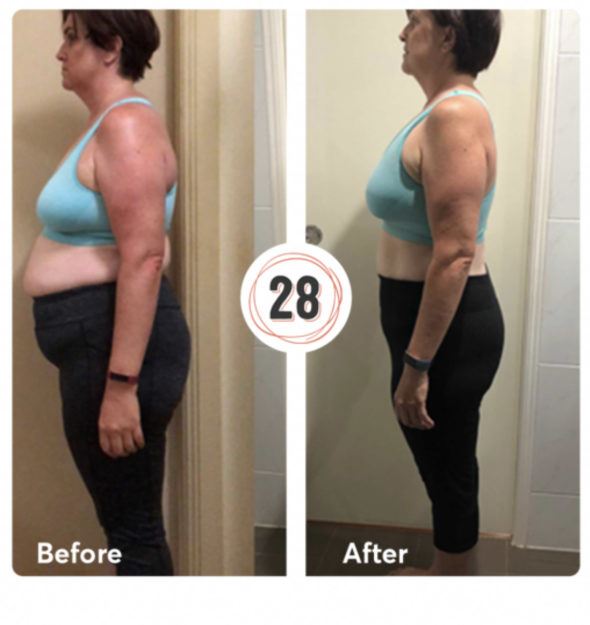 Now, it's your turn!
Reach your health goals for less than $2 a day. No ongoing contracts, cancel anytime.
---
Do I need to add more protein to my diet?
The answer is, it depends! How much protein you need per day depends on several factors, such as your current body weight, whether you are physically active or not, and whether you are aiming for healthy weight maintenance, fat loss or muscle gain.
Protein contains several essential amino acids responsible for building, rebuilding and maintaining muscle so, if you're quite active, it's quite likely that you could benefit from some extra protein in your diet.
Ideally, you would obtain enough protein eating a balanced diet, but sometimes your normal diet won't be enough to give you all the protein your body needs, especially if you're vegetarian, vegan or pregnant. That's where a natural protein supplement can come in handy.
How to choose a quality protein supplement.
At 28 we recommend 100% natural whey isolate protein powder (or vegan pea protein powder) as a healthy way increase your protein intake. These are they are not only highly bioabsorbable but it also mixes well into smoothies and other healthy recipes.
A healthy whey protein powder shouldn't have a lot of ingredients.
Healthy protein powders don't need lots of ingredients and certainly shouldn't contain any unnatural additives. You should be looking for ingredients such as protein isolate, digestive enzymes, and natural flavours such as vanilla, cacao or vanilla (sorry cookies and cream is not a natural flavour!). You might also see natural sweeteners such as stevia and, possibly, some other superfoods or natural ingredients.
Always check out the ingredient label of your protein powder of choice before you buy.
Unhealthy protein supplements will contain unnatural or highly processed ingredients, as well as added sugars, thickeners, artificial flavours and sodium. Unfortautnely there are far too many protein supplements that market themselves as healthy but, when you look closely, really aren't!
Avoid protein powders that have a very long list of ingredients, especially if they appear to be unnatural additives or highly processed 'natural' ingredients.
Did you know 28 has it's own range of natural protein powders that are made in Australia?
At our 28 By Sam Shop, we have two kinds of healthy protein powder that are made from natural ingredients. First, for our vegan friends, we have a pea protein powder in vanilla, and then we have our highly popular 100% whey isolate protein powder which comes in two flavours, chocolate and vanilla.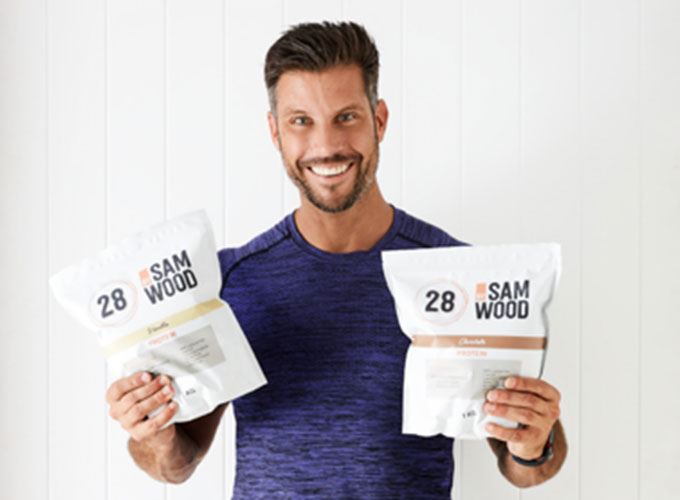 How to add natural protein powders to your meals
There are lots of ways to use protein powder to increase the protein content of your meals, and one of the quickest and easiest ways to make a healthy protein smoothie using wholefood, natural ingredients.
Protein smoothies made with wholefood ingredients and 100% whey isolate protein (or vegan pea protein) are a quick and easy way to get more protein into your diet and, if you use our smoothie recipes, we guarantee it's going to taste great too!
Our 28ers love a healthy protein smoothie, which is why we've developed a lot of quick smoothie recipes as part of our home nutrition program.