Bento boxes aren't just a pretty lunch option, they can also be nutritious and delicious. Due to the different components that go into a bento box, they're a great way to increase variety. Consuming a variety of foods is beneficial for our health because it allows us to get a range of nutrients, while also keeping our gut microbiome happy and well fed.
The key to a healthy bento box is ensuring it's made up of real foods and nutritionally balanced. Like when we build a balanced plate, we want to ensure we have a good mix of vegetables, protein, healthy fats, and fibre. To do this, make sure you have at least one food from each category in your bento box:
Vegetables: This one is self-explanatory, so we won't list the many types of vegetables there are on offer. Just a few great ways to incorporate veg in your bento box is by making veggie fritters, skewers, savoury muffins, or the classic veggie sticks.
Quality protein: Sources of protein include meat, poultry, fish, seafood, cheese, free-range eggs, Greek yoghurt, full cream milk, beans, lentils, pulses, tofu, tempeh, nuts and seeds.
Healthy fats: Some of the best foods we can get healthy fats from include oily fish, nuts, nut butter, seeds, tahini, avocado, extra-virgin olive oil.
Fibre: Dietary fibre is present in complex carbohydrates, this includes foods like wholegrains, beans, lentils and pulses. We can also get fibre from fruit and veg (ideally with the skin on), nuts and seeds.
Now for the fun part, choosing what to put in your bento box. We've simplified it into 3 simple steps: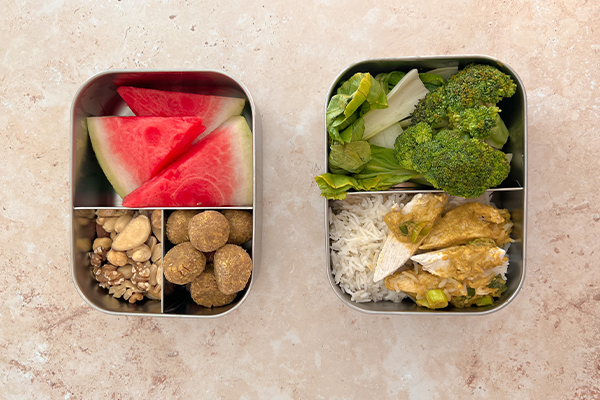 Step 1: Pick a portable meal option.
Here's some inspiration: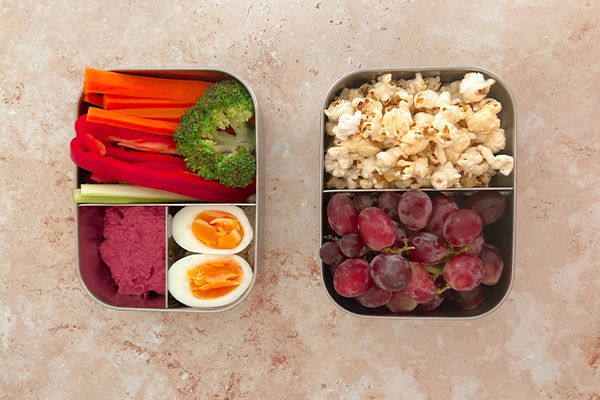 Step 2: Add a sweet snack for an afternoon pick me up.
Ideas include:
Piece of fruit
Chia pudding
Berries & Greek yoghurt
Bliss Balls
Chickpea blondies
Apple slices with nut butter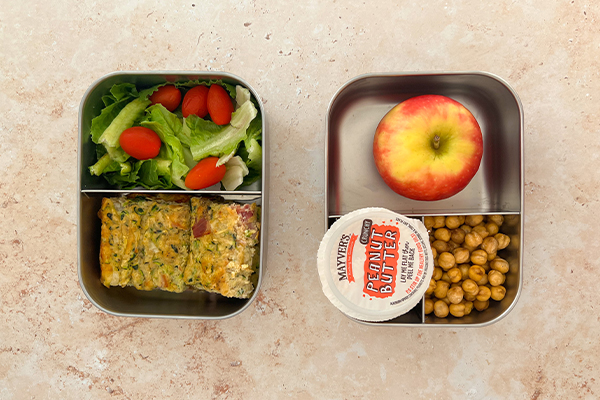 Step 3: Add a savoury snack or two to the mix.
Here's some ideas to get you thinking:
Veggie sticks and dips (e.g. hummus, beetroot dip, babaganoush, roast capsicum dip, etc.)
Boiled egg/s
Greek yoghurt
Nuts, seeds or a trail mix
Savoury muffins (e.g. Spinach & Feta Breakfast Muffins)
Cheese and crackers
Corn chips and guacamole
If you don't want to make a meal to include in your bento box, you can also pick and choose a few of the savoury snack options. This option is particularly good for kids' lunchboxes!
Making your food look fun and appealing can help when we're building healthy eating habits. Putting together a balanced bento box is just one of the many ways we can enjoy nourishing our body.